Armada's monthly round-up of all the latest electronic warfare news in the product, programme and operational domains.
Products
Late November 2021 saw TCI International and Enterprise Control Systems (ECS) announce a partnership to offer enhanced counter-Uninhabited Aerial Vehicle (CUAV) capabilities. The companies revealed the news via a press release. The two firms "have joined to create an end-to-end response" to the UAV threat, the press release stated. The firm's products include the BlackTalon CUAV jammer. This detects and geolocates radio frequency signals connecting the UAV to its pilot on the ground. Once this link is detected it can be jammed and its pilot located. Jamming systems are also available from the two companies including the Independent Claw. This is a "self-contained directional inhibitor system that combines an RF transmitter with a high-gain, multi-band directional antenna system." Both TCI and ECS are part of SPX Corporation.
In early December, Microchip Technology announced an expansion of its Gallium Nitride (GaN) radio frequency power device product line. A company press release said this had been expanded to include new Monolithic Microwave Integrated Circuits (MMICs) and discreet transistors. These products cover frequencies of two to 20 gigahertz/GHz. The press release stated that these products can be used in "applications ranging from 5G to Electronic Warfare (EW), satellite communications, commercial and defence radar systems and test equipment." All these products are made using GaN-on-silicon carbide technology. Microwave Technology claims this provides longevities exceeding one million hours at a 255° Celsius junction temperature.
CAES has launched its 8508039-1 wideband GaN high-power radio frequency amplifier. The company is aiming this product at the EW market. This is alongside applications in space and weight constrained environments like UAVs, it said in a press release. The company claims the product has the best RF output power-to-weight ratio. A modular design lets the 8508039-1 be scaled up or down according to customer requirements. CAES' product brochure says that amplifier modules are available from Very High Frequency (30 megahertz/MHz to 300MHz) up to L-band (1.215 gigahertz/GHz to 1.4GHz). RF output power is scalable up to one kilowatt and the module weighs 10 kilograms (22 pounds). The 8508039-1 was not the only new product to be revealed by CAES. In late November 2021 the firm announced what it claims to be the "industry's smallest 0.5 to 18GHz single 3U slot wideband up/down converter with integrated local oscillator and preselection." CAES made the announcement in a press release. Applications mooted for the product include electronic support and electronic attack, it continued. The converter achieves sub-350 nanoseconds tuning which CAES claims is "industry's fastest threat reaction." It also provides two gigahertz of instantaneous bandwidth.
In late November, Spectranetix announced the release of its SX-124 ruggedised 3U Open VPX Position, Navigation and Timing (PNT) system. The SX-124 provides PNT information in GNSS (Global Navigation Satellite System) denied environments. A press release announcing the news said that "The SX-124 can accept external resources or use its on-board GNSS receivers as reference inputs for timing and position data. The position data can be fused with internal and external Inertial Measurement Units (IMUs)." The press release said the SX-124 supplements PNT data with an internal atomic clock and IMU. As well as an external IMU, the SX-124 can be connected to a controlled reception pattern antenna. This helps outflank GNSS jamming.
Meanwhile in December Acromag unveiled its XMC-7AWP/XWP embedded computing modules. The company's official literature says that applications for these modules include EW. The modules have been enhanced with high-speed memory and a high-throughput serial bus interface. Electronic warfare applications mooted for these memory cards include Signals Intelligence (SIGINT). Other applications include image processing, military servers, hardware simulation and communications.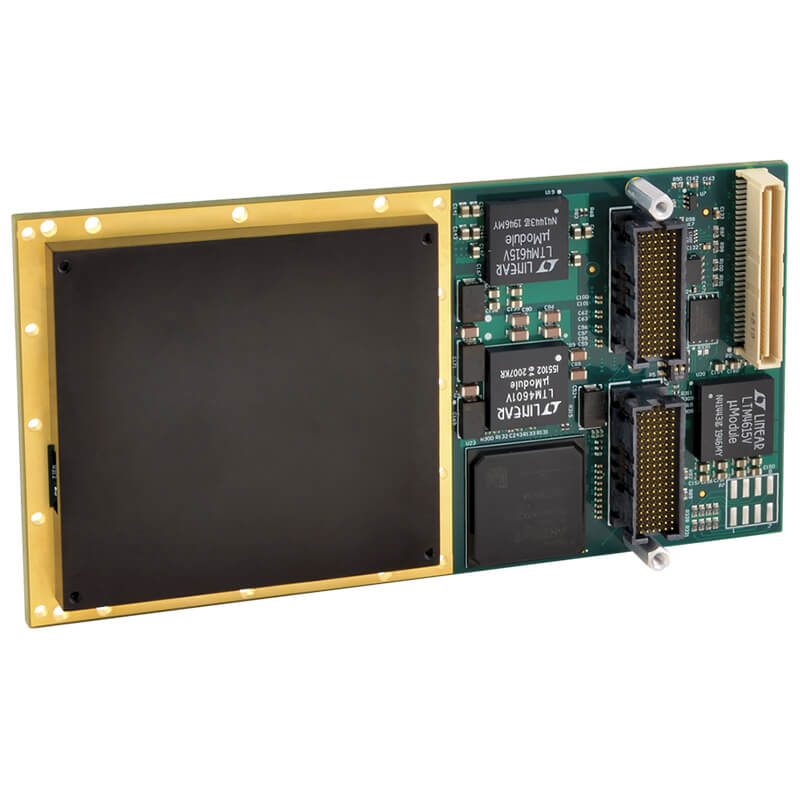 Programmes
The Canadian government has awarded D-TA Systems a contract for the company to build and test its prototype Portable Electronic Warfare Test System. The news was announced on 8th December via a company press release. Known as PETS, it can be set up in under 30 minutes. The system has an up-mast power amplifier and broadband horn antenna. The press release continued that PETS can be used for the functional and operational test of EW receivers. An intuitive graphical interface lets users create threat and test signals. This includes the replication of signals in dense electromagnetic environments and unique emitters.
Towards the end of November, the Republic of Korea (ROK) announced that her air force would be overhauling its electronic warfare capabilities. Local reports said that one capability under consideration are so-called 'carbon fibre' bombs. These weapons can cause power cuts by dispersing thousands of carbon fibre filaments onto electricity grid transformer yards. The filaments settle on live cables in the yard causing them to short circuit. Such weapons were used during US and NATO (North Atlantic Treaty Organisation) led interventions in Iraq and the Balkans during the 1990s. Specifically, the US deployed the CBU-94/B cluster weapon equipped with BLU-114/B graphite submunitions. Presumably, the ROK Air Force (ROKAF) would use similar weapons against the Democratic People's Republic of Korea (DPRK) electricity grid during any future war. Specifically, they could hit elements of the grid supporting critical national infrastructure or military targets. These latter targets could include the DPRK's Integrated Air Defence System (IADS). The same report stated that the ROKAF is also looking at Electromagnetic Pulse (EMP) weapons. EMP weapons mimic the electromagnetic pulse accompanying nuclear explosions. These explosions can disable unshielded solid-state electronics.
The US Department of Defence announced in early December that Progeny Systems had been awarded a contract worth $8 million. Progeny will upgrade the human-machine interfaces used by the US Navy's Lockheed Martin AN/BLQ-10(V)2 electronic support measures. The AN/BLQ-10(V)2 is used across the US Navy's nuclear-powered attack submarine fleet. The work will be completed in late 2023.
Threat Board
The US Space Force has performed exercises to test the resilience of US spacecraft including Department of Defence satellites tasked with ballistic missile detection and tracking. Reports noted that the exercises included kinetic and electronic attacks against US satellites. This probably included evaluating jamming effects on satellite air-to-ground/ground-to-air links and crosslinks. The exercises were performed using computer simulations. Known as 'Space Flag' the exercise was the 13th such event for the US Space Force. It included representatives from Australia, Canada and the United Kingdom. Space Flag occurred in the wake of Russia's destruction of a Kosmos-1408 SIGINT satellite on 15th November. The controversial test used an Almaz-Antey A-235 PL-19 Nudol surface-to-air missile.
On 12th December it was reported that the United Arab Emirates had ordered construction of a Chinese facility in the country to stop. This followed US government concerns that the facility could be secretly used for intelligence collection. The facility was reportedly under construction within the Khalifa Port built by China in Abu Dhabi. The UAE does not maintain any military cooperation agreements with the People's Republic of China. The Wall Street Journal reported that US intelligence had spotted what it believed to be Chinese SIGINT gathering vessels near the port. Some US officials had voiced concerns that the facility's completion could negatively affect US-UAE defence relations.
Meanwhile, separate reports emerged in late November that the People's Liberation Army Navy's (PLAN) Yuhengxing intelligence gathering ship had been spotted close to Australia's coastline. The revelations described the ship patrolling the coast for three weeks in August and September. During this time this 'Dongdiao' class vessel is believed to have collected SIGINT from coastal military bases. The ship entered Australia's Exclusive Economic Zone near Darwin on her northern coast. The Yuhengxing is not believed to have entered Australian territorial waters. She then traveled south towards Sydney before crossing the Tasman Sea and heading to New Zealand.
Meanwhile, Chinese military flights near Taiwan continue. On 11th December, reports stated that 13 military aircraft entered Taiwan's southern Air Defence Identification Zone. This included a Shaanxi Y-8 variant electronic intelligence gathering aircraft. The presence of this plane was almost certainly to monitor the electromagnetic reactions of Taiwan's IADS. Specifically, the aircraft would have recorded the behaviour of the IADS' ground-based air surveillance radars.
China may have also enriched her space-based SIGINT assets with the launch of the Shijan-06 satellite constellation from the Juiquan Satellite Launch Centre, central China. The launch onboard a Long March-4B rocket occurred on 9th December. Reports say that the satellites were built by the China Academy of Space Technology and the Aerospace Dongfanghong Satellite Company. Two spacecraft are thought to comprise the constellation. They may have been deployed for the collection of SIGINT, primarily electronic intelligence.
Amid the increasingly tense situation developing between Ukraine and Russia, in early December the former announced that it is seeking supplies of electronic warfare kit. International Crisis Group analysis stated that circa 100,000 Russian troops have been deployed near the Russo-Ukraine border. These Russian deployments have included electronic warfare systems deployed with the Russian Army, according to analysis by the London-based International Institute for Strategic Studies think tank. Armada has chronicled the use of cyber and electronic warfare by Russian forces against Ukrainian Army units.
This large-scale deployment of Russian troops has seen a commensurate increase in US reconnaissance flights near the Ukrainian Theatre. Reports in mid-December noted a major deployment of US Air Force Boeing RC-135V/W Rivet Joint SIGINT aircraft. Almost half the 17-strong fleet performed reconnaissance flights in international airspace near the theatre on 13th and 14th December. These aircraft were almost certainly collecting communications intelligence concerning the Russian build-up. This will be relevant to NATO's understanding of the ongoing crisis in Ukraine. It will also help the alliance deepen its understanding of Russian Army command and control. This process helps identify potential weak points in Russian Army communications. Further analysis of Russian Army EW assets in the Ukrainian Theatre can be found in Armada's recent Russian Radiation article.
by Dr. Thomas Withington