This is the first of a two part series to explain the US Army's 'Big Six' programmes to future proof it over the coming decades. You can find part 2 here.
The US Army's priority requirements for its future force are being driven by the Modernisation Strategy (AMS) issued in 2019. It laid out six areas of focus including long range precision fires (LRPF), next generation combat vehicles, future vertical lift, networks, air and missile defence, and soldier lethality. Material development efforts and procurements are being conducted within this framework with the objectives of modernising the existing force and addressing capability gaps. Its programmes are intended to achieve an Army capable of operations in a multi-domain environment against peer and near peer adversaries by 2035.
Long Range Precision Fires
LRPF extend the ground force's ability to effectively engage, disrupt and destroy targets at extended ranges which is viewed as essential to assuring success against an adversary's Anti-Access/Area Denial (A2AD) capabilities. Increasing both the range of existing indirect fire systems and rapidly introducing and fielding systems with even greater range are one of the Army's top priorities.
The Extended Range Cannon Artillery (ERCA) builds on prior development by the Army's Picatinny based Research and Development group. It increases the range of the current 155mm howitzer from 30km (18 miles) to 70km (43.5 miles). The development combines a longer 58 calibre gun tube and supercharged propellent. The ERCA was successfully demonstrated in 2020. The programme applied the ERCA to the M109A4 self-propelled howitzer in a 2019 contract with BAE Systems. The Army intends to field test a battalion of 18 guns designated the M1299 in 2023. Additional efforts to add automatic loading are underway through both an armament centre and six small business contracts. These would increase the rate of fire from three to 10 rounds per minute and be applied to the M1299 in 2025. The M1299 battalions will be assigned to the Armoured Division Artillery (DIVARTY).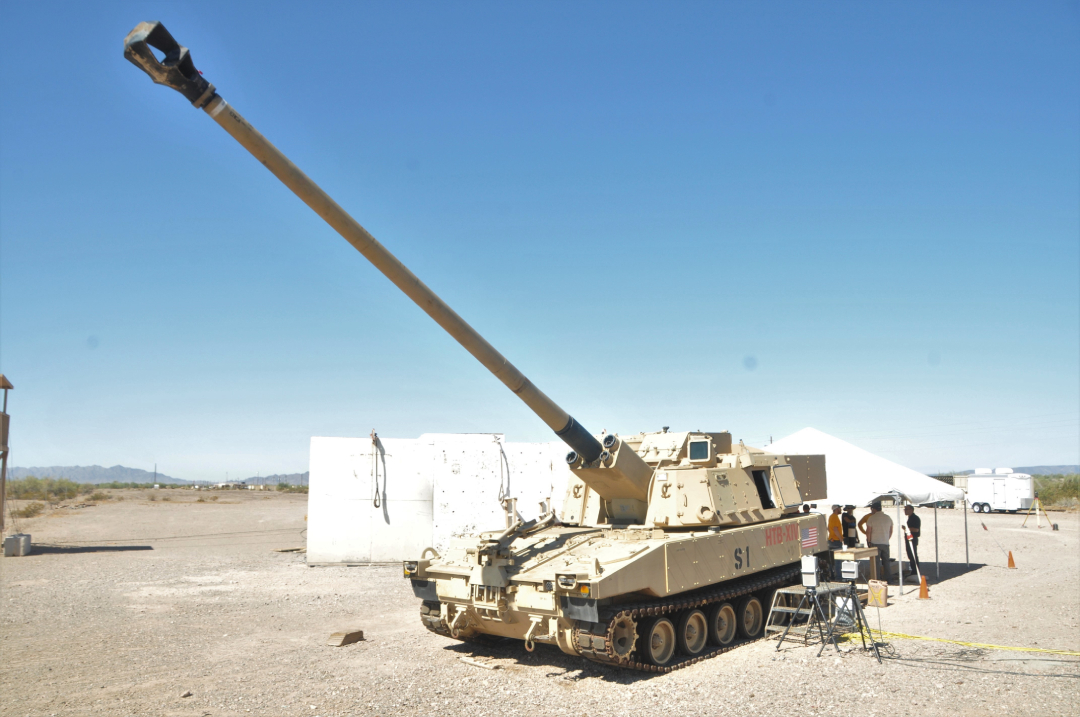 The Precision Strike Missile (PrSM) developed by Lockheed Martin was selected to replace the Army Tactical Missile System (ATACMS) as the next generation long range strike missile for the multiple launch rocket system (MLRS) and High Mobility Artillery Rocket System (HIMARS). PrSM is intended to attack targets critical to an opponent's A2AD system which can reach out up to 500km (310 miles) or more. The PrSM will be able to engage at 60-500km+ (37-310 miles) ranges with two missiles able to be carried on each launch vehicle. The latest US Army budget includes $166 million to procure 110 of the current state-of-development PrSM with Lockheed Martin required to begin delivery in December 2023.   Additional development is also underway to develop a seeker capable of acquiring and engaging surface ships providing a cross-domain warfare capability, to extend the range to 800km (500 miles) or more and enhance the warhead lethality.
Long Range Hypersonic Weapon (LRHW)
The US Army and Navy are collaborating on a common hypersonic missile with the objective of fielding systems by the end of 2023. Dynetics is building the glide-body while Lockheed Martin is contracted to integrate the weapon onto a mobile ground launcher. The Army plans to have its first battery of four launchers and eight hypersonic missiles, designated 'Dark Eagle', fielded in 2023 each with a range more than 2,775km (1,724 miles) at a speed of Mach 5. The Transporter Erector Launchers (TEL) will be road mobile and Boeing C17 aircraft transportable. The Army plans are for five LRHW batteries: two in the Pacific, one in Europe, one for the Arctic, and one for global response as part of new Multi-Domain Task Forces.
Mid-Range Missiles
The Multi-Domain Task Forces will also include a battery of Mid-Range Capable Missiles (MRC) based on a need identified in a Strategic Fires Study conducted in 2020. This is to provide a moving surface target engagement capability, particularly anti-ship, for the Army. A contract issued to Lockheed-Martin will take the US Navy's supersonic SM-6 Standard and subsonic Tomahawk missiles and adapt them to a ground launched role. These will also fill the gap between the PrSM and LGHW with a range of around 1800km (1,120 miles). An initial battery is to be fielded in 2023.
Next Gen Combat Vehicles
Replacing the M2 Bradley fighting vehicle is the objective of the Optionally Manned Fighting Vehicle (OMFV) project. The Army has indicated that OMFV is to offer a transformational increase in ground combat fighting capability rather than simply an incremental improvement over the current vehicle. On 23 July 2021the Army awarded five Concept Design contracts to develop digital designs. This would be followed by a competitive detailed design phase with up to three awards planned for early 2023 leading to prototypes. A down select to a single contractor is then planned in late 2027. Participants in the concept design phase are Point Blank Enterprises, Oshkosh Defense (in a collaboration with Korea's Hanwha Defense), BAE Systems, General Dynamics Land Systems, and American Rheinmetall Vehicles.
OMFV is suggested, in the Army contract announcement, as incorporating current technologies to "manoeuvre soldiers to a point of positional advantage to engage in close combat and deliver decisive lethality. It is to be designed to operate with or without crew while also controlling manoeuvre robotic and semi-autonomous systems." The OMFV will provide the capabilities required to defeat a future near-peer competitor's ground force.
Unmanned Robotic Systems
The US Army considers that unmanned robotic systems have the potential to be capability multipliers on future battlefields in combat, support, and logistics roles. Its Robotic Combat Vehicle (RCV) programmes have procured prototype RCV-L (Light) from QinetiQ and RCV-M (Medium) from Textron Defense. The former is considered an 'expendable' system for reconnaissance, security, and combat support tasks. RCV-M is 'non-expandable' with increased lethality to operate with OMFVs. A 'Heavy' RCV is also envisioned which could defeat "all known armoured threats". These prototypes will be employed in operational experiments from June to August 2022. Based on these a decision will be made whether to proceed to Engineering and Manufacturing Development (EMD).
Unmanned Aerial Systems
Given the emphasis on threat detection at greater ranges, the Army is moving to replace its current AAI RQ-7 Shadow UAS with a new system that does not require a runway, is easier to transport and has lower acoustic signature. The four systems being evaluated are the Martin V-Bat, Textron AAI Aerosonde Hybrid Quad, AeroVironment (Arcturus) – Jump 20, and L3 Harris FVR-90. These field evaluations will be used to establish the details of a future anticipated competitive acquisition. A further initiative is more closely linking the battlefield UASs with forward ground systems such as the OMFV and integrating its collection capability with these effectors.
Air and Missile Defense
Rebuilding ground air and missile defense, though the fifth priority, is slated to receive $7.4 billion between 2021-24, the third highest amount of the Army's 'Top Six'. In peer-on-peer warfare the Army has identified a gap in its defence against UAVs and cruise missiles. The Stryker mounted Manoeuvre-Short Range Air Defense (M-SHORAD) provided by Leonardo DRS with four MHR radar, XM914 30mm cannon, Lockheed Martin AGM114 Longbow Hellfire and Raytheon Stinger missiles has been fielded in an accelerated programme to address forward manoeuvre needs. The 144 systems under contract will address initial priority requirements while it could be expected that additional systems will be needed if the needs of the 10 active (to be formed by 2024) and eight National Guard battalions are to be addressed.
Despite M-SHORAD, the need for defence of fixed sites against medium UAS and both cruise missiles and free-flight rockets is required. This is to be addressed by the Indirect Fire Protection Capability (IFPC). The Dynetics solution was selected at the end of August 2021 for the IFPC following a competitive shoot-off. Each IFPC will use their Raytheon AIM-9X Sidewinder with a ground launcher coupled with the current Sentinel radar and integrated into the Integrated Battle Command System IBCS. As part of this the Army will acquire beginning in 2023 the improved Raytheon Sentinel AN/MPQ-A4 radar. Dynetics must deliver field prototypes for testing and integration with the Army's Integrated Air and Missile Defense Battle Command System (IBCS) by mid-2023. The system is to be later upgraded to defeating rockets, artillery, and mortars as well.
Directed Energy (DE) weapons have demonstrated the capability to successfully engage and disable or destroy Group 1 and 2 tactical UAS and the potential to counter rockets, artillery, and mortar (C-RAM). To this end the Army has developed DE M-SHORAD, a high energy laser weapon on the Stryker. This system completed a combat shoot-off in August 2021 using high-energy lasers from Northrop Grumman and Raytheon. This was key as a step toward its objective of fielding an initial platoon of four systems with a 50-kilowatt class laser in 2022. Such a weapon could address appropriate targets within 10km (6.2 miles). Beyond this the Army continues to pursue a 300-kilowatt truck mounted laser as a potential future IFPC solution by 2024.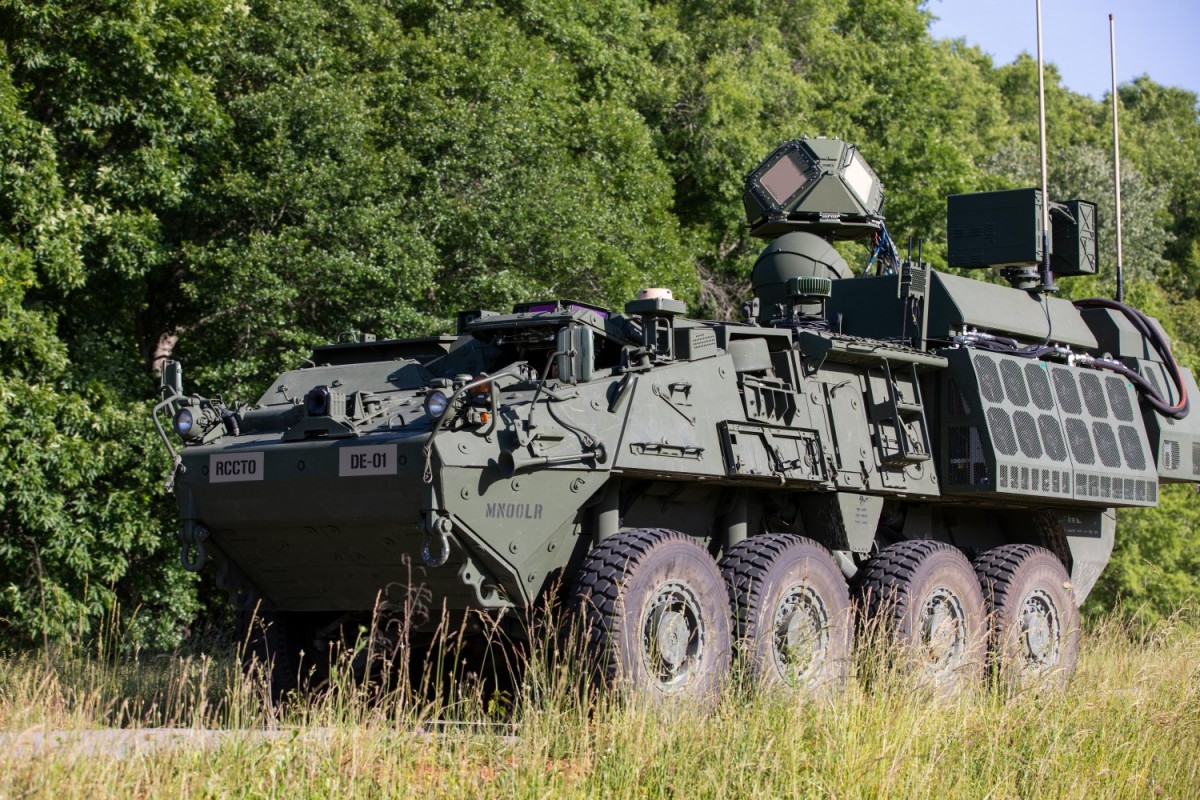 The linchpin of future air defence is the Army's IBCS being provided by Northrop Grumman. A net-centric system it integrates all the sensors and weapons sensing, identifying, tracking, and defeating air and missile threats. It seeks to incorporate every sensor and match the target with the best effector. IBCS successfully completed cruise target intercept tests in July 2021 and begins operational test in August. Low-rate production approval occurred in early 2021 with plans for fielding the first system in mid-2022.
Soldier Lethality
Enhancing the combat effectiveness of the soldier by applying technology advances is another Army priority. Within these efforts the Next Generation Squad Weapon (NGSW) is likely one of the more far reaching. Currently three candidates are being evaluated to replace the individual combat rifle (M4A1) and squad automatic weapon (M249). General Dynamics Ordnance and Tactical Systems, Sig Sauer, and Textron have provided both a rifle (NGSW-R) and automatic rifle (NGSW-AR) prototypes. These are undergoing field testing with a selection decision expected in late 2021. Each weapon must use the Army selected new 6.8mm projectile with the cartridge of their choice. This calibre is expected to offer greater range and lethality. Fielding of the new weapons is planned to begin in 2023 with the objective of acquiring 121,773 weapons over five years.
In addition to new ammunition and weapons the NGWS program includes selection of a new combat optic fire control system. The NGSW-FC will offer a variable zoom magnification, laser ranging, ballistic calculator and compensate for environmental factors. L3 Harris and Vortex Optics were selected and have provided prototypes for evaluation. This ammunition, weapon, and sight combination will allow target identification and engagement at 600 meters (1,968 feet) and beyond with increased accuracy.
Another high visibility soldier programme is the Integrated Visual Augmentation System (IVAS) which was budgeted to acquire 40,219 units in 2021. IVAS, a militarised version of the Microsoft HoloLens, which is a heads-up display worn by the soldier presents various sensor and other data in real-time. Initially considered and currently being fielded for the dismounted soldier, it provides hand-free weapon aiming, external video feed from drones and sensors, live uplinks and position and navigation displays. The system is now finding application with the vehicle mounted infantry and crews as well. IVAS can integrate and display not only imagery from any sensor but also navigation, position, targeting and other information both outside or inside any platform be it a combat vehicle, helicopter, or other. In addition, IVAS can be used for synthetic training. The Army awarded a five-year requirements contract with options for and additional five years to Microsoft for IVAS with a possible value of $21.88 billion.
Project Convergence
Project Convergence (PC) is an overreaching initiative that seeks to move data faster and across a wide range of multiple Army systems. The objective is to utilise artificial intelligence and machine learning to collect, assess, and disseminate information from a broad array of available sensors to those systems for which it is appropriate and of use. The objective is to allow linking every sensor with any shooter or more specifically the best sensor to the best shooter. Having demonstrated its possibilities at the tactical level in 2020, PC21 set to begin in November 2021 will focus on its application in joint-force all-domain operations. This ability for networking of assets across the battlespace offers a critical edge in conducting operations in the projected peer-on-peer environment.
by Stephen W. Miller