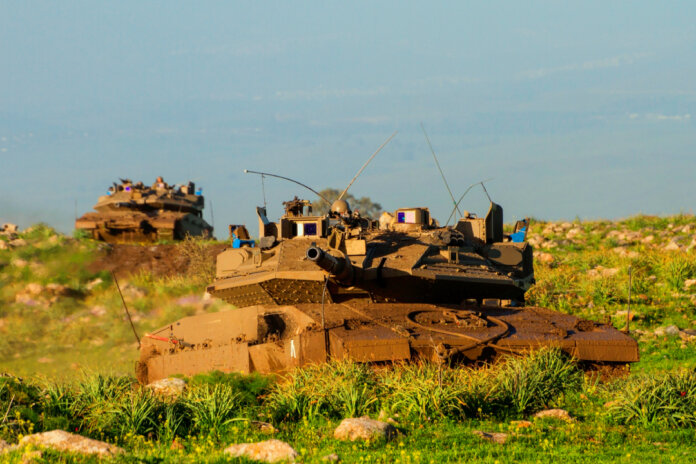 Traditional armour is often not enough to prevent main battle tanks from being knocked out on the battlefield.
One of the three key elements of an armoured fighting vehicle (AFV), be it tracked or wheeled, is armour, with the other two being mobility and firepower.
The word armour should now perhaps be replaced by survivability, as this includes additional elements that also help to enhance the survivability of the platform in an increasingly hostile environment. These can include banks of electrically operated grenade launchers, laser detectors and warner's, acoustic gun fire detection systems and hard and soft kill defensive aids systems (DAS).
Traditionally the frontal arc of an AFV such as a main battle tank (MBT), infantry fighting vehicle (IFV) or armoured personnel carrier (APC), has been the area that is provided with the best level of protection as this is where the main attack was expected to come from.
Today however, the threat can come from anywhere through 360 degrees as well as from above and below. It is impossible to design and field an AFV, which will provide the occupants with 100 percent protection against all potential battlefield threats.
In the past MBTs had a hull of cast and/or welded armour with the US Army M60 MBT having a cast armour hull and turret. Russian T-54/T-55/T-62/T-64/T-72/T-80 MBT has welded hulls with a cast armour turret, which from the T-64 onwards, contained additional special armour. The T-90 MBT originally had a cast turret but more recent production T-90s have a welded turret incorporating advanced armour. Welded turrets are easier to manufacture than cast armour turrets.
Most recent MBTs such as the Krauss-Maffei Wegmann (KMW) Leopard 2, RBSL Challenger 2, and Nexter Leclerc and General Dynamics Land Systems (GDLS) M1 Abrams series have welded hulls and turrets which incorporate advanced armour over their frontal arc.
Explosive Reactive Armour (ERA) has been fitted to many AFVs to provide protection against incoming weapons fitted with a High-Explosive Anti-Tank (HEAT) warhead. The ERA is in compact blocks that are normally attached to the platform by bolts and damaged or expended units can be replaced in the field.
Some of the more recent generation of ERA also provides protection against incoming weapons fitted with a tandem HEAT warhead and gun launched projectiles. The US Army fitted some of its Chrysler M1 Abrams series MBT with the Tank Urban Survivability Kit (TUSK) which included ERA on the hull sides, belly armour, tank infantry phone at the rear, rear camera, gunners shield, remote thermal sight, mine resistant driver's seat and a .50cal machine gun mount above the 120mm M256 smooth bore main armament.
Bar/slat type armour can be fitted which aims to neutralise the fuse of incoming munitions fitted with a HEAT warhead and this has been installed on many Mine Resistant Ambush Protected (MRAP) type vehicles as well as being installed over the rear arc of MBTs and IFVs.
The Swiss company of RUAG Defence has supplied its Side-PRO LASSO steel mesh type armour to Denmark for its M113G series APCs that deployed to Afghanistan.
AmSafe Bridport of the UK supplied its first generation Tarian Mk1 textile armour to the British Army for installation on its Heavy Equipment Transporters (HET) and this was followed by the Tarian Rocket Propelled Grenade (RPG) lightweight textile armour system which has also been designed to neutralise the warhead of incoming RPG weapons.
MRAP type platforms normally have a V-shape to the lower part of the hull for increased protection against mines with some vehicles also having a double floor.
Internally crew survivability can be further increased by providing the occupants with seats that are not attached to the floor and fitted with a five-point seat belt. Other internal survivability features can include secure weapon stowage, installation of a fire/explosion detection and suppression system and devices to assist in opening the heavy doors and hatches when the platform is on a slope.
Counter Insurgency
Many vehicles deployed on counter insurgency (COIN) type operations are fitted with electronic devices to jam Improvised Explosive Devices (IEDs) that have proved to be the greatest danger in Afghanistan and Iraq.
For use in high ambient temperature conditions an air conditioning system is usually installed and this and other electrical devices mean that more electrical power is required.
The actual thermal signature of the platform can be reduced by special camouflage paint or a covering such as the Swedish Saab Barracuda system, which also helps to reduce the internal temperature.
BAE Systems Hagglunds have developed a signature reduction system called Adaptiv that has been demonstrated on the prototype of the CV90120-T, which remains at the prototype stage.
The thermal signature can be reduced by careful positioning of the exhaust, which with the suspension, easily shows up on a thermal camera. The conventional steel track creates noise and this can be reduced by the installation of a composite rubber track, which also has a number of other advantages including reduced weight and less vibration. The Norwegian Army, for example, has fitted its M113 series APC and CV9030N IFV with Soucy International composite rubber tracks.
The platform can also be fitted with a hard kill Defensive Aide Suite (DAS). The Rafael Trophy system was initially deployed by the Israel Defense Force (IDF) on its Merkava Mk4 MBT, but has subsequently been fitted to the Namer (Tiger) heavy APC deployed by the IDF.
More recently it has been installed on US Army GDLS Abrams M1A2 MBT as the System Enhancement Package (SEP) V3 with the contract being placed through Leonardo DRS and with deliveries now complete.
In February 2021 the Germany Army ordered a small batch of Trophy ADS for installation on some of its Leopard 2 A7 MBTs with integration work to be done by KMV and scheduled to be completed by 2023.
Trophy typically consists of four Elta developed radars which cover a full 360 degrees and the Rafael developed reloadable hard kill mechanism which are normally mounted on either side of the turret. The radar would first detect the incoming threat and if confirmed as hostile and a direct threat to the platform, would launch the countermeasure to neutralise the threat.
In addition to the Trophy system for MBTs, Rafael Advanced Defence Systems has also developed Trophy Medium Vehicle (MV) and Trophy (LV) with the latter being aimed at much smaller platforms.
In August 2019 the Israeli defence ministry announced that it has selected the Elbit Iron Fist (Hetz Dordan) Light Decoupled APS for installation on its new Eitan (8×8) AFV as well as the D-9 combat bulldozer. It has also been shown installed on a number of other platforms and will be fitted to the upgraded BAE Systems Hagglunds CV9035NL of the Royal Netherlands Army under a contract announced in September 2019.
Iron Fist was originally developed by Israel Military Industries, which was subsequently taken over by Elbit and consists of a trainable launcher with typically two interceptors, radar, optional infrared sensor and the main control unit. It has also been integrated with a remote weapon station with the complete system being called Bright Arrow.
Russian Protection
Russia has always placed emphasis on survivability with its MBTs incorporating not only advanced armour but also ERA. The KBP Instrument Design Bureau developed the Drozd (Thrush) ADS which was installed on some T-55 MBTs designated the T-55AD, but these are no longer deployed.
This system comprised the control system at the commander's station; sensors and four tubes mounted either side that covered the frontal arc. Further development resulted in the Drozd-2 that is still being marketed.
The Russian KBM company developed the first generation Arena APS which included a pole type sensor device mounted on top of the turret with the vertically launched countermeasures around the outside of the turret. This was shown installed on a T-72 MBT and a BMP-3 IFV but never entered quantity production.
More recent a more compact second generation system has been developed called Arena-E for the export market. This consists of the master control box, radar sensors, launchers, kill mechanisms and associated electronics.
In addition to neutralising the incoming threat such as an anti-tank guided weapons (ATGW) or rocket propelled grenades (RPG), it is also claimed to be able to neutralise including 120mm tank projectiles.
The German company of IBD Deisenroth was a key survivability specialist and suppled a huge number of applique armour packages as well as developing a hard kill ADS which has been sold to at least one export customer, understood to be in Asia.
The company was subsequently taken over by Rheinmetall and is now called Rheinmetall Protection Systems offering potential customers passive and active protection solutions for a wide range of platforms.
The German Army has taken delivery of 380 PSM Puma IFV of which eight were driver training vehicles and another 210 have been ordered as well as bringing the first batch up to a new build standard. This has a hull of welded steel to which an additional layer of more advanced armour is added with ERA being fitted on the upper hull sides and bar/slat armour over the more vulnerable rear arc.
Puma is fitted with a remote controlled 30mm turret and on top of the commanders panoramic sighting system is the Hensoldt Multifunctional Self-Protection System (MUSS). MUSS has four hybrid sensor heads and includes a missile and laser warning sensor in a single housing and data from this is sent to the MUSS central electronics unit where final processing is carried out. This activates the infrared jammer and also initiates the adjustable smoke screen generator.
The IR jammer is claimed to be effective against most in-service wire guided optically tracked ATGW and jams the missile launcher and provides an incorrect location of the firing post so the missile misses the target.
The Russian Shtora-1 has been deployed on a number of Russian MBTs and is also designed to decoy incoming ATGW. It consists of two jammers mounted one either side of the 125mm smooth bore gun, two banks of 81mm electrically operated grenade launchers, fine and rough sensors and system control equipment.
Following the breakup of the USSR, the Ukraine retained its significant MBT production facility, although many of the sub-systems, but not the very compact diesel engines, were imported.
The Ukraine is now self-sufficient in all key MBT sub-systems, including armour and DAS and is currently marketing the Nizh (Knife) ERA which has already been fitted to some of its Oplot MBT which is claimed to provide protection against not only munitions fitted with a HEAT warhead but also kinetic threats.
The Ukraine has also developed the Zaslon ADS that in addition to being shown on some local platforms has also been shown integrated on Western platforms. A version for lighter AFV is called the Zaslon-L.
Zaslon consists of a number of pods that are fitted to the platform to provide coverage through a fully 360 degrees. Each pod includes a radar sensor that scans for the incoming threat and if confirmed as hostile a grenade is launched into the patch of the incoming threat to neutralise it.
Aselsan, the electronic systems house of Turkey, has developed the Akkor APS for installation on the Altay MBT now in production for Turkey by the BMC Company, although Otokar developed it. Elements of the Akkor include a central computer and control panel mounted inside the turret and the soft and hard kill sub-systems. The latter consists of four radar antennas and two hard kill launchers, each of which munitions to defeat the incoming threat have.
Banks of grenade launchers are fitted to many platforms and in addition to launching smoke grenades can also launch decoy grenades as well as fragmentation grenades to provide close in protection. Many MBTs can also inject diesel fuel in their exhaust systems in order to rapidly lay a smoke screen.
by Christopher F. Foss