PUTIN'S UKRAINE INVASION DRAGS RUSSIANS INTO SENSELESS EUROPEAN CONFLICT
Dear Readers,
Last week, what I hoped would not happen – while acknowledging all evidence to the contrary – happened. President Vladimir Putin, ignoring all attempts at negotiation, ordered Russian forces to invade the Ukraine on the pretext that it would be a threat to Russian security if it joined NATO.
This is not a war ordinary Russian citizens either wanted or support. But, as has been proven time and again that despots, when unpopularity at home is rising, try to rally ordinary citizens to the nationalist flag. Alexei Navalny, Putin's political opponent who was poisoned and then sent to prison on spurious charges, has been quick to condemn Putin's actions risking further draconian extensions to his sentence.
The lies that Russian government controlled state media tells its citizens on a daily basis can now be seen for what they are, thanks to digital communications and social media. Russian's are now well travelled people, and can see international condemnation is rapidly growing in cancelled flights, travel restrictions – and a plummeting Rouble. More economic hardship is coming quickly.
Putin's decisions are increasingly erratic. Sunday's declaration that he has instructed the military to place his nuclear deterrence forces on 'high alert' is without basis, inflammatory and strategically dangerous. No country is threatening Russia. There are no massed forces on Russia's borders. What is more, Ukraine is not a member of NATO, and NATO has already stated that it will not send armed forces into Ukraine. NATO is reinforcing its member states only to guard against any further invasions opportunities that Putin may consider, particularly to the Baltic states of Latvia, Lithuania and Estonia.
The international community – outside of NATO – should see this for what it is and, if only for reasons of self interest and a return to global stability, call on Russia to end this senseless invasion.
Thanks for reading,
Andrew Drwiega
THOUGHT FOR THE WEEK
"When you attack us, you will see our faces, not our backs" – Ukraine's President Zelenskyy
---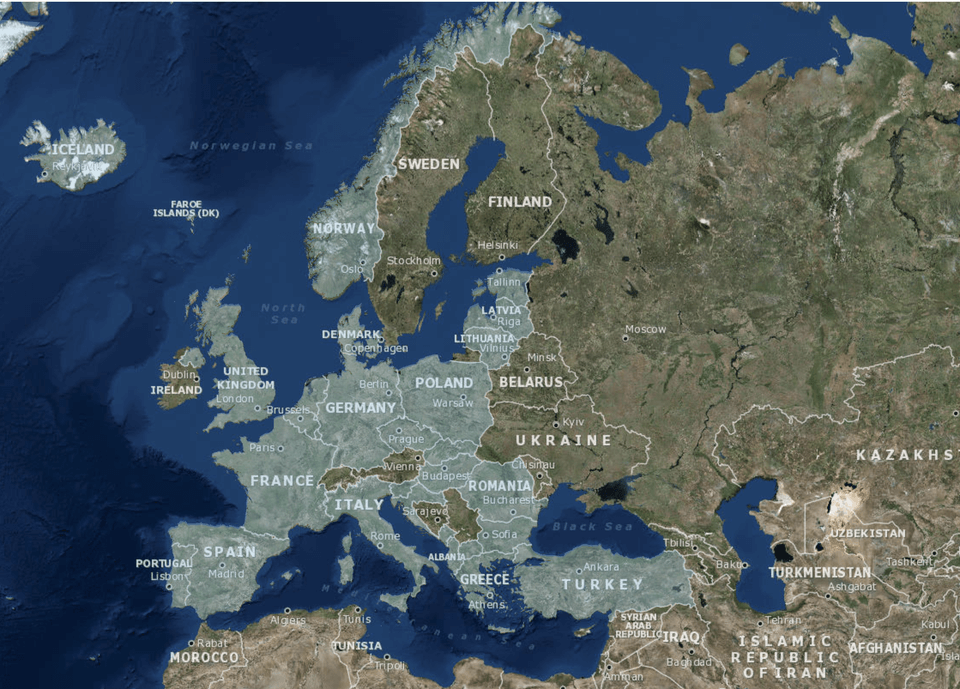 NATO – FACT CHECKING RUSSIA'S CLAIMS
The following extract is taken from the NATO website. Unlike Russia, all of the statements can be independently checked by the international media and statements held to account. it is entitled:
Myth 1: NATO promised Russia it would not expand after the Cold War
Fact: Such an agreement was never made. NATO's door has been open to new members since it was founded in 1949 – and that has never changed. This "Open Door Policy" is enshrined in Article 10 of NATO's founding treaty, which says "any other European State in a position to further the principles of this Treaty and to contribute to the security of the North Atlantic" can apply for membership. Decisions on membership are taken by consensus among all Allies. No treaty signed by the United States, Europe and Russia included provisions on NATO membership.
The idea of NATO expansion beyond a united Germany was not on the agenda in 1989, particularly as the Warsaw Pact still existed. This was confirmed by Mikhail Gorbachev in an interview in 2014: "The topic of 'NATO expansion' was not discussed at all, and it wasn't brought up in those years. I say this with full responsibility. Not a single Eastern European country raised the issue, not even after the Warsaw Pact ceased to exist in 1991. Western leaders didn't bring it up, either."
Declassified White House transcripts also reveal that, in 1997, Bill Clinton consistently refused Boris Yeltsin's offer of a 'gentlemen's agreement' that no former Soviet Republics would enter NATO: "I can't make commitments on behalf of NATO, and I'm not going to be in the position myself of vetoing NATO expansion with respect to any country, much less letting you or anyone else do so…NATO operates by consensus."
Myth 2: NATO is aggressive and a threat to Russia
Fact: NATO is a defensive alliance, whose purpose is to protect our members. NATO's official policy is that "the Alliance does not seek confrontation and poses no threat to Russia." NATO didn't invade Georgia; NATO didn't invade Ukraine. Russia did.
NATO has reached out to Russia consistently and publicly over the past 30 years. We worked together on issues ranging from counter-narcotics and counter-terrorism to submarine rescue and civil emergency planning – even during periods of NATO enlargement. However, in 2014, in response to Russia's aggressive actions against Ukraine, NATO suspended practical cooperation with Russia. We do not seek confrontation, but we can't ignore Russia breaking international rules, undermining our stability and security.
In response to Russia's use of military force against Ukraine, NATO deployed four multinational battlegroups to the Baltic States and Poland in 2016. These units are not permanently based in the region, are in line with Allies' international commitments, and amount to around 5,000 troops. They do not pose a threat to Russia's 1,000,000 strong army. Before Russia's illegal annexation of Crimea, there were no Allied troops in the eastern part of the Alliance.
NATO remains open to meaningful dialogue with Russia. That is why NATO Secretary General Jens Stoltenberg has invited all members of the NATO-Russia Council to a series of meetings to discuss European security, including the situation in and around Ukraine, NATO-Russia relations, and arms control and non-proliferation.
Myth 3: Ukraine cannot join NATO
Fact: NATO Allies welcome Ukraine's aspirations to join NATO and they stand by the decision made at the 2008 Bucharest Summit that Ukraine will become a member of the Alliance.
Decisions regarding NATO membership are up to each individual applicant and the 30 NATO Allies. No one else. Russia has no right to intervene and cannot veto this process.
Like every country, Ukraine has the sovereign right to choose its own security arrangements. This is a fundamental principle of European security, one that Russia has also signed up to, including through the Helsinki Final Act (1975), the Charter of Paris (1990), the NATO-Russia Founding Act (1997) and the Charter for European Security (1999).
This full article and more can be found at the following:
https://www.nato.int/cps/en/natohq/115204.htm#myths
---
US MAJOR ARMS SALES (Defence Security Cooperation Agency – DSCA).
22 February – Australia, LAIRCM Line Replaceable Units (LRUs)
The State Department has approved a possible Foreign Military Sale to the Government of Australia of LAIRCM Line Replaceable Units (LRUs) and related equipment for an estimated cost of $122 million.
22 February – Design and Construction of the Kuwait Ministry of Defense Headquarters
The State Department has approved the potential Foreign Military Sale to the Government of Kuwait of Design and Construction of the Kuwait Ministry of Defense Headquarters Complex and related equipment for an estimated cost of $1 billion.
---
US GOVERNMENT CONTRACTS
Highlighting a selection of major equipment and support contracts and Foreign Military Sales between 21-25 February 2022. This list is the Editor's selection and is arbitrary.
25 February
US Army
Oshkosh Defense, was awarded a $9.9 million contract for commercial semi-trailers. Fiscal 2022 Foreign Military Sales funds in the amount of $9.9 million were obligated at the time of the award. US Army Contracting Command is the contracting activity.
US Navy
Lockheed Martin has been awarded a $49.2 million order that provides Long-Range Anti-Ship Missile integration and test effort for the Royal Australian Air Force F/A-18 E/F aircraft for the government of Australia. Work will be completed in March 2026. Foreign Military Sales funds in the amount of $49.2 million will be obligated at the time of award. The Naval Air Systems Command is the contracting activity.
Zenetex is awarded an $8.1 million modification contract that exercises an option to provide contractor support services for the MH-60R Multi Mission Helicopter for the government of Australia. Foreign Military Sales funds in the amount of $8.1million will be obligated at the time of award. The Naval Air Warfare Center Aircraft Division is the contracting activity.
24 February
US Army
FITT-PDS JV; Advanced Technology Leaders; TopSarge Business Solutions; and Flatter, will compete for each order of the $120 million contract for instructor, training, support, and development services. US Army Field Directorate Office is the contracting activity.
US Navy
General Dynamics Electric Boat was awarded a $108 million modification contract for Smart Start maintenance, repair, and modernisation efforts in support of the USS Hartford (SSN 768) engineered overhaul. The Naval Sea Systems Command is the contracting activity. (Awarded 18 February, 2022)
US Air Force
Leidos has been awarded a $26.9 million contract for the development of a mature prototype based on the first generation technology demonstrator, high-power microwave (HPM) counter unmanned aerial system (cUAS) prototype. Air Force Research Laboratory is the contracting activity.
23 February
US Air Force
FlightSafety International Defense has been awarded a $32 million modification contract for the exercise of the KC-46 Aircrew Training System (ATS) Production Year 7 options. The contract modification is for the exercise of option contract line item numbers for additional weapon system trainers, boom operator trainers, fuselage trainer, pilot part task trainers, support equipment, McChord site activations, systems engineering and program management, summative evaluation and new refresher training scenarios. Air Force Life Cycle Management Center is the contracting activity.
US Navy
Sikorsky is awarded a $36million order that provides a CH-53K Flight Control Computer (FCC) redesign due to obsolescence and will include non-recurring engineering efforts to integrate, test, and qualify an updated FCC. The redesigned FCC will undergo qualification testing to ensure all changes meet the performance requirements of the current CH-53K FCC technical requirements specification and to maintain backward compatibility at a shipset level with all CH-53K flight control system hardware and software interfaces. Work is expected to be completed in September 2025. The Naval Air Systems Command is the contracting activity.
22 February
US Army
Collins Aerospace is awarded a $48.3 million contract that provides developmental design and risk reduction engineering efforts for airborne very low frequency systems modernisation in support of Airborne Strategic Command, Control, and Communications Program Office (PMA-271) program capability requirements. This risk reduction effort is to meet requirements for the very low frequency integration into a C-130 aircraft. The Naval Air Systems Command is the contracting activity.
UPDATE: The contract modification announced on 28 December, 2021, for $492 million to Lockheed Martin Aeronautics to exercise options to provide logistics support for delivered F-35 Lightning II Joint Strike Fighter aircraft systems for the Air Force, Marine Corps, Navy, non-U.S. Department of Defense participants and Foreign Military Sales customers has been amended to $2.1 billion.
---
EVENT CONFIRMATION
WORLD DEFENCE SHOW
6-9 MARCH, Riyadh, Saudi Arabia. .
DIMDEX
21-23 MARCH, Qatar National Convention Centre (QNCC), Doha, Qatar.
DEFENCE SERVICES ASIA
28 – 31 March 2022, Kuala Lumpur, Malaysia
QUAD-A
Army Aviation Mission Solutions Summit,
3-5 APRIL, Nashville, TN, USA
---
Thanks for reading,
Andrew Drwiega
Editor-in-Chief
Armada International / Asian Military Review