Armada's monthly round-up of all the latest electronic warfare news in the product, programme and operational domains.
Products
Towards the end of 2021 Mercury Systems unveiled its new Model 5503 Sensor Open Systems Architecture aligned high-speed 3U VPX synchroniser module. A press release announcing the news stated that the Model 5503 is an "optimised commercial-off-the-shelf (COTS) solution that simplifies complex synchronisation tasks for beamforming and phased-array applications". It can synchronise up to 32 channels across four RF (Radio Frequency) system-on-chip quartz modules. In an official statement, Mercury told Armada that the product contains "resources ideal for EW signal acquisition, processing and generation in a single monolithic device."
In late 2021 Qorvo announced the introduction of three new wideband power amplifiers. A company press release said these products cover a one gigahertz/GHz to 40GHz frequency range. Mooted applications include electronic warfare and radar. The trio of products includes the Qorvo QPA0106, QPA2966D and QPA2640D power amplifiers. The first provides 18 watts of saturated power over a one gigahertz to six gigahertz frequency range. The QPA2966D delivers 20 watts of saturated power on wavebands of two to 20GHz. Finally, the QPA2640D produces eight watts of saturated power covering wavebands of 20GHz to 40GHz. All are built using Gallium Nitride technology. They have been optimised to reduce size, weight and power consumption, according to the press release.
Programmes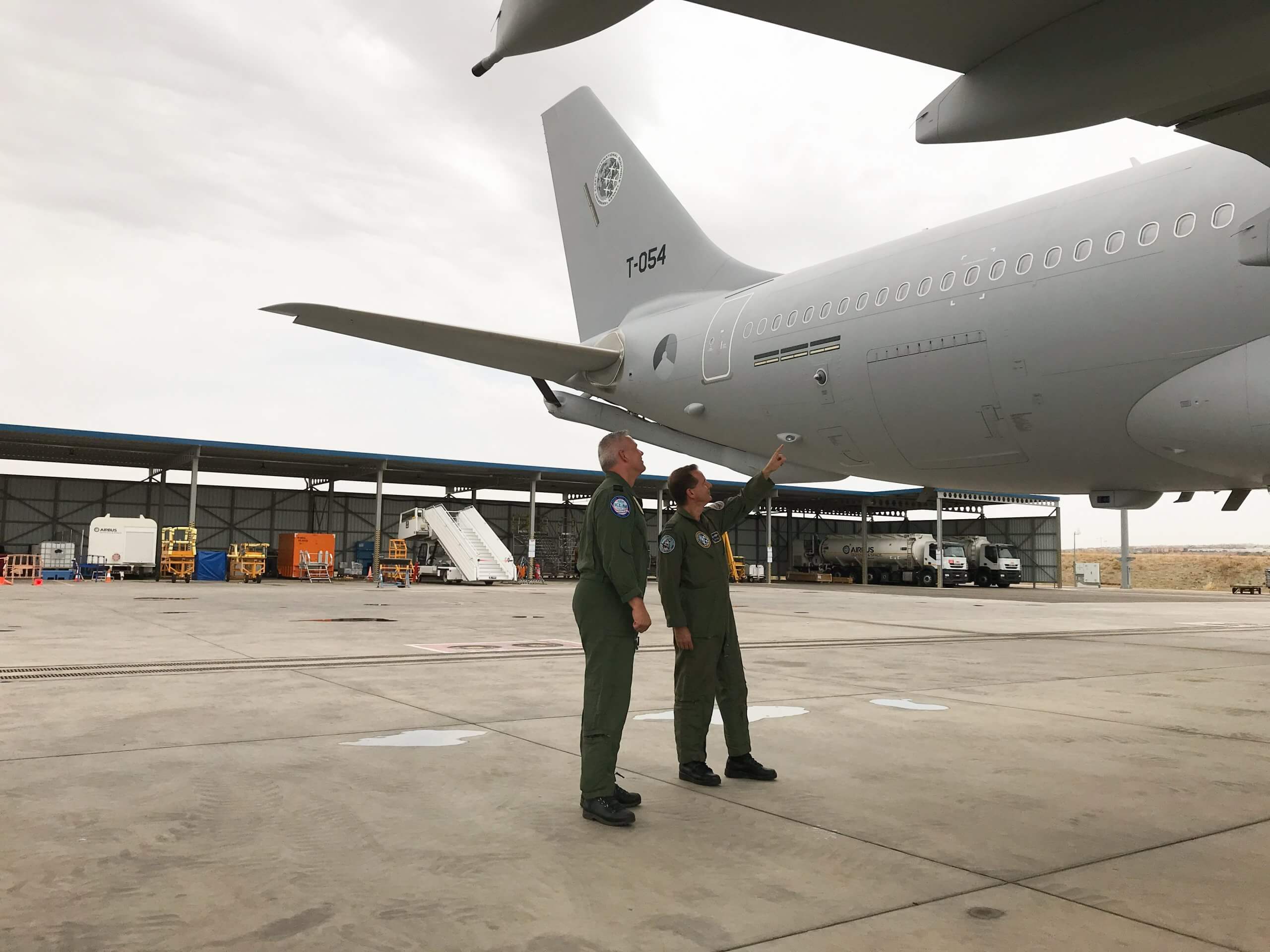 On 3rd January, Elbit Systems announced the award of a $53 million contract from the United Arab Emirates (UAE). This will see the company supplying its J-MUSIC directional infrared countermeasures to equip the UAE Air Force's three Airbus KC-30A tankers. These aircraft will also receive Elbit's PAWS infrared missile approach warning system. A press release said the contract will be completed by 2027.
A social media post by Professor Ismail Demir head of Turkey's presidency of defence industries revealed that new EW systems have entered service with the Turkish armed forces. To this end ASELSAN's VURAL system is believed to have been delivered to the Türk Kara Kuvvetleri (TKK/Turkish Army). Reports state that VURAL is a radar electronic attack system. It has been developed using ASELSAN's KORAL radar jammer. As Armada has previously reported, the latter can engage radars transmitting in S-band (2.3GHz to 2.5GHz/2.7GHz to 3.7GHz) up to Ka-band (33.4GHz to 36GHz). KORAL is in service with the Türk Hava Kuvvetleri (Turkish Air Force) and has also been exported to Morocco. The system is thought to be used to attack airborne radars. VURAL, which equips the TKK, maybe optimised to attack ground-based radars. This could include ground-based air surveillance, weapons locating and ground surveillance radars.
In other news, it was reported in late December that the TKK had received its first ASELSAN ILGAR ground-based electronic warfare system. ILGAR is designed to electronically attack hostile communications. Although not specified, this probably means the system can target emitters on frequencies of circa 30 megahertz up to five gigahertz. This will allow ILGAR to attack Very/Ultra-High Frequency (V/UHF) emitters. High frequency (three to 30MHz) threats are the target of the TKK's ASELSAN SANCAK communications jammer.
The Turkish military were not the only ones welcoming new electronic warfare systems into service in early 2022. The menadefense.net website reported in early January that the Algerian Army has taken delivery of new ELINC/CEIC LDK-190 electronic attack apparatus. Reports did not reveal how many of these vehicle-mounted systems have been delivered. Open sources say that the LDK-190 covers frequencies of 500MHz up to 40GHz. This indicates that the system has been acquired primarily to attack radars alongside UHF radio and Satellite Communications (SATCOM). A plethora of emitters could be held at risk by the LDK-190. These include radars transmitting in L-band (1.215GHz to 1.4GHz), S-band, C-band (5.25GHz to 5.925GHz) and X-band (8.5GHz to 10.68GHz). SATCOM transmissions in similar frequencies may also be targeted by the LDK-190. Sources continued that the jammer could have a range of circa 324 nautical miles/nm (600 kilometres/km) and produce up to 500 kilowatts of effective radiated power. This refers to the power of the jamming signal at the LDK-190' antenna and not the amount reaching the target, which invariably diminishes with range. No further details were made public regarding how many LDK-190s have been acquired by the army, nor the units they deploy with.
In early January, Lockheed Martin awarded BAE Systems a contract to upgrade the hardware of the latter's AN/ASQ-239 electronic warfare system. This equips the former's F-35A/B/C Lightning combat aircraft. A BAE Systems press release stated that the contract is worth $439 million. It will upgrade the AN/ASQ-239's hardware providing overarching improvements to the system's capabilities. More details regarding the AN/ASQ-239 can be found in this Armada article.
In Armada's December Spectrum SitRep we reported Hawkeye 360's announcement that it had raised $145 million in funding. This helps finance a new cluster of radio frequency sensing and geolocation satellites the company plans to launch in the coming years. A Hawkeye 360 press release published in January revealed the company has won a $15.5 million contract from the US Air Force's Research Laboratory. According to the press release, the contract will see the company providing RF "analytics, research, development and experiments." This will help the US government "demonstrate, test and evaluate its hybrid space (intelligence, surveillance and reconnaissance) architecture." The contract has a three-year duration.
News emerged in mid-January that the United States plans to export Communications Intelligence (COMINT) pods to France. These will equip Armée de l'Air et de l'Espace (ADLAE/French Air and Space Force) General Atomics MQ-9A Reaper Unmanned Aerial Vehicles (UAVs). The ADLAE has eight MQ-9As with another five on order. According to the bulgarianmilitary.com website, the US Congress gave France permission to purchase five COMINT pods for $71 million. This equates to an approximate unit price of circa $14.2 million. The report said did not reveal the model of pod to be supplied although BAE Systems was named as the manufacturer. It seems likely that the pod in question is the Hammer SIGINT system already known to be used by US MQ-9 family UAVs. No details regarding the pod's coverage are made available in BAE Systems' official literature. Nonetheless, it is reasonable to assume that it covers frequencies of 30MHz up to at least three gigahertz. The MQ-9A has a cruising altitude of 25,000 feet (7,500 metres). This could give the Hammer pod an emitter detection range of circa 194nm (359km). The acquisition of a COMINT capability for the MQ-9A will be a notable enhancement for the ADLAE. As Armada reported in November 2021, the force's two TransportAllianz C-160G Gabriel SIGINT aircraft will retire by the end of 2022. Thus the MQ-9As will help address this shortfall before the new Dassault Falcon-8X Archange SIGINT aircraft enter service in 2023.
The Eurasian Times reported in late December 2021 that the Japan Air Self Defence Force's (JASDF) McDonnell Douglas/Boeing F-15MJ Eagle combat aircraft are to be upgraded. The US Air Force awarded Boeing a contract worth $471.3 million for the enhancement. It forms part of a larger contract worth $4.5 billion concluded in 2019 to upgrade the JASDF's 156 F-15J/MJ planes. The F-16MJs will receive new Raytheon AN/APG-82(V)1 X-band fire control radars. They will also be outfitted with BAE Systems' AN/ALQ-239 digital electronic warfare system designed to outfit F-15 family aircraft. According to Armada's records, it covers frequencies of two gigahertz to 40GHz. Alongside the JASDF jets, the AN/ALQ-239 adorns the F-15SA aircraft the Royal Saudi Air Force has on order.
Operations
The Russian Army has deployed electronic warfare systems to Kazakhstan. Russian troops were sent to the country on 6th January. They were requested by Kazakhstan's President Kassym-Jomart Tokayev. The troops were deployed under the auspices of the Collective Security Treaty Organisation (CSTO). The CSTO is a military alliance comprising Armenia, Belarus, Kazakhstan, Kyrgyzstan, Russia and Tajikistan. The deployment occurred amidst rising civil unrest. Protests erupted on 2nd January following an increase in gas prices.
Reports said that Russian Army assets deployed to Kazakhstan included Special Technological Centre RB-341V Leer-3 jamming systems. As Armada has reported in the past the RB-341V can detect and jam communications. These include GSM (Global System for Mobile Communications) protocols. GSM frequencies inhabit wavebands of 900MHz to 1.9GHz.
The deployment of the RB-341V indicates that Russian forces maybe assisting the Kazakh government in jamming protesters' cellphone communications. This seems to suggest that the Kazakh armed forces lack this specific capability. The RB-341V may also be used to detect and track individual protesters and persons of interest based on their cellphone transmissions.
by Dr. Thomas Withington