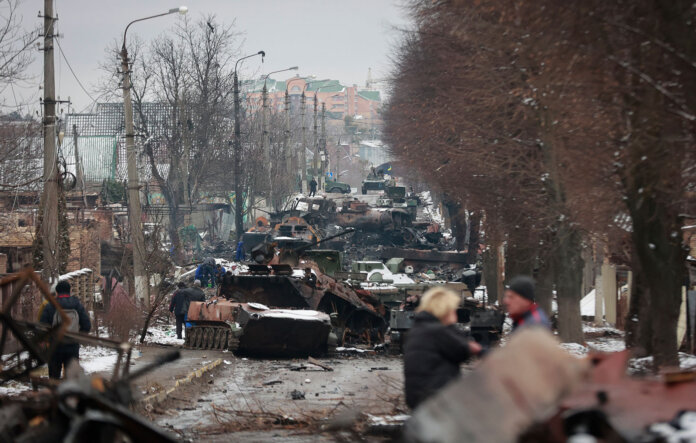 Although the more sophisticated long range and precision guided anti-armour missiles like the FGM148 Javelin from the United States and Saab Dynamics NLAW provided by the United Kingdom are receiving the most attention from media and public officials, the individual hand-held shoulder fired anti-armour weapons are adding significantly to the destruction inflicted on the Russians.
As combat encounters increase in urban and built-up areas, these weapons will become even more important. The confines of urban areas with homes and buildings clustered together down narrow streets result in reduced lines of sight and ability to engage at extended ranges. In addition, the buildings offer cover and concealment for defenders who can often move between buildings undetected – a tactic much used in the defence of Stalingrad. Now that same tactic is being used against advancing Russian units which are channelled down such streets, increasingly rubble strewn which they are creating through their indiscriminate artillery and missile fire against civilian areas. Defence at relatively close ranges of several hundred meters and often much less is very costly to an advancing army.
In both urban and rural forests and dense growth the guided missile may not be able to take advantage of its longer range that is possible in more open areas. Their minimum engagement ranges can also handicap their use; the Javelin is best deployed over 150 metres for a top-attack and 65m for direct attack. This could make it difficult to engage a tank that suddenly appears around a street corner at short range. In addition, the guided missiles are both costly and often limited in numbers, so they are ideally reserved for the most difficult or high priority targets, like main battle tanks or command vehicles.
Individual shoulder fired anti-armour weapons not only fill this gap but provide infantrymen with an anti-armour, anti-material, and close fires support capability immediately to hand. It is likely that much of the destruction inflicted on the stalled Russian supply columns in Ukrainian dismounted attacks could be attributed to these weapons. Supply and fuel trucks and their escorting light armoured vehicles would be prime targets for individuals with easily carried shoulder-fired systems engaging suddenly from the flanks. The effectiveness of shoulder fired anti-armour weapons against unsupported armoured vehicles in an urban setting is dramatically illustrated in the engagement of a lone Russian main battle tank on the streets of Maripol.
The Weapons
The Ukrainian Army has large stocks of hand-held shoulder fired unguided rocket propelled grenades (RPGs) from its Soviet Union past. These include the well-known reloadable RPG-7 with an effective range under 300m (US Army tests showed a 50 percent hit probability at 180m). Most often these fire a High Explosive Anti-Tank (HEAT) shaped charge warhead. It is simple to use, and at 15.4 pounds (7 kilogrammes) it easily carried. Others include the RPG-18 and RGP-22, both one-shot disposable weapons using a HEAT warhead rocket for use inside 200m primarily against light armour, structures, and material. The light 6.2lb (2.8kg) weight allow these to be widely distributed to soldiers. These all have a back-blast limiting their firing from inside buildings and confined spaces. They are most effective employed in teams with several weapons engaging the same target, preferability from the side or rear.
Military Aid
The military aid response promised and/or delivered to Ukraine includes thousands of over six different individual shoulder fired systems from at least 10 countries. The majority are single-shot disposable weapons that are simple to use and can be widely issued to bolster the defences. The largest quantity is the 11,000 Nammo designed M72 66mm LAWs being provided by five countries. Similar to the RPG-18 and 22, which are derived from it, they are lightweight at 8lb (3.6kg) and compact (780mm/31 inch) to carry) with an effective range of around 200m. There are a number of improved versions of the M72 including the higher velocity EC (Enhanced Capability) round. A 'soft-backblast' version has been developed but it is not known if these have been offered. The simplicity and carrying ease allow M72 to be used in mass ambushes against light armoured and soft targets.
The Saab Dynamics 84mm AT4 recoilless smoothbore anti-tank weapon is arriving in Ukraine with 5,000 promised by Sweden at the end of February (breaking its long position of not arming an active conflict). On 16 March the United States announced its aid would include 6,000 AT-4s. The AT-4 will add a substantial boost to Ukraine's ground forces, particularly its urban combat capabilities. A single shot weapon, its HEAT warhead version is accurate against a point target at 300m and area targets to 500m. Accuracy is facilitated by the velocity of the projectile that reaches 300 metres per second. The AT-4 CS (Confined Space) version can also be safely fired from a more enclosed space. This allows soldiers to remain hidden in a basement, bunker or upper story window so that they can engage the target closer, especially areas where armour is less thick. The AT-4 HEAT is also specially designed for increased 'behind armour effect', devastating the interior on a tank by targeting the crew, controls, and stowed ammunition. Other AT-4 versions are available with an urban combat round that can be set to penetrate a wall and explode inside – referred to as mouse-holing. AT-4 fielding offers a new level of capability that can accompany Ukraine's infantry manoeuvre tactics and its urban fight.
Germany and the Netherlands are providing 1,400 Panzerfaust 3 (Pzf3) shoulder fired anti-armour weapons which comprise a disposable canister containing the rocket and reusable firing and sight device. At around 28.6lb (13kg) ready for action, the rocket has a 110mm (4.3in) shaped charge warhead with both tandem-charge and bunker-buster rounds available. Pzf3 are typically used by a two-person team: the gunner with two rounds and a rifleman backpacking an additional three rounds. In addition to Pzf3 which are optically sighted, it is evident that weapons with computer-assisted laser sights are being provided. These can be used against static targets at up to 600m and moving to 300m.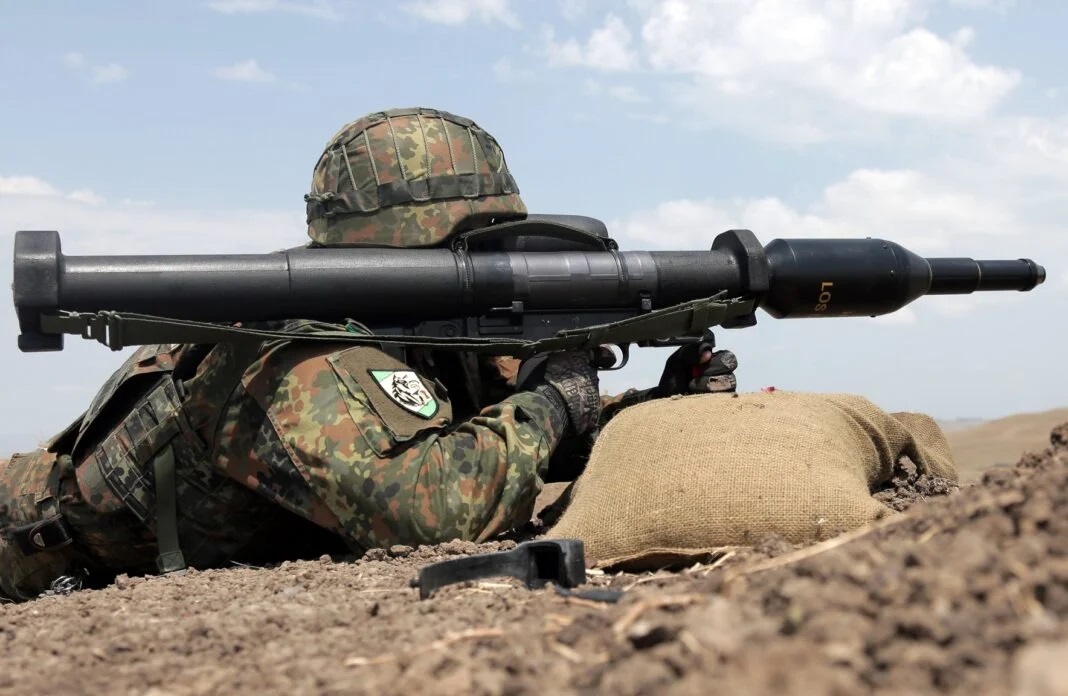 As part of its aid package, Poland is delivering its RPG-76 Komar (Mosquito) – a simple lightweight 2.6lb (2.1kg) disposable anti-armour weapon. Originally developed and produced in Poland through the 1990s, these are being drawn from stocks. Despite a short 200m range and modest 260mm penetration, the RPG-76's low weight and compact 805mm length with its frame stock folded make it a handy infantry weapon especially against soft targets like trucks.
Assessment
This influx of simple individual shoulder fired and largely modern anti-armour weapons, added to Ukraine's existing RPGs, seem to be significantly complicating Russian attempts to take the towns and cities as rapidly as they first thought. They have provided Ukraine's soldiers with substantial firepower in defence and to interdict Russian supply lines. The quantities themselves are impressive as one military observer reflected: "if only 20 percent are effective, it would mean a loss of over 1,000 Russian combat vehicles".
by Stephen W. Miller