Armada's monthly round-up of all the latest electronic warfare news in the product, programme and operational domains.
Products
CRFS announced that the company has demonstrated a new phase of research and development regarding Three Dimensional Time Difference of Arrival geolocation techniques for airborne platforms. The company said that these 3DTDOA techniques pinpoint aircraft at ranges of hundreds of kilometres. CRFS used four of its RFeye receivers located in New York State. Each was approximately 75 kilometres/km (45 miles) apart. Transmissions from aircraft Automatic Dependent Surveillance-Broadcast systems were detected using the receivers. These were then geo-located using the 3DTDOA techniques. Within the network of receivers, aircraft location was computed to an accuracy of 16 metres/m (52 feet). Altitude accuracies of 229.7 feet (70 metres) were also derived from these techniques.
Persistent Systems has unveiled its new Multi-Band Tracking Antenna for locating and tracking inhabited and uninhabited aircraft. A company press release said the antenna does this without recourse to Global Navigation Satellite System (GNSS) apparatus. The press release added that tracking can be achieved in heavily electromagnetically congested or contested environments. Two of the company's MPU-5 mobile ad-hoc networking radios, each using a different waveband, accompany the antenna. MPU-5s transmit in L-band (one to two gigahertz/GHz), S-band (two to four gigahertz) and C-band (four to eight gigahertz). Antenna inputs can be independently horizontally or vertically polarised the release continued. This frequency and polarisation diversity helps the user avoid deliberate or unintentional interference.
Programmes
The overtdefense.com website reported on 30th March that Bharat Electronics Limited (BEL) had secured two contracts to equip the Indian Air Force (IAF) with new Electronic Warfare (EW) systems. The report said that BEL will supply circa 42 D-29 Integrated Self-Defence Systems (ISDS). These will equip the IAF's MiG-29 (NATO reporting name Fulcrum) combat aircraft. The contract is worth $264 million equating to a unit price of circa $6.2 million. The D-29 ensemble includes a radar warning receiver, electronic support measure and electronic countermeasure. The report continued that the ISDS covers a waveband of six gigahertz to 18GHz. No details are available on the contract's completion date. In addition to the D-29 systems, BEL will supply the IAF with an Instrumented Electronic Warfare System for testing and evaluating aircraft EW equipment. This contact is worth $147 million.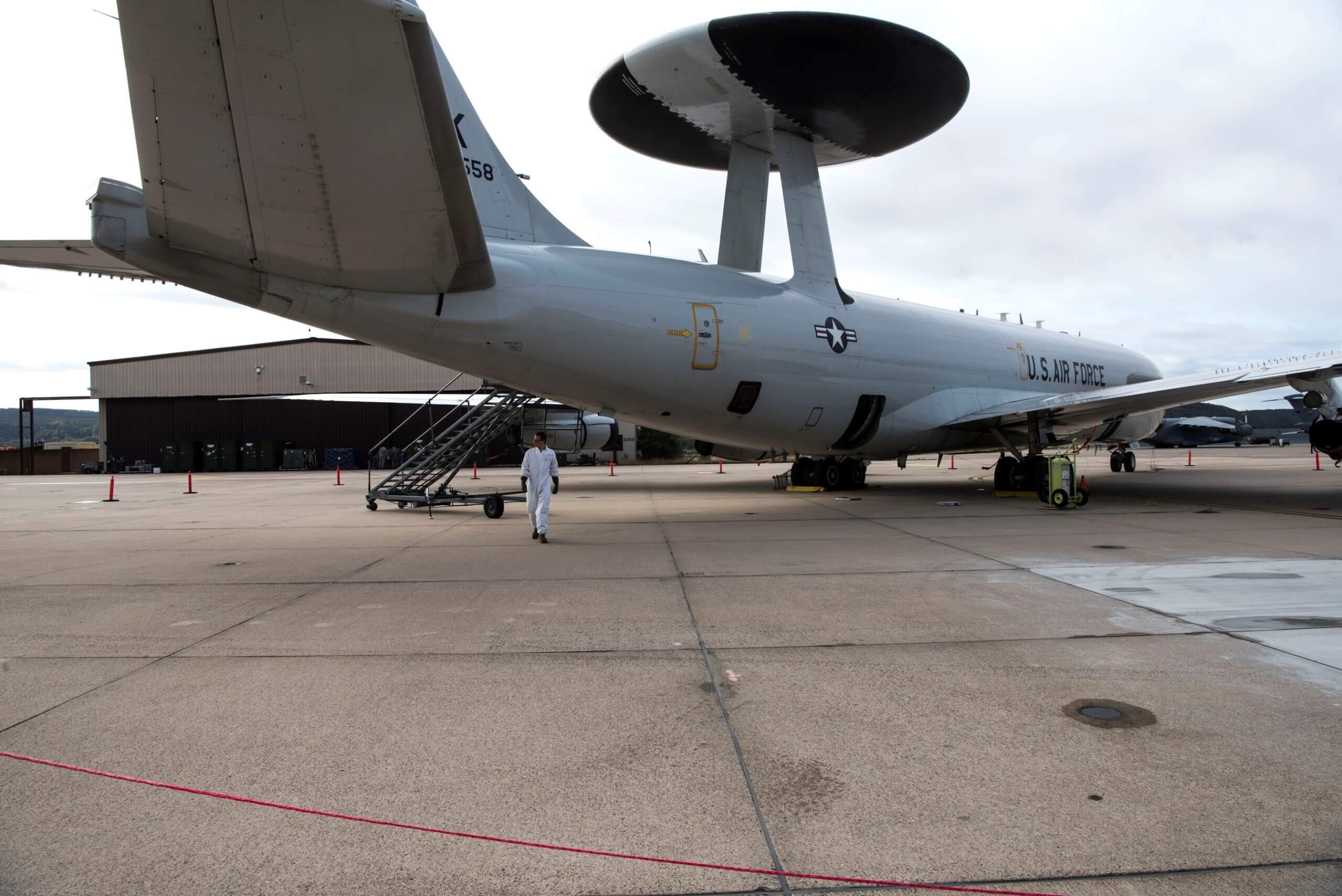 The US Air Force (USAF) revealed on 6th April that it had performed a live update of the Electronic Support Measure (ESM) outfitting a USAF Boeing E-3G Sentry airborne early warning aircraft. These planes are equipped with Boeing's AN/AYR-2 ESM. Open sources state that the ESM covers a waveband of two gigahertz to 18GHz. The ESM helps detect airborne targets using the parameters of their radar emissions. The ESM matches those parameters with a particular radar type. This reveals the identity of the target based on the aircraft's radar emissions. The live update occurred during a E-3G flight. The aircraft collected Electronic Intelligence (ELINT) using its AN/AYR-2. The ELINT was transmitted to the USAF's 36th EW Squadron at Eglin airbase, Florida via the E-3G's satellite communications. The squadron processed the ELINT correcting any deficiencies. The corrected ELINT was transmitted back to the E-3G and loaded into the aircraft's ESM. This is the first time such a procedure has been performed using an E-3G. The air force has dubbed this process the Airborne Cooperative EW Integrated Reprogrammable Exchange (ACEWIRE). ACEWIRE will accelerate processing times for ELINT gathered by the E-3G and quicken the process by which ELINT collected from other sources is shared with the aircraft.
The United States' National Reconnaissance Office (NRO) is believed to have placed two new Signals Intelligence (SIGINT) satellites in orbit on 17th April, according to reports. The spacecraft were sent aloft on a SpaceX Falcon-9 rocket launched from Vandenburg airbase, California. No information was released regarding the satellites' identity or purpose. Analysis performed by the nasaspaceflight.com website speculated that the satellites form part of the US Navy's Intruder constellation. This constellation is the backbone of the US Navy's Naval Ocean Surveillance System (NOSS). Sources note that Lockheed Martin is the prime contractor for these satellites. A total of 18 are believed to comprise the Intruder constellation. NOSS tracks ships via their radio and radar transmissions using triangulation to determine their position.
Toyon Research Corporation has won a contract worth $11.7 million from the US Navy's Naval Air Warfare Centre (NAWC). Reports say the company has been contracted to provide hardware for the US Marine Corps' AN/ALQ-231(V) Intrepid Tiger family of electronic warfare systems. The AN/ALQ-231(V) provides enhanced protection to USMC aircraft. The NAWC also awarded a contract to Amherst Systems (part of Northrop Grumman) to support of the Combat Electromagnetic Environment Simulator. Known as the CEESIM this supports US Navy and USMC sea-, land-, air- and space-based EW systems. Reports say the contract is worth $11.97 million. Work is expected to be completed by April 2027.
Operations
Amidst the deteriorating security situation in Ukraine, the US Navy dispatched six Boeing E/F-18G Growler electronic warfare aircraft to Germany. Reports say the move was intended to strengthen North Atlantic Treaty Organisation (NATO) defences on the alliance's eastern borders. The aircraft are based at Spangdahlem airbase, western Germany. The Growlers will provide important deterrence vis-à-vis any Russian attempts to extend the war into NATO territory. They may also help NATO Signals Intelligence (SIGINT) collection efforts from the Ukrainian theatre. NATO has deployed scores of SIGINT gathering aircraft such as USAF and Royal Air Force Boeing RC-135 series planes since the Ukraine war began. These have flown close to Ukraine's borders and collected SIGINT from stand-off ranges. This intelligence will be vital for deepening NATO's knowledge of Russian radar and radio communications.
Staying in Ukraine, SpaceX announced in late April that the company successfully countered an attempted Russian electronic warfare and cyberattack. This was directed against its Starlink satellite internet services provided to Ukraine. By 6th April, SpaceX had supplied over 5,000 Starlink terminals to users in Ukraine. The cause of the jamming is a mystery. Starlink uses Ku-band frequencies of 14GHz to 12.75GHz and Ka-band frequencies of 18GHz to 26.5GHz. The Russian armed forces are not thought to possess EW systems capable of jamming those frequencies. A cyberattack on the other hand does seem likely. On 24th February, Viasat experienced a similar attack blamed on Russia. This impacted its KA-SAT consumer satellite broadband services. The attack was aimed at KA-SAT terminals being used in Ukraine. It quickly spread from Ukraine to other parts of Europe. Viasat was able to restore its services and developed techniques to prevent and mitigate similar future attacks. Likewise, SpaceX rapidly overcame the attack by issuing a software fix changing a single like of code. These cyberattacks were almost certainly the work of Russia's Internet Research Agency (IRA). The IRA is believed to perform cyberattacks against strategic targets like satellite communications networks at the behest of the Russian government.
The NEWS electronic warfare system will equip the new electronic warfare unit that the Japan Ground Self-Defence Force will base at Camp Asaka, Tokyo. In late March, the Japanese government announced that the country's Ground Self Defence Force (GSDF) would activate a new electronic warfare unit at Camp Asaka, Tokyo. The unit will fall under the command of the GSDF's Eastern Army. This formation is responsible for the protection of the central part of Honshu Island. Local reports say a further three GSDF electronic warfare units should be activated before the end of the years. So far, the Ground Self Defence Force has established seven dedicated EW units across its order of battle. These units are outfitted with Mitsubishi Electric's NEWS electronic warfare system. NEWS is an acronym for the Networked EW System mounted on a Toyota Type-73 truck. NEWS comprises four distinct systems; NEWS Type-1, Type-2, Type-3 and Type-4. Open sources state that each covers a different frequency band and hence has a different role. Development of NEWS commenced in 2010. Testing was completed in 2015. In 2020 the MOD allotted $87 million for the NEWS procurement. Open sources say the ensemble can detect and jam threats in frequencies of 30 megahertz/MHz to circa 40 gigahertz.
In early April it was revealed that Germany's Bundesnachrichtendienst (BND) federal intelligence service intercepted Russian military communications revealing Russian war crimes in Ukraine. A report in the Washington Post said the intercepts included Russian troops discussing the questioning and summary executions of Ukrainian soldiers and civilians. The report added that Russia's Wagner Group state-sponsored private military company may be complicit in the killings. Gathering evidence of war crimes from Communications Intelligence (COMINT) interceptions maybe relatively straightforward for the BND and other SIGINT agencies. As Armada has reported in the past, Russian military communications discipline has been lacking during the war. HF communications are regularly performed en clair. These transmissions have included tactically and operationally relevant intelligence. SIGINT is collected by the BND's Technische Aufklärung (Technical Intelligence) division.
by Dr. Thomas Withington