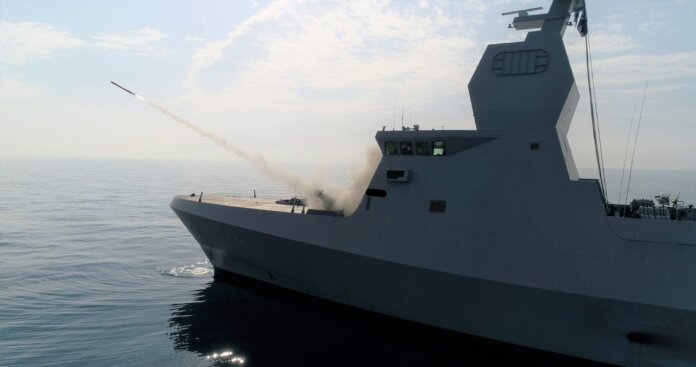 Earlier this year, Rafael Advanced Defense Systems alongside the Israeli Navy and Ministry of Defense Directorate of Defense Research and Development (DDR&D) successfully completed a series of tests on Rafael's C-GEM naval system.
C-GEM is an innovative shipborne off-board RF Active Decoy (RFAD) system protecting naval vessels from anti-ship missiles through electromagnetic spectrum manipulation. C-GEM jams and deceives threats from multiple directions, independent of ship maneuvers.
RAFAEL is participating in the AOC 2022 exhibition in Montpellier where they will be showcasing the C-GEM Decoy, along with the following systems:
SEWS-DV: an integrated EW suite intended for operation in a dense electromagnetic environment. SEWS-DV includes highly sensitive digital receivers and high power AESA jammers, assuring spectrum dominance and survivability in the most hostile scenarios.
SKY-SHIELD: an electronic attack pod, intended for escort jamming and suppression of enemy air defenses (SEAD) missions. SKY-SHIELD provides air superiority and allows penetration of the most advanced integrated air defence systems by simultaneously deceiving and jamming multiple enemy radars.
X-GUARD: a cutting edge supersonic towed-decoy designed for defeating advanced tracking radars. Towed behind the fighter aircraft, X-GUARD is deployable and retractable mid-flight.
DRONE-DOME Counter-UAS system: an end-to-end solution that secures airspace against hostile drones. DRONE-DOME is capable of identifying unknown targets, generating alerts and operating without causing interference to non-target airborne assets by utilizing smart jammer bandwidth allocations.