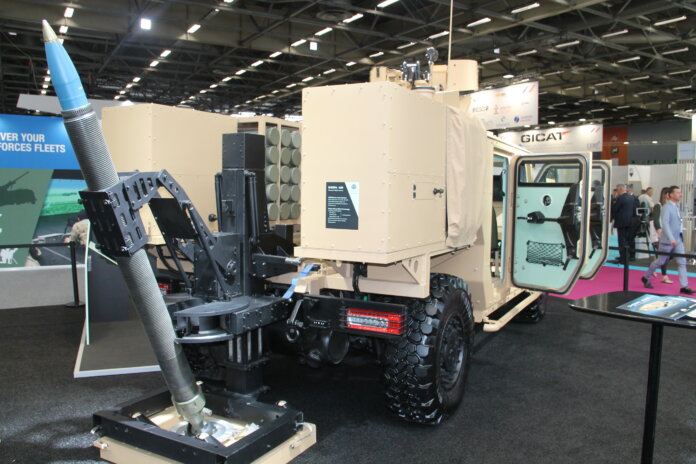 The Arquus Sherpa family of 4×4 vehicles are marketed for a wide range of battlefield missions and at EuroSatory 2022 the latest Sherpa A2M Advanced Mobile Mortar (AMM) was unveiled for the first time.
This consists of a Sherpa Light (4×4) fitted with a fully enclosed and protected four door cab fitted with the Spanish New Technologies Global Systems (NTGS) Deployable Mortar System (DMS) in the rear.
An Arquus Hornet Lite remote weapon station (RWS) armed with a 7.62mm machine gun (MG) is mounted on the cab roof for self-protection.
The mortar fitted is the Thales 120mm rifled mortar barrel which is already used by many countries in the standard towed configuration and this barrel also forms the key part of the Thales Recoiling Rifled Mounted Mortar 2R2M being installed is a batch of Griffon (6×6) armoured personnel carries (APC) for the French Army.
A total of 40x120mm mortar bombs are carried and the complete family of ammunition for this system is manufactured by Thales include high-explosive (HE) with a maximum range of 8.2km, as well as smoke and illuminating rounds.
In addition there is a HE Rocket Assisted Projectile (RAP) to enable targets to be engaged out to 13km and under development is a laser guided 120mm round to provide a precision effect.
A key feature of this combination is that the system can rapidly come into action, carry out a fire mission and then redeploy before any counter battery fire. The platform is fitted with a computerised fire control system (FCS) that includes a land navigation system.
If required the 120mm rifled mortar barrel can be replaced an 81mm mortar barrel for training purposes as this has a shorter range.
The NGTS DMS is already deployed by the Kingdom of Saudi Arabia (KOSA) integrated into the rear of a Toyota Land Cruiser (4×4) while the Ukraine has taken delivery of a batch integrated into the rear of a locally produced 4×4 armoured personnel carrier (APC).
by Christopher F. Foss