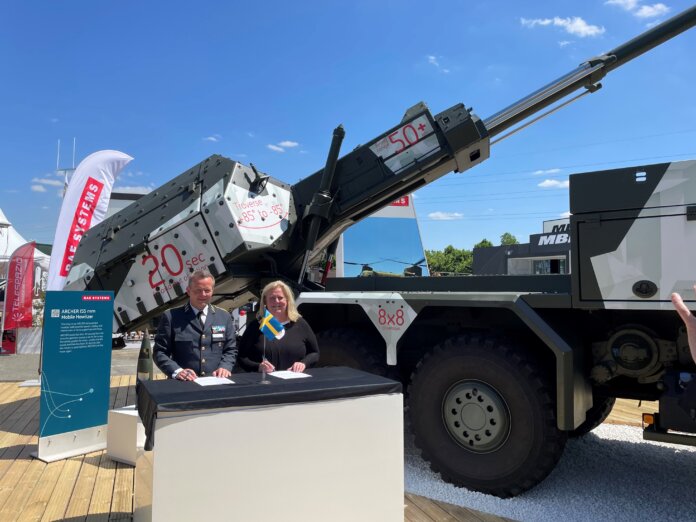 During Eurosatory in Paris, BAE Systems announced that the Swedish Defense Materiel Administration (FMV) and Bofors had signed a Letter of Intent (LOI) that would lead to the formation of an additional artillery battalion to a total of two for the Swedish Army based on the company's Archer 155mm self-propelled howitzer.
Signed on the BAE Systems stand by Mikael Frisell, Head of Swedish Defense Materiel Administration FMV and Lena Gillström, managing director, BAE Systems Bofors, Gillström noted: "BAE Systems has just completed the delivery of the first 48 Archer vehicles for the Swedish Army. This letter of intent lays out the path for additional Archers for Sweden."
The agreement for more Archer systems is part of the Swedish Total Defence Strategy 2021-2025. The Strategy document states: "All Archer-type artillery pieces should be organised in units. The acquisition of new artillery pieces for the division artillery battalions should also begin during the period 2021-2025."
There was also recognition that more artillery training would be needed, which would result in the "Bergslagen Artillery Regiment (A 9) [being] re-established in Kristinehamn with Villingsberg as a firing range. The regiment will be responsible for training two or three artillery battalions for the brigades in southern Sweden."
Another announcement at the start of Eurosatory revealed that the Archer system had been shortlisted by the Swiss Federal Office for Defense Procurement for its future artillery system requirement. Following multiple 'sealed bid' proposals, the BAE Systems Bofors Archer is now through to the final two contenders. The stated requirement for the Swiss Army is for 50 howitzers.
The procurement will replace Switzerland's existing Ruag Land Systems M109L47 KAWEST SP howitzer. A contract decision is not expected until late 2025 / early 2026 and typically will incorporate industrial offset.
With the Archer's crew protected in an armoured cab, firing can take place within 20 seconds of the vehicle coming to a halt and can be fired through +/-85 degrees. Archer can fire the Bonus 'fire-and-forget' anti-armour munition up to 35km, conventional munitions up to 40km, and the precision-guided GPS munition Excalibur in excess of 50km.
by Andrew Drwiega