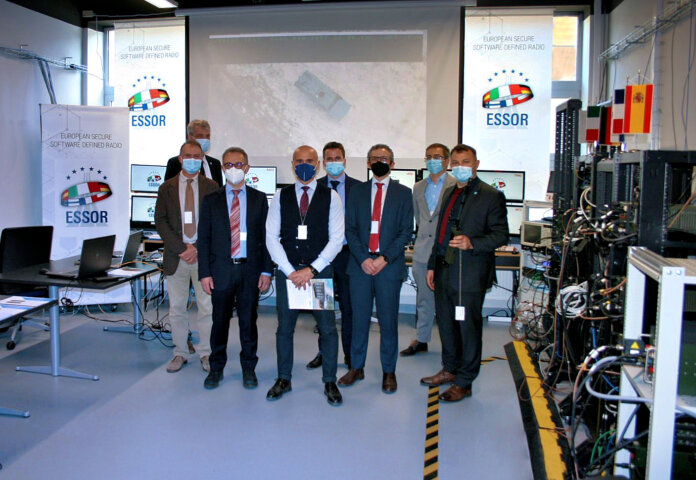 Europe's ESSOR wideband waveform takes an important step forward in its quest to enhance tactical communications interoperability.
The A4ESSOR consortium announced at this year's Eurosatory defence held in Paris between 13th and 17th June a significant milestone for the European ESSOR high data rate waveform initiative. ESSOR is an acronym for the European Secure Software Defined Radio initiative. This is developing a waveform to equip tactical radios used by land forces for the wideband carriage of traffic. The rationale is to ensure that land forces have an efficient way of communicating between each other. This is particularly important in coalition operations.
A4ESSOR
Finland, France, Germany, Italy, Spain and Portugal are all involved in the ESSOR initiative. All six countries will be introducing this waveform into their tactical communications over the coming years. The A4ESSOR consortium involves Bittium, Indra, Leonardo, Radmor, Rohde and Schwarz, and Thales. The project will yield a High Data Rate Waveform, known as ESSOR HDRWF.
The consortium's announcement via a press release revealed that interoperability testing had recently concluded in Poland. Radios provided by the A4ESSOR partners were put through their paces to ensure they could communicate with one another using the waveform.
Performance
As noted in a previous Armada article, the HDRWF is an ultra-high frequency waveform using a waveband of 225 megahertz/MHz to 400MHz. Up to 200 nodes can be housed on a single ESSOR network. The waveform can handle data rates of up to one megabit-per-second. It can sustain full duplex data and voice-over-internet-protocol communications. Transmission security includes fast frequency hopping and it can work in environments where global navigation satellite signals are badly degraded or denied.
Senior A4ESSOR official told Armada that the ESSOR programme in its current form will continue until 2024 when the contract is complete. ESSOR is being developed under the auspices of OCCAR (Organisation Conjointe de Coopération en matière d'Armement/Joint Armaments Cooperation Organisation). OCCAR is a multilateral European institution managing pan-European defence projects.
They added that France, Italy, Poland and Finland have all ported the ESSOR HDRWF into their existing and future tactical radios and completed interoperability testing. Germany, is expected to complete this process over the next two years. The officials said that ESSOR HDRWF is ready for deployment, and the waveform has been deployed to this end by the Finnish armed forces. Additional testing is expected by the consortium in the form of field testing which will see two or more land forces trialing the waveform. The consortium will continue to furnish member nations will the latest versions of the waveforms as this process unfolds. A programme of continual improvements for the waveform, akin to software updates for computers in the civilian world, is expected throughout the ESSOR HDRWF's lifetime.
Narrowband Waveform
In addition to the ESSOR HDRWF the consortium is developing a narrowband waveform under a separate contract with OCCAR. A contract was signed to this effect at the end of 2021. Officials expect ESSOR to deliver the technical specifications for the waveform by the end of 2024. A further contract could be awarded for the waveform's development before this deadline. This could see production of a waveform ready for installation into partner nations' tactical radios by 2024.
by Dr. Thomas Withington