The push to develop 'loyal wingmen' is widening but still leaves questions over how much complexity/capability they should have verses their attritability.
Today's congested and highly contested operating environment complicates the task of delivering effect by air, and threatens high or even unsustainable aircraft losses.
Initially, there was an expectation that many manned combat aircraft would be entirely replaced by unmanned systems, but there has been a shift away from this vision in recent years. Unmanned Combat Air Vehicles (UCAVs) are now seen as being complementary to manned aircraft, with a man in the loop being acknowledged to be essential for practical as well as ethical reasons. Bandwidth constraints mitigate against an all-unmanned approach to airpower, and the human eye and brain still represent an unrivalled sensor, with an unmatched combination of field of view and acuity!
Manned aircraft will increasingly rely on support from a range of unmanned systems, differing in size, cost, complexity and capability, including swarming drones and fully standalone systems. This makes these systems subject to different constraints – where the smallest and cheapest may be viewed as expendable while others will be re-useable, but as attritable. All are more expendable than manned systems, especially in for Western air forces which are increasingly intolerant of aircrew losses.
The most advanced and least expendable unmanned systems are those that serve as 'loyal wingmen' – flying alongside a manned fighter and providing support in the same way that a traditional wingman might, but with the benefit of being more attritable. They may be positioned 'up-threat', making a more immediate target than the manned aircraft it is supporting.
Force Multiplier
A loyal wingman will act as a force multiplier by extending the area of airspace that a manned platform can cover. It can extend combined sensor coverage and potentially allow the primary manned platform to reduce its own aggressive sensor use, reducing emissions, and minimising the chances of detection by the enemy. It can also multiply the number of weapons available to the mission, but its main role is larger than just a 'shotgun sidekick.' A high level of autonomy reduces the workload of the pilot of the manned platform, allowing them to focus more on the overall mission than on the close control of the loyal wingman.
But this capability is not only relevant to tactical fast jet or combat air platforms. While the US Next Generation Air Dominance/Penetrating Counter Air (NGAD/PCA) fighter will undoubtedly use loyal wingmen, so too will the Northrop Grumman B-21 Raider strategic bomber, and it is also likely that next generation airborne early warning (AEW) and maritime patrol aircraft (MPA) will be accompanied by loyal wingmen of some kind. The Boeing P-8A Poseidon MPA already operates with the Northrop Grumman MQ-4C Triton, the latter extending area coverage, providing continuous sensor data for the P-8A and other networked capabilities across vast portions of the sea.
FCAS
A new generation of combat air programmes is focussed not on simply delivering a platform, but on delivering a capability through a 'system of systems'. The United Kingdom led Future Combat Air System (FCAS) programme is perhaps the best known and most mature example of this approach. The FCAS programme has a manned aircraft (the Tempest) at the heart of the system, supported by a range of 'effectors' (including weapons, simple sensors and weapon- and sensor- carrying UAVs) and more complicated unmanned systems known as 'adjuncts'.
The FCAS industrial team currently includes BAE Systems, Leonardo UK, MBDA, Rolls-Royce, and Saab, with Mitsubishi Heavy Industries and IHI (Japan) as well as the UK Ministry of Defence and Royal Air Force (RAF). Other partners will be added as the programme develops.
Richard Berthon, director of Future Air Combat at the UK Ministry of Defence, opines that the programme is on track to create a digital revolution: "Anything with the word 'revolution' … you should probably be suspicious and sceptical about — whether they mean something new rather than just business as usual. But I genuinely believe that we all have something revolutionary, on many different levels," he said.
The RAF requires a sixth-generation aircraft that is flexible, agile, connected, quickly updatable and affordable. Tempest will bring a 'plug and play' approach, allowing software and hardware to be changed in and out according to the requirements of a mission. This could be changing anything from sensors to fuel tanks. It will provide scalable autonomy to be flexible for several modes of operation. It will allow for manned, unmanned and optionally-manned platforms, with onboard and offboard data processing. A range of pilot decision aids will be offered when manned flight is being conducted.
The advanced and highly-integrated sensors, non-kinetic effects, and communications systems are being planned to allow the Tempest operator to act and think ahead of the enemy. All elements of the Tempest will be designed to work seamlessly together, giving it a major advantage over current fighters that often comprise individual items such as a separate radar or electro-optics. When drawn together, the combination of planned capabilities will certainly represent a 'revolutionary' step in what combat air can deliver, as well as in its survivability and combat effectiveness. it is also planned to give FCAS its own loyal wingman.
Spirit Mosquito
In January 2021, the Spirit Mosquito was chosen as a technology demonstrator for the RAF's Lightweight Affordable Novel Combat Aircraft (LANCA) programme. This loyal wingman will be deployed alongside the RAF's Lockheed Martin F-35 Lightning IIs, Eurofighter Typhoon and the next generation BAE Systems Tempest to enhance protection, survivability and to help deliver information advantage to aircrew and mission commanders. The concept also aims to deliver huge reductions in the traditional cost and development timelines of combat air systems.
Spirit AeroSystems is at the centre of Team Mosquito, which also includes Belfast-based Spirit Belfast, Northrop Grumman and Intrepid Minds. Spirit Belfast will adapt its resin transfer infusion technology to produce a lightweight vehicle, capable of unmanned, high-speed flight whilst Northrop Grumman will provide Distributed Autonomy/Responsive Control (DA/RC) technologies, gateway offerings and advanced mesh networking capabilities that will imbue the Mosquito with seamless human-machine collaboration and co-operative mission management capabilities across distributed manned and unmanned assets.
FCAS/SCAF
The Future Combat Air System/Système de Combat Aérien Futur (FCAS/SCAF) being developed by France, Germany, and Spain has very similar aims to the UK-led FCAS programme, and aims to produce a similar 'system of systems' that includes manned and unmanned versions.
Airbus is leading the UAV/UCAV development pillar of the Next-Generation Weapon System (NGWS) element of the FCAS/SCAF programme, and unveiled a model of a new FCAS Remote Carrier at the 2019 Paris Air Show, with flip-out wings and tail surfaces. The company has put in place a range of 'building blocks' for unmanned elements within the FCAS/SCAF system of systems. The Barracuda UAV, which first flew in 2006, has demonstrated a raft of new technologies and has provided an in-depth understanding of autonomous operations by high-speed drones.
Airbus demonstrated a successful co-operation of DT-25 target drones and a LearJet aircraft in October 2018, confirming that it had mastered some of the key challenges related to Manned Unmanned Teaming (MUM-T). Airbus subsequently conducted a dual mission group demonstration in 2019. In February 2021, it launched a conceptual loyal wingman (actually a DT-25) UAV from an A400M 'mother ship' aircraft. Airbus continues to invest in advanced communications and teaming intelligence, and a major multi-domain demonstration is planned for 2022.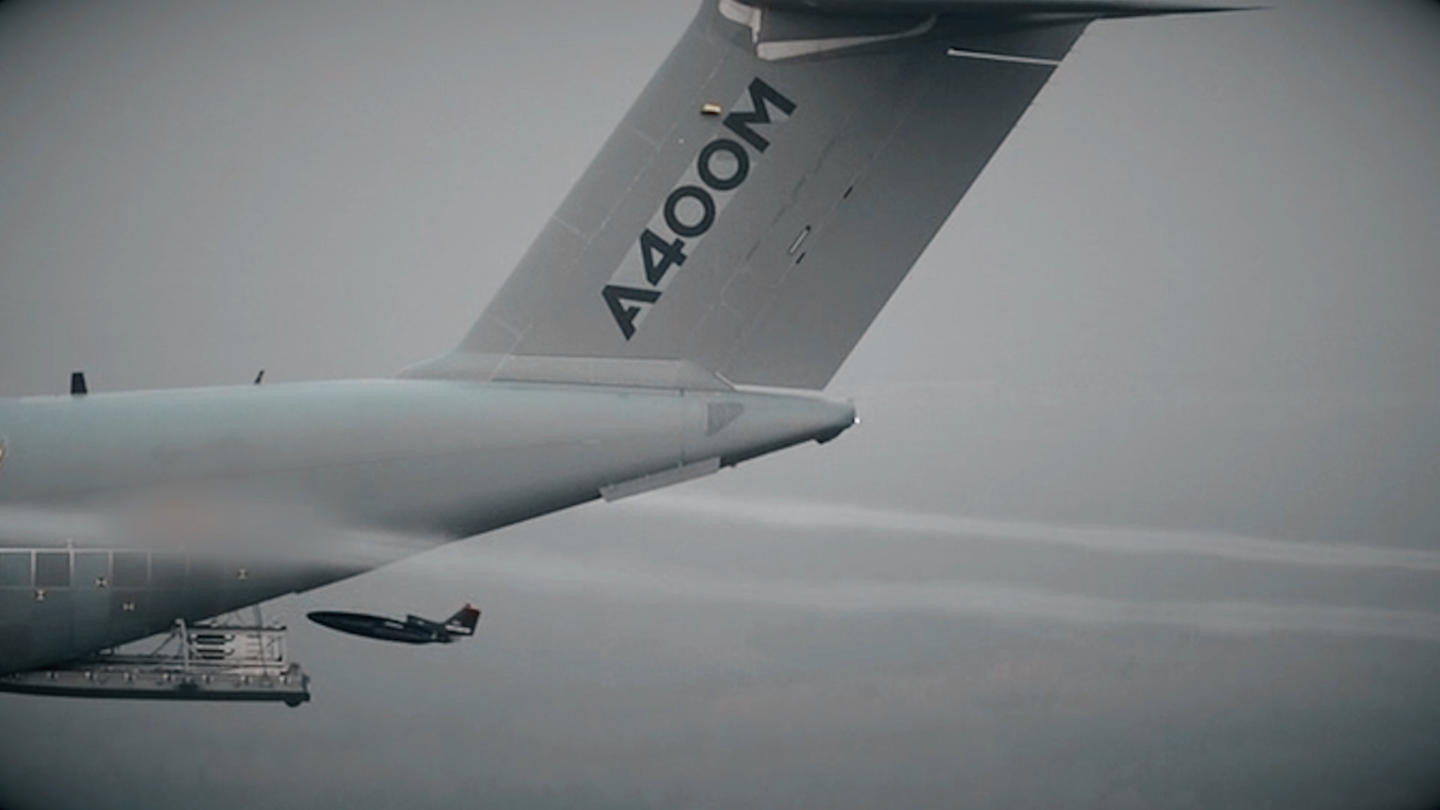 Three Spanish companies – GMV, SENER Aeroespacial and Tecnobit Grupo Oesia – joined the programme in February 2020 and will be participating in the UAV element of the NGWS that forms part of the wider FCAS/SCAF programme. Working with the Spanish MoD, the three companies have established SATNUS Technologies to co-ordinate all their activities although progress appears to have been stalled, with no agreement on workshare terms for phase 1B of the FCAS/SCAF project.
Ghost Bat
A joint venture between the Royal Australian Air Force (RAAF) and Boeing Defence Australia (BDA) has resulted in the creation of the new MQ-28A (officially named as the 'Ghost Bat' at RAAF Base Amberley on 21 March this year). It is intended to operate with existing F-35s, Boeing F-18F Super Hornets and EA-18G Growlers. The aircraft has a range of more than 2,000 nautical miles (3,700 kilometres) and has completed a number of test flights to date. Australia has invested more than $112 million (AUD 150 million) since 2017 into this joint
venture.
During the naming ceremony Glen Ferguson, director of Boeing's Airpower Teaming System, Australia and International, said, "Selecting the Ghost Bat, an Australian native mammal known for teaming together in a pack to detect and hunt, reflects the unique characteristics of the aircraft's sensors and Intelligence, Surveillance and Reconnaissance (ISR) abilities, and is a fitting name for this pioneering capability."
Understanding US indigenous developments is complicated by the fact that there are almost certainly both secret, unacknowledged 'Black World' programmes, and more open programmes sponsored by the Department of Defense (DoD) and by individual service branches.
The US has committed to making loyal wingmen a mainstay of its air power. Secretary of the US Air Force (USAF) Frank Kendall, recently said: "The US Air Force is ready to move beyond experimentation with unmanned combat aircraft and toward acquiring and fielding next-generation unmanned air vehicles (UAVs). Fielding loyal wingman UAVs is a top priority for the service."
Kendall has said that the Air Force is looking for between one and five unmanned systems that will take commands from a fighter pilot, but that will operate somewhat autonomously.
Longshot
In February 2021 the US Defence Advanced Research Projects Agency (DARPA) awarded contracts to General Atomics Aeronautical Systems (GA-ASI), Lockheed Martin, and Northrop Grumman for preliminary Phase I design work on an air-launched unmanned air vehicle (known as LongShot) with the ability to employ multiple air-to-air weapons. LongShot will be used alongside the new B-21 Raider stealth bomber, but it could also be teamed with legacy bombers such as the B-52H.
GA-ASI has declared that Longshot "could initiate a fighter sweep ahead of a strike wave without putting a human crew in danger, or it could join an attack alongside the vanguard with manned warplanes."
At the same time the Air Force Research Laboratory (AFRL) is moving forward with its Skyborg autonomous attritable aircraft programme. Skyborg aims to use a family of low-cost, teamed, autonomous unmanned aircraft alongside manned aircraft to increase airborne 'combat mass', which would add situational awareness, combat effectiveness and survivability, by rapidly defeating or disrupting hostile threats in contested environments.
The AFRL is working with the Air Force Life Cycle Management Center (AFLCMC) as part of an integrated team and aims to foster a seamless transition as Skyborg progresses into an acquisition programme.
In July 2020 four companies – Boeing, GA-ASI, Kratos and Northrop Grumman – were selected to move forward with the Skyborg effort, with Kratos and General Atomics awarded contracts in order to ensure that all applicable technology is identified and rapidly injected into the programme. Kratos will therefore continue to work on its XQ-58A Valkyrie, while GA-ASI will continue to develop its MQ-20 Avenger.
But other programmes and aircraft will also feed into Skyborg. Northrop Grumman is developing its Model 437 based on work carried out on the Scaled Composites Model 401 Sierra, which could carry a side-looking radar and two Raytheon AIM-120 air-to-air missiles in its internal bomb bay.
Meanwhile, the Lockheed Martin X-62A (previously the VISTA NF-16) has been fitted with SACS (System for Autonomous Control of Simulation), to allow it to support autonomy testing for the Skyborg programme.
A further nine companies were given multiple indefinite-delivery/indefinite-quantity (IDIQ) awards in September in an attempt to establish a vendor pool that will compete for up to $400 million in subsequent orders. Companies include AeroVironment, Autonodyne, BAE Systems Controls, Blue Force Technologies, Fregata System, Lockheed Martin Aeronautics, NextGen Aeronautics, Sierra Technical Services, and Wichita State University.
Stealthy MIUS
Turkey's Muharip İnsansız Uçak Sistemi (MIUS) Unmanned Combat Aircraft System, was revealed in July last year. Funded privately by Turkish manufacturer Baykar, this UAV is the result of a decade-long development programme, and is due to enter service in 2023.
The MİUS will be stealthy and used as a loyal wingman to support the new Turkish National Combat Aircraft (TFX/MMU), and as a light attack aircraft on board the new Turkish amphibious assault landing ship (LHD) TCG Anadolu. It will incorporate an aggressive AI-based autonomous manoeuvring capability to give it a real and robust air-to-air capability.
Manufacturer Baykar states that the MİUS will also perform missile attack, strategic attack and close air support missions, as well as the suppression of enemy air defences, and is expected to have an endurance of up to five hours. The aircraft has an internal weapons bay, but on missions where low observability (stealth) is not critical, the MİUS will carry missiles and other weapons underwing. The aircraft will use SATCOM to enable control via satellite, though the aircraft will also have autonomous capabilities.
India Hindustan Aeronautics (HAL) is developing the Combat Air Teaming System (CATS) Warrior, a loyal wingman UAV, for flight testing from 2024. The aircraft uses a similar configuration to the Kratos XQ-58, and is intended to operate in co-operation with India's AMCA indigenous Stealth Fighter.
Conclusion
There is broad agreement that tomorrow's manned aircraft will operate as part of a wider 'system of systems', and that the manned element within such systems will be designed as 'exquisite' platforms with very high capability, while the unmanned systems that accompany them will be cheap enough to make their loss tolerable. For some missions, they might even be treated as being expendable – effectively being sent on a one-way mission. But there remains an unanswered challenge: how to make such unmanned platforms capable enough to be useful, yet still cheap enough to be attritable, especially if they are to have the performance necessary to keep up with complex manned combat aircraft?
by Jon Lake