An increasing number of countries are now replacing their conventional tracked self-propelled artillery with wheeled SP, although each have their own advantages.
Wheeled SP artillery systems offer a number of advantages over their tracked rivals, including the fact that they are generally cheaper to procure, operate and maintain. However, there are a significant number of drawbacks not least in the amount of ammunition they can carry and are traditionally limited in the weight of weapon carried.
Most of the latest 155mm/52 calibre artillery systems have a 23 litre chamber which meets the Joint Ballistic Memorandum of Understanding (JBMoU) so have the same ranges. The range does however depend on the type of projectile and charge combination used as well as other factors such as altitude and weather conditions.
In terms of ammunition, the baseline French Nexter CAESAR (6×6) 155mm/52 calibre SP howitzer carries a total of 18 projectiles and charges with the mix depending on the mission but a typical ammunition load could be 12 high-explosive (HE), two smoke, two illuminating and to Bonus top-attack. By way of contrast the German Krauss-Maffei Wegmann (KMW) PzH 2000 tracked SP artillery system can carry a total of 60x155mm artillery projectiles plus charges.
In some of the wheeled SP artillery systems, the crew have to dismount from their cab in order to bring the system into action, load the ammunition (projectile and charge) and then carry out the fire mission. This makes them vulnerable small arms fire, shell splinters and nuclear/biological/chemical (NBC) attack when carrying out a fire mission.
Some of the more recent SP systems, such as the BAE Systems Bofors Archer 155mm/52 calibre system have a fully automated ammunition handling system (AHS) for and increased rate of fire and higher crew survivability.
In operations in Afghanistan and Iraq, there was no significant threat from counter battery fire, but in a more traditional peer-to-peer conflict, artillery systems would typically come into action, carry out a fire mission and then redeploy in well under five minutes in order to survive.
National Preference
The French Nexter Systems CAESAR 155mm/52 calibre howitzer was originally developed as a private venture but was subsequently adopted by the French Army to replace its tracked AUF1 155mm gun system based on a modified AMX-30 tank chassis.
The French Army version is based on an Arquus Defense Sherpa (6×6) platform with the first versions having a standard truck cab, although the latest versions have a fully protected cab with a typical gross vehicle weight (GVW) of around 17.7 tons (18,000 kilograms).
The French Army took delivery of an initial order of five units in 2003 which was followed by a further order for 72 units. In early 2022 the Direction Générale de L'Armement (DGA) awarded Nexter a four year contract for the CAESAR MkII. In 2024 a decision will be taken as to whether to launch the production of 33 new CAESAR Mk II and refit the remaining 76 CAESAR currently deployed or purchase 109 brand new systems. Whichever decision is made it is expected that the French Army will receive and deploy 109 CAESAR MkII by 2031.
CAESAR MkII will feature a higher level of ballistic and mine protection, a new 460hp diesel engine coupled to an automatic transmission, the latest fire control system (FCS) and the next generation Thales Contact radio together with provision for Barage improvised explosive device (IED) jammer.
In addition to the French Army, export sales of the CAESAR have also been made to Thailand (six) and Indonesia (37 + 18), while the Kingdom of Saudi Arabia has uses a German Mercedes-Benz UNIMOG (6×6) chassis with 136 delivered.
The latest version of CAESAR for the export market is based on a the Tatra (8×8) platform which offers not only greater cross country mobility but the ammunition load has been increased to at least 30 rounds. A fully protected cab is fitted as standard and is also marketed with a load assist device. This version has a typical GVW of around 32 tons (3,250kg).
The first customer for this is the Danish Army who placed a contract for 13 systems which has since been increased to 19. More recently the Czech Republic has placed a contract for 52 howitzers based on the Tatra 8×8 chassis.
For the potential Indian market the complete CAESAR 155mm/52 calibre weapon has been installed on an Ashok Leyland Super Stallion (6×6) chassis with an unprotected cab.
The prime contractor for the German Army PzH 2000 155mm/52 cal tracked SP is KMW, with the actual barrel and suite of ammunition supplied by Rheinmetall.
Some years ago KMW developed the Donar SP artillery system based on a tracked chassis supplied by General Dynamics European Land Systems – Santa Barbara Sistemas, in Spain. On the rear platform was the 155mm/52 calibre AGM whose ordnance has the same ballistics as the PzH 2000.
This was subsequently installed on a Boxer (8×8) Multi-Role Armoured Vehicle (MRAV) platform with the crew seated in the drive module and the remote controlled AGM at the rear. Further development of this has resulted in the RCH 155 which is the latest version on the AGM and uses the Boxer (8×8) MRAV. The weapons is provided with 30x155mm rounds of ammunition.
The German Army is expected to purchase up to 108 RCH 155 to supplement, but not replace, its tracked PzH 2000.
Late in 2021 Rheinmetall unveiled a full scale mock-up of a new SP artillery system based on its latest HX (10×10) truck chassis with a fully protected cab. This has a remote controlled turret at the rear armed with a 155mm/60 calibre weapon fitted with an automatic AHS which has 40x155mm projectiles and modular charge systems. Before firing, four stabilisers are lowered to the ground and the weapon loaded, aimed and fired from within the cab.
For many years Soltam Systems was the artillery and mortars system house of Israel but was taken over by Elbit in 2010. The Elbit ATMOS 155mm system has been marketed with 155mm39 calibre and 52 calibre ordnance and with various fire control and ammunition handing options. Known customers include Rwanda, Thailand and Uganda.
It has been integrated onto the rear of 6×6 and 8×8 truck chassis from various contractors and with the option of a fully protected cab and different AHS.
To meet the potential requirements of Romania, the ATMOS 155mm/52 calibre system (know as the ATROM) was integrated onto the rear of a locally designed Roman (8×8) chassis but this has yet to enter production.
Elbit systems is now developing the SIGMA 155mm/52 calibre SP artillery system to meet the requirements of the Israel Defense Force (IDF) and to start to replace its currently deployed upgraded M109 155mm howitzers.
SIGMA is based on a 10×10 cross country chassis with the remote controlled turret at the rear and the 155mm/52 calibre ordnance being fed by an AHS which will enable a high rate of fire to be achieved from the total of 30x155mm projectiles and charges carried.
Late in 2021 Elbit announced that an export customer in the Asia Pacific region had placed a contract worth $106 million for an undisclosed number of SIGMA systems for delivery by 2025.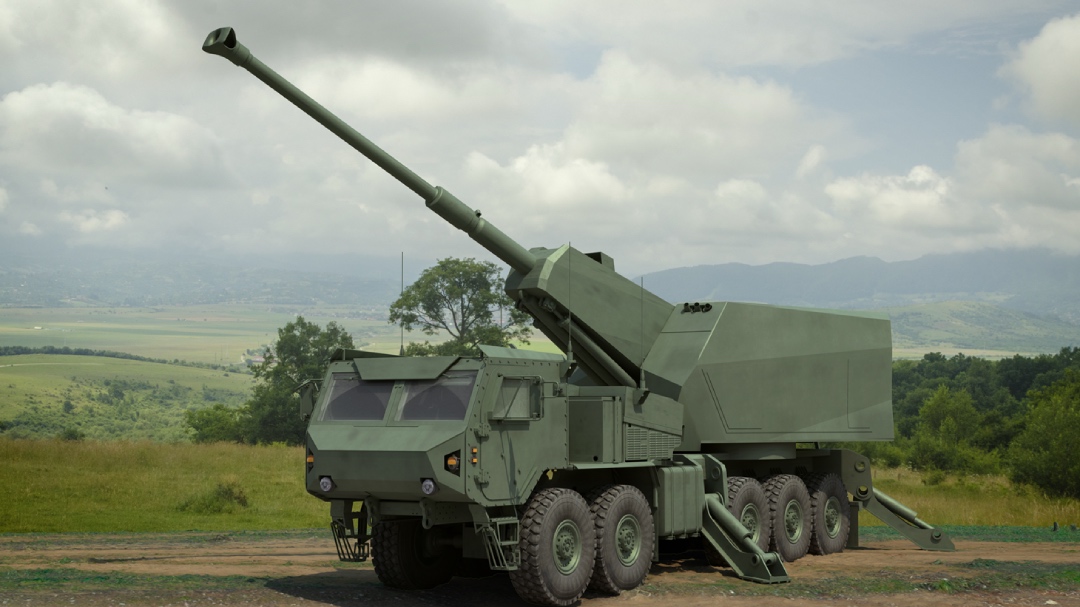 Serbia has continued to develop its NORA B-52 155mm SP artillery system for the home and export markets and has already make a number of significant export sales of complete artillery systems to countries including Bangladesh, Kenya and Myanmar. Export sales of Serbian military equipment are handled by Yugoimport.
Their latest model feature a fully protected crew cab at the front and the fully protected turret at the rear with the 155mm/52 calibre weapon being provided with 24x155mm projectiles plus associated charges.
To meet future requirement Serbia has developed the Aleksandar MGS25 which also uses an 8×8 chassis and mounted at the rear is a remote control turret armed with a 155mm/52 calibre ordnance which can have a 23 or 25 litre chamber with a fully automated AHS There are additional rounds to the immediate rear of the protected cab. This chassis is also used as a platform for artillery rocket systems.
While wheeled SP artillery systems are the latest vogue it is often forgotten that the then Czechoslovakia developed the 152mm Dana based on a Tatra 8×8 platform in the late 1970s. This systems was built in large numbers for home and export markets which included Libya. Development continued after the breakup of Czechoslovakia and today Excalibur of the Czech Republic has marketed upgrades of these systems.
ZTS of Slovakia developed a 155mm/45 calibre version which has been sold to Cyprus and Slovakia as the Zuzana and more recently a new system has been developed by ZTS called ZuzanaA2 which has a 155mm/52 calibre ordnance that meets the NATO JBMoU with 40x155mm projectiles and associated charges carried. The first customer for this is Slovakia.
During fighting in the then South West Africa, today Namibia, the South African Army found themselves out-ranged by Angolan forces who were equipped with Russian artillery.
This led to the development of two artillery systems by Denel Land Systems; these were the G5 155mm/45 calibre towed artillery system which was also fitted with an auxiliary power unit (APU), followed by the G6 (6×6) fully protected 155mm/45 calibre SP system.
A total of 43 G6s were built for the South African Army with export orders being placed by Oman (24) and the United Arab Emirates (76). The G6 is the most well protected wheeled SP artillery system in the world and has a GVW of 47 tons (47,750kg).
The G6 is an unusual design with the driver seated at the front in a protected compartment with an arrowhead front which has been designed to allow the G6 to operate in the bush. The diesel power pack is in the middle with the fully protected turret armed with a 155mm/45 calibre howitzer at the rear.
This was followed by the G6-52 with a 155mm/52 calibre ordnance and a new AHS with 50x155mm projectiles and associated charges carried.
Denel Land Systems has also developed a 155mm/52 calibre truck mounted (8×8) artillery system called T5 Condor, with the first customer being South Africa ordering six systems. This is based on a Tatra (8×8) chassis with a forward control cab and the 155mm/52 calibre ordnance at the rear with the fire mission normally being carried out over the rear arc.
A total of 14×155 mm projectiles and charges are carried and a semi-automatic loading system is fitted. A version with a 155mm/45 calibre ordnance has also been marketed.
The Swedish Army did deploy the Bandkanone 155mm tracked SP artillery system but this was phased out of service as were all towed artillery systems.
Under a joint Norway/Sweden programme, each country was to take delivery of 24 BAE Systems Archer 155mm/52 caibrel SP artillery systems based on a Volvo (6×6) all terrain chassis.
Unlike most wheeled SP artillery systems, the Archer is loaded and aimed from within the protected cab as it has a fully automated AHS with 21 rounds of ready use 155mm ammunition, projectiles and charges. The 155mm/52 calibre ordnance has a 25 litre chamber so ii does not meet the NATO JBMoU.
In the end, Norway pulled out of the programme and purchased the Hanwha 155mm/52 calibre K9 tracked artillery system from South Korea which was originally developed to meet the requirements of the Republic of Korea Army (ROKA) but has since been adopted by an increasing number of countries including Finland and Norway. The Swedish Army will now take all 48 Archer and in the future another 24 to bring its total up to 72 units.
Archer has also been tested in the USA to meet the US Army requirement for a wheeled howitzer for is Stryker brigades which at present deployed the 155mm/39 calibre M777A2 towed weapon.
For trials purposes the complete Archer 155mm weapon and its ammunition handing system has also been installed and tested on the rear a Rheinmetall MAN Military Vehicles HX series (8×8) truck chassis with a fully protected cab.
The latter is to meet the UK requirement for a Mobile Fires Platform to replace the currently deployed AS90 155mm/39 calibre SP artillery system which was first deployed in 1993. The UK has not stated as to whether the MFP should be tracked or wheeled.
While this article has concentrated on 155mm wheeled SP artillery systems there are also some 105mm systems normally based on a 4×4 platform.
AM General of the US has been marketing the Hawkeye 105mm soft recoil SP based on an AM General High Mobility Multi-purpose Wheeled Vehicle (4×4) platform and this has been demonstrated in the US and overseas.
A 155mm/39 calibre low recoil system has also been demonstrated and installed on the Oshkosh Family of Medium Tactical Vehicle (FMTV) (6×6) platform.
Yugoimport of Serbia is also marketing a number of 105mm and 122mm wheeled self-propelled artillery systems on the export market.
For many years China remained with the Russian 152mm and 122mm calibre for its artillery but today China North Industries Corporation (NORINCO) is marketing a number of 155mm, 122mm and 105mm wheeled SP artillery systems for the export market. The largest of these is the SH1 155mm/52 calibre system which is based on a 6×6 cross-country chassis with a protected cab with the power operated weapon at the rear.
NORINCO is marketing the SH1 as part of a complete battalion of 18 units plus battery and battalion command vehicles, reconnaissance vehicles, artillery location radars and ammunition. In addition to being deployed by the China it has also been exported to Pakistan.
While this article concentrates on wheeled SP artillery systems, there will always be a market for tracked SP artillery systems as well as for towed artillery systems, with the latter being of particular use by rapid deployment type forces or use in counter insurgency operations.
Although the type of SP artillery selected is open to national and operational preference, the key element to any artillery piece is the ammunition, FCS and target acquisition.
by Christopher F. Foss