The MQ-9 Reaper has become a 'must have' capability among Europe's armed forces looking for a weapon capable UAV.
The conflict in Ukraine has spurred many European members of NATO to reappraise and accelerate their military modernisation plans, with the acquisition of unmanned aerial vehicles (UAVS) one of their priorities.
One of the most successful operational armed long endurance UAV's is the General Dynamics Aeronautical Systems (GA-ASI) MQ-9 Reaper, the first of which was delivered to the United States Air Force (USAF) two decades ago. With an endurance of 27 hours, a maximum operating ceiling of 50,000 feet (15,240 metres), the MQ-9 can carry an 850 pound (386 kilogram) payload that can include up to four Lockheed Martin AGM-114 Hellfire air-to-ground missiles or two 500lb (230kg) GBU-12 Paveway laser-guided bombs.
In August 2008, Italy submitted a Foreign Military Sales (FMS) request through the United States Defense Security Cooperation Agency (DSCA) for four MQ-9As, four ground stations and five years of maintenance support, valued at $330 million. Two additional aircraft were ordered in November 2009 and in November 2015, the US approved a contracted covering weapons integration onto Italy's Reaper aircraft, which made it the first country outside the UK to weaponise the MQ-9A. The potential for increased contribution to NATO coalition operations improved operational flexibility, and enhanced survivability for Italian forces prompted the request.
On 26 August 2013, France and the US Department of Defense concluded the contract for 16 Reapers and eight ground control stations, plus training for French Air Force operators. The MQ-9A Block 1 Reaper UAVs were introduced into French Air Force service in 2019 and three were deployed to Niamey Air Base in Niger from where they conducted their first strike against jihadists in Mali on 21 December 2019.
At the beginning of 2022 France announced that it was withdrawing its Barkhane anti-jihadist operations in Mali and the MQ-9As would return to Cognac, their base in France.
The Spanish Ministry of Defence announced it would buy four MQ-9A Block 5 Reaper systems for $27 million in 2016. General Atomics partnered with Spanish Company SENER to deliver the unarmed Reapers to the Spanish Air Force by the end of 2020.
Enter Protector
In July 2020 the UK Ministry of Defence signed a $65 contract for three GA-ASI SkyGuardian UAVs, a variant of the Predator B developed to meet European airworthiness certification standard, with option on 13 additional aircraft. This option was taken up on April 2022 when the MoD announced that a $245 million contract had been signed to bring the total to 16 platforms. Designated Protector RG.1 in Royal Air Force (RAF) service, it will be armed with the UK-made Brimstone missile and Paveway IV LGBs and replace the RAF's 10 MQ-9A Reapers.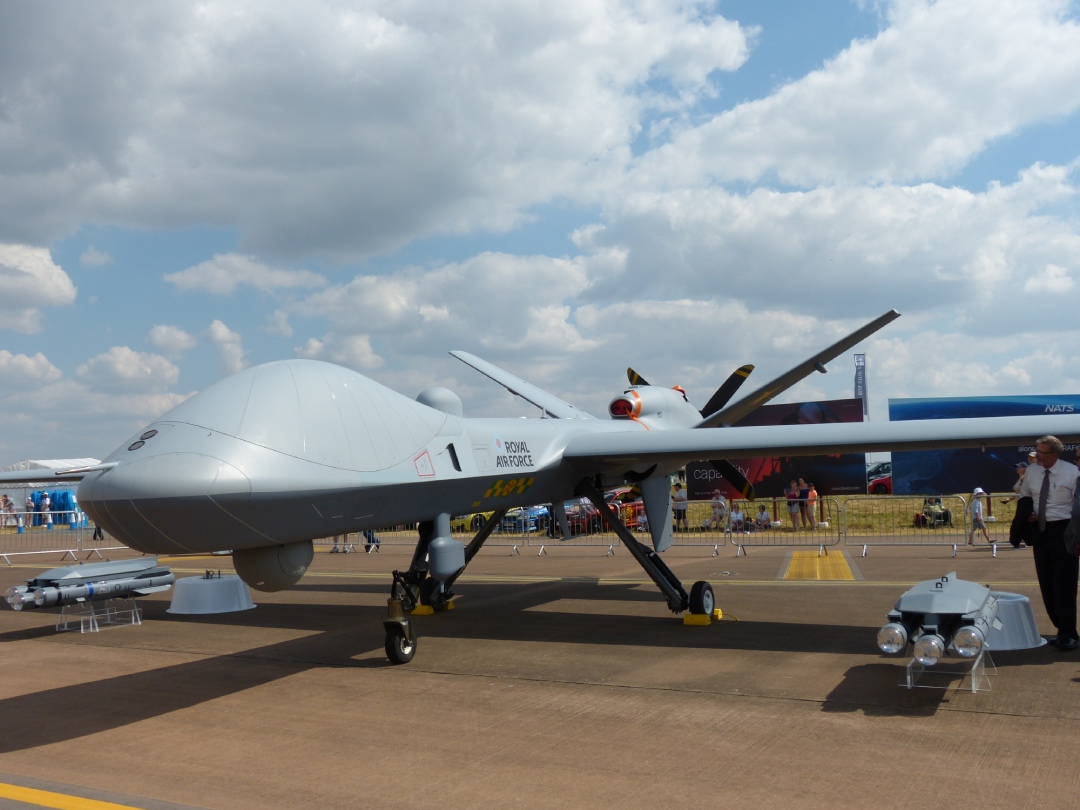 The UK and Belgium signed a Bilateral Statement of Intent to collaborate on their MQ-9B programmes in August 2020. The US Department of State had approved the sale in March 2019 of four MQ-9B SkyGuardians to Belgium for $600 million, pending approval by US Congress.
On 17 July 2018, the Netherlands signed a $339 million FMS contract with the United States to purchase four MQ-9A Block 5 Reaper systems, plus equipment and training. Following delivery in February 2022 the Reapers will be split between Leeuwarden Air Base in the Netherlands for NATO support operations, and Hato International Airport in Curaçao for co-operation with the US including counter-drug operations.
The Finnish Defense Forces (FDF) began testing and experimenting unmanned aerial systems, including the MQ-9 in the Autumn of 2021. Although no UAS has been selected to date, Finland's pending membership of NATO may expedite a selection.
In August 2008 Germany requested the purchase five Reapers and four ground control stations, plus related support material and training through the FMS process valued at $205 million. However, Germany decided to lease the Israel Aerospace Industries (IAI) Heron 1 offered by IAI and Rheinmetall initially for a one year contract, as a stop-gap measure before a long-term decision on a medium-altitude, long-endurance (MALE)-system is made.
However, six Heron 1s are still being operated by the German Air Force although none of these are armed. In 2020, plans to acquire armed IAI Heron TP UAVs failed through Germany's long-standing impasse over the introduction of armed UAVs that meant that roles that could have been handed off to remotely operated unmanned systems had until then been met by crewed platforms. It has also meant that the armed forces have built up no experience of armed UAV operations to help inform decision-making and planning. The arming of Heron UAVs could have been seen as a first step for the Bundeswehr to lay the groundwork for the introduction of additional UAV platforms capable of operating in non-permissive environments in the coming decade.
However now following the Russian invasion of Ukraine, hesitation about arming the UAVs has been overcome. The German authorities have determined to arm the UAVs that it will lease from Israel with precision-guided missiles manufactured in Israel. Arming the UAVs will cost an estimated $162 million.
The Polish government continues to pursue a goal of permanently stationing US troops and equipment in the country and this includes USAF MQ-9s which have been flying unarmed reconnaissance missions from Poland since May 2019 from a new set of facilities at Miroslawiec Air Base to accommodate the Air National Guardsmen and contractors operating Reapers there. These new facilities for US personnel include secure processing centres, a large aircraft maintenance shelter, communications infrastructure and dormitories for the 52nd Fighter Wing personnel assigned there.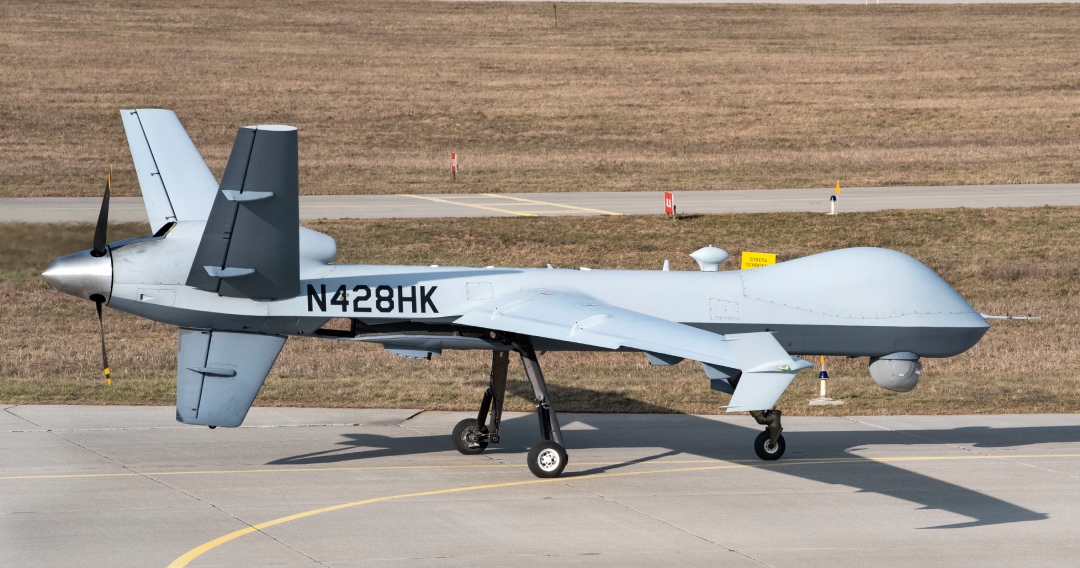 As a direct response to Russia's invasion of Ukraine, Poland's Armament Agency spokesperson said on 1 March 2022; "I would like to inform you that acquisition of MALE UAVs is pursued both within the framework of the ZEFIR programme as well as within the framework of urgent acquisition of the MQ-9 Reaper UAVs in relation to the situation on the eastern border of the Republic of Poland."
Four UAV systems armed with anti-tank missiles will be purchased under a contract with the United States and according to data from the Polish MoD, deliveries are planned from 2022 to 2024. Once delivered, Poland would become the first country on NATO's eastern flank to acquire the MQ-9 Reaper.
by David Oliver