UAVs are being used at the centre of air operations conducting ISTAR missions on a daily basis.
We have recently seen extensive use of unmanned aerial vehicles (UAV) in the conflicts in Libya, Syria and Armenia, so when Russia invaded Ukraine in February, it was obvious that they would be a vital asset to both sides. After three months of conflict (at time of writing), Ukraine has been seen to be winning the UAV war.
Russia has the overwhelming force on the ground and in the air but its command and control (C2) of joint operations have been an abject failure to date. One of the vital assets of any battlefield commander is their ability to carry out effective and sustained intelligence, surveillance, target acquisition, and reconnaissance (ISTAR) missions and the most effective and economical ways of carrying them out tactically is with the use of UAVs.
For all Russia's contention that its military aerospace industry is equal to that of the West, it has not produced a single operational unmanned combat air vehicle (UCAV) and relies on small unarmed tactical UAVs such as the Forpost, a licence-built IAI Searcher, and the Orlan-10. Since the conflict began, Russia has reportedly been losing at least one Orlan-10 a day on average, with losses increasing which have been confirmed by pictures from the battlefields. Fewer Forposts have been claimed, but other types including an Orlan-30s, a larger and heavier version of the Orlan-10 with a 15lb (7kg) payload, have been lost, and more importantly, a Kronshtadt Orion reportedly came down in Ukraine on 7 April. This is the first Russian-built MALE UAV that had been tested in Syria and its loss in Ukraine would be very bad news for the Russians.
Although the most successfully operated Ukrainian UAV has been the Turkish Bayraktar TB2, a number of indigenous designs have been used in the conflict. These include the UJ-22 Airborne, a multi-purpose mini-UAV manufactured by SPE UKRJETl; the A1-SM Furia UAS developed by SPC Athion Avia; and the Leleka-100 manufactured by UkrSpec Systems which has been in service with the Ukrainian Armed Service since 2015. The same company builds the PD-1 UAS which was purchased by the Ukrainian Armed Forces in 2016. Featuring a modular airframe, the PD-1 has a length of 2.5m and a wingspan of 4.7m. Its maximum take-off weight and payload capacities are 100lb (45kg) and 15lb (7kg) respectively. Powered by a 100 cc two-cylinder four-stroke engine, the PD-1 can fly at speeds between 38 knots (70km/h) and 75kts (140km/h). The UAV can reach a maximum altitude of 9,800 feet (3,000m) and execute missions for up to 10 hours. The PD-1 can be converted from fixed-wing to VTOL configuration within 15 minutes.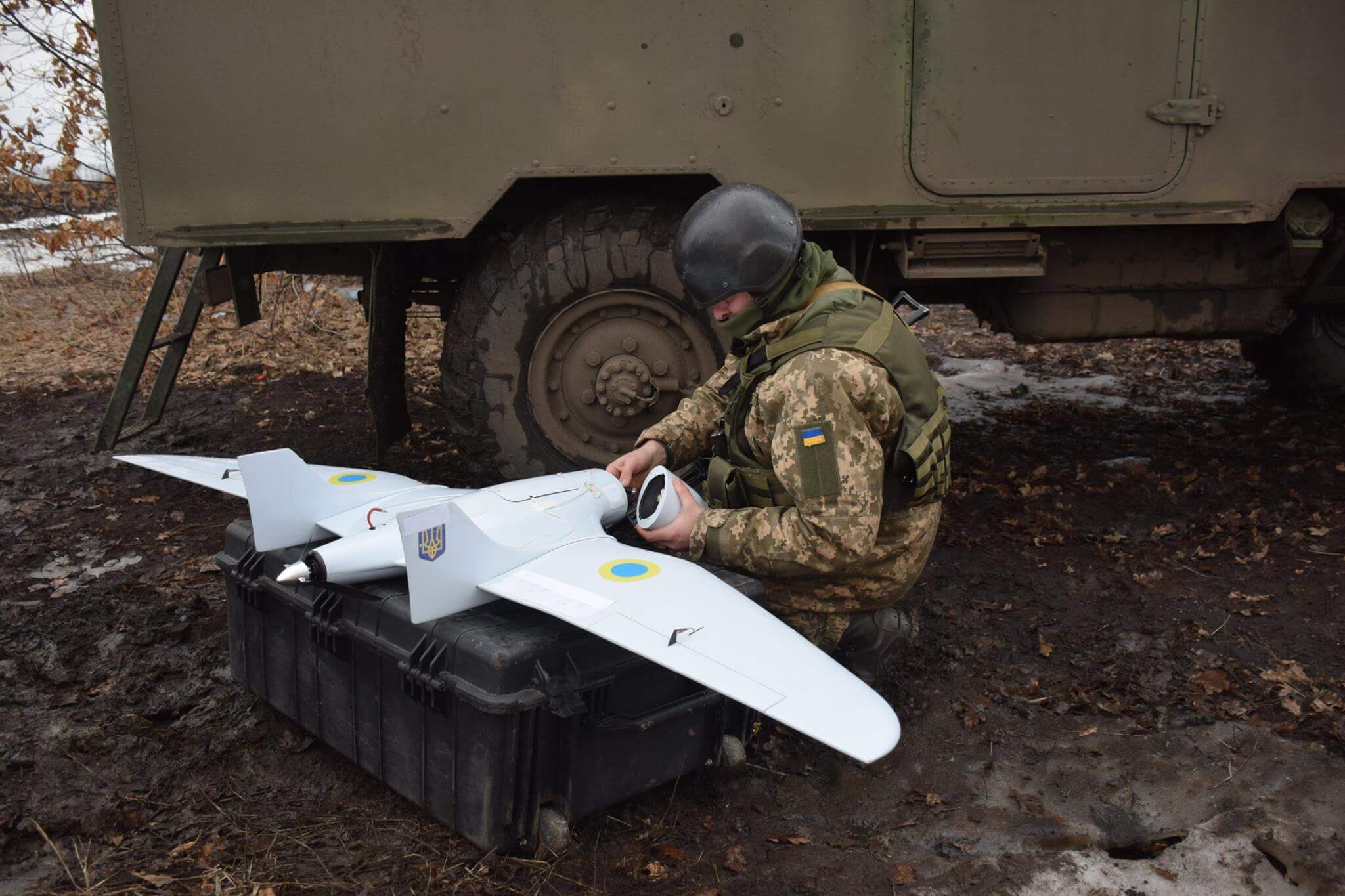 The Punisher is a Reaper-class UCAV with a 21.5m wingspan manufactured by UA Dynamics that has been used by the Ukraine forces, with over 60 successful flights. It has a maximum operational range of approximately 45km, and a speed of 107kts (198km/hr) at a cruising altitude of 13,100ft (4,000m). The Punisher works in tandem with the Spectre ISR UAV, which detects and identifies stationary targets for engagement by the former, with a 6lb (2.7kg) explosive payload, delivered together or on different targets.
Unfortunately only a small number of the Punisher had been produced before the company had to evacuate its technical team and production facilities from Kharkiv and Kyiv.
A team of Ukrainian special forces, with UAV operators drawn from the Aerorozvidka unit, played a major role in halting the 64km Russian convoy heading to mount attack on Kyiv from the north at the beginning of the war. Its fleet of UAVs ranges from small affordable consumer drones to large octocopters built by their own engineers.
The R18 is their top model, an octocopter VTOL UAV with a range of 4km, can be in the air for about 40 minutes, and most importantly, can carry 11lb (5kg) of free-falling bombs. Aerorozvidka has been conducting around 300 UAV missions each day to monitor Russian troop movements and to collect data for Ukraine's Nato-supported intelligence system, Delta thato identifies high value Russian targets the coordinates of which are handed over to the Ukrainian kills squads who fly their bomb-dropping UAVs at night.
However, on 19 April AeroVironment announced its intention to donate more than 100 Quantix Recon mini UAVs to the Ukrainian MoD. With its unique hybrid design, Quantix Recon combines the VTOL advantages with the range and speed of a fixed-wing unmanned aircraft.
On the same day a Russian Gorizont Air S-100, a Russian license-built version of the Austrian Schiebel Camcopter S-100, was reportedly shot down by Ukrainian armed forces. Coincidently, the Romanian Border Police have been operating a Schiebel Camcopter S-100 for surveillance flights over the Black Sea off the coast of Romania. Based at Mangalia south of Constanta, the rotary-wing UAV has a range of 200km and an endurance of up to six hours.
On 25 April Russian sources showed a Ukrainian TB2 shot down over Kursk Oblast allegedly after a missile strike within Russia on its way back to Ukraine. Another TB2 was reportedly shot down in Belgorod Oblast by a Russian Pantsir-S1 after another raid within Russia. Two more attacks were also suspected to have been carried out by Ukrainian UAVs with reports of explosions in the regions of Voronezh and Kursk on the Russian border of Ukraine.
On 12 April Russian forces had shot down a Ukrainian Tu-141 in the Kharkiv area. These obsolete UAVs are believed to be used to draw out the positions on Russian air defence systems and another one was reportedly used to distract Russian air defences around Kherson on 28 April. Kyiv claimed on 2 May that its drones sank two Russian patrol boats near the Black Sea's Snake Island where Ukrainian forces rebuffed Moscow's demands to surrender at the start of its invasion. "The Bayraktars are working," said Valeriy Zaluzhnyi, the commander in chief of the Ukrainian Armed Forces,
On 23 May, Russian Ministry spokesman, Major General Igor Konashenkov claimed (without any verification) that since the beginning of the "special military operation", Russian forces had destroyed 858 Ukraine drones!
by David Oliver