Armada's monthly roundup of all the latest news in the military communications product, programme and operational domains.
Programmes
L3Harris has won a $13.4 million order from the US Navy for a 19-month extension covering the company's Navy Multiband Terminal (NMT) on the force's surface vessels. The news, reported by militaryaerospace.com, covers specification changes to the NMT. The terminal supports X-band (7.9 gigahertz/GHz to 8.4GHz uplink/7.25GHz to 7.75GHz downlink) Satellite Communications (SATCOM). This is alongside military Ka-band (26.5GHz to 40GHz uplink/18GHz to 20GHz downlink) traffic. The report continued that work on this extension should be completed by 2027.
As reported by Armada last month, the United States is enhancing its Arctic satellite communications coverage via the launch of two new satellites in 2023. These form the space element of the US Enhanced Polar Systems – Recapitalisation (EPS-R) initiative. The satellites' Northrop Grumman EPS-R payloads include an Extremely High Frequency (EHF) SATCOM package. They complement the US Department of Defence' Lockheed Martin/Northrop Grumman Advanced EHF constellation. These offer uplinks on 44 gigahertz/GHz and downlinks on 20GHz frequencies. The spacenews.com website reported in early September that work had begun constructing a teleport at Clear airbase, Alaska. The report said this new facility will act as the gateway for traffic being sent and received via the new satellites.
BAE Systems announced via a press release on 23rd August that the company had won a contract worth $42.6 million to produce seven Network Tactical Common Datalink (NTCDL) systems. These new systems will outfit US Navy aircraft carriers and the fleet's new 'Constitution' class frigates. The press release said the NTCDL can move traffic across several tactical datalinks simultaneously. The document continued that "BAE Systems' solution is a modular, scalable system, designed to increase link capacity and embrace waveform evolution".
As the renaissance of interest in High Frequency (HF: three to 30 megahertz) radio continues, the US Defence Advanced Research Projects Agency (DARPA) issued a solicitation in late August for ionospheric research. This solicitation forms part of the agency's Ouija programme looking at ways to improve ionospheric radio propagation. Armada has examined the Ouija programme in the past. This latest effort, known as Ouija TA-2, will seek proposals for real time ionospheric modelling. The ionosphere is a layer of the atmosphere is between 26 nautical miles/nm (48 kilometres/km) and 521nm (965km) above Earth. HF waves cannot penetrate the ionosphere meaning they are reflected to Earth. As militaryaerospace.com reported, the software models will use data collected by the ionospheric research satellites being sent into space as part of the Ouija programme.
Looking towards the SATCOM domain, DARPA has commenced the solicitation process for phase-1 of the Space Based Adaptive Communications Node programme. This will develop a means by which government-owned and commercial satellites can communicate with one another using space-based terminals. A Defence News report said this followed an earlier pre-solicitation process. Abstracts and presentations were made by industry and academe pertinent to the Space-BACN programme during this process. The report continued that phase-1 will last 14 months leading to the completion of a preliminary design review before phase-2 commences.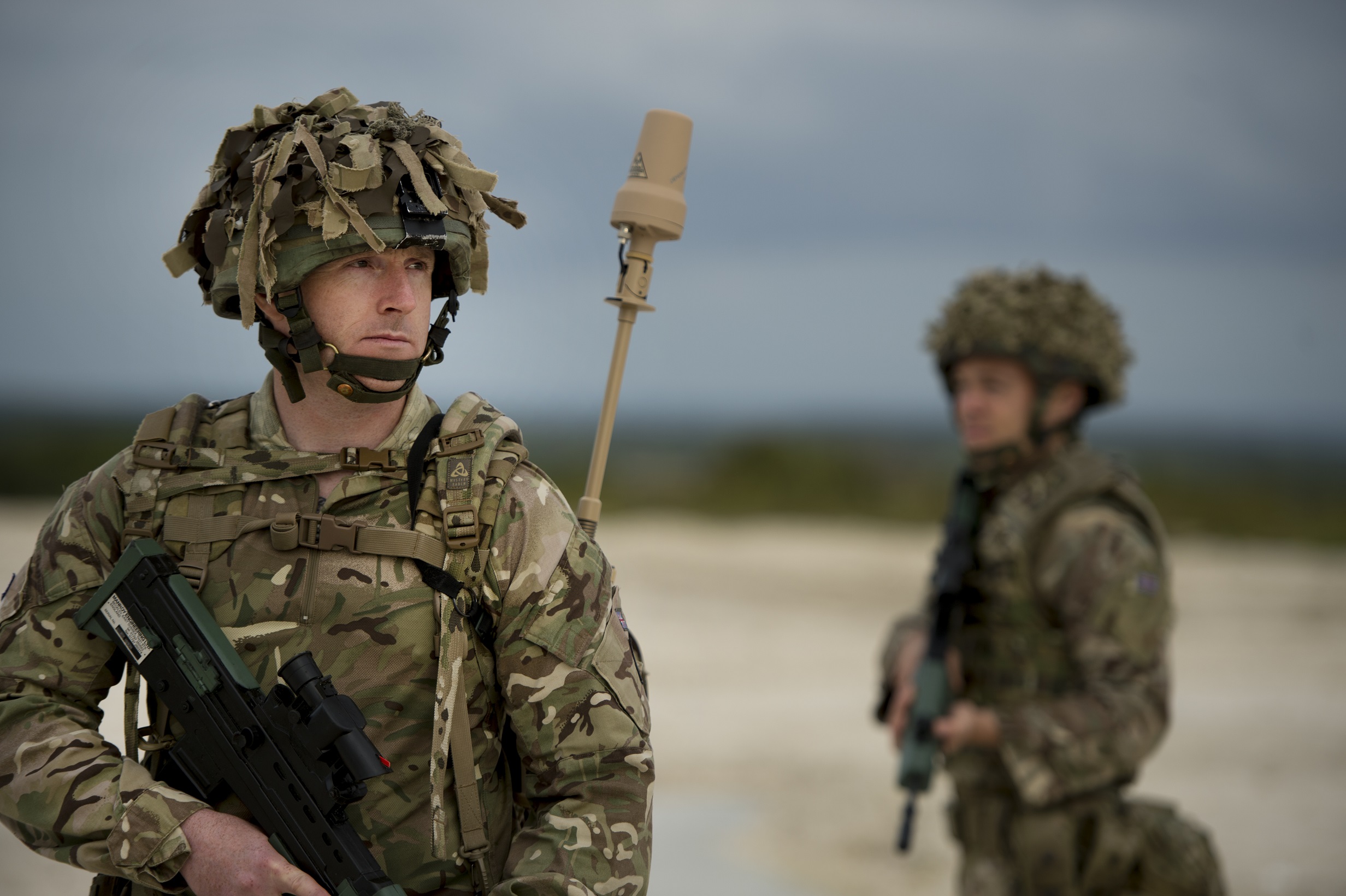 On 20th September SpectraLink announced it had delivered over 7,000 of its SlingShot satellite communications systems. SlingShot provides a node via which conventional Very/Ultra High Frequency (V/UHF: 30MHz to three gigahertz) traffic can be carried over SATCOM. It will take V/UHF traffic, convert it into appropriate SATCOM waveforms before transmission and vice versa. This affords tactical communications operational and strategic ranges. SlingShot is available in several versions including vehicle-mounted and backpack configurations. A SpectraLink press release announcing the news stated the system is now in service with over 24 countries around the world.
Solute has been awarded a contract modification worth $32 million by the US Department of Defence (DOD), the company revealed in a 6th September press release. The contract modification concerns the DOD's Automated Digital Network Systems (ADNS) Tactical Transport Engineering initiative. ADNS allows the transmission of voice and data traffic between US Navy ships, submarines and shore installations using standard links. According to the press release the company "will provide continued system, network, cyber, software engineering and programme management services to the Naval Information Warfare Centre Pacific. In addition, Solute will help modernise the navy's information systems architecture".
Viasat has also benefitted from US DOD contract awards following a $99 million order for the company's Multifunctional Information Distribution System Joint Tactical Radio System (MIDS JTRS) terminals. This latest order falls under the terms of a 2020 US Navy Indefinite Delivery/Indefinite Quantity contract which Viasat won in 2020, according to a press release. This contract has a ceiling of $998 million. MIDS JTRS terminals are widely used by US and allied nations to carry tactical datalink traffic. This includes Link-16 (960MHz-1.215GHz) traffic.
Looking towards Europe, ND Satcom will deliver components for over 100 backpack SATCOM systems to equip the Polish Ministry of Defence. The terminals will include the company's Skywan-4G technology and DVB gateways, according to reports published by satnews.com. The order for these components was made by GISS and is worth circa $1.4 million.
Meanwhile, Airbus has signed contracts with the Czech Republic and Netherlands ministries of defence for satellite communications services. Reports say the company will provide Ultra High Frequency (240MHz to 270MHz) SATCOM services for the next 15 years. These services will be carried across the EUTELSAT-36D spacecraft expected to be launched in 2024. Coverage will be provided across Africa, much of Asia, Europe, the Indian Ocean and Middle East.
by Dr. Thomas Withington