Armada's monthly round-up of all the latest electronic warfare news in the product, programme and operational domains.
On 24th August Northrop Grumman announced via a press release that it had signed a Memorandum of Understanding (MOU) with Terma. This will see the two companies cooperating "on electronic warfare simulation and training opportunities in Northern Europe." Specifically, the MOU covers the provision of realistic electronic warfare training for military pilots in European North Atlantic Treaty Organisation members. The press release continued that "the companies will contribute their expertise to creating modern, effective air operations training, combining Northrop Grumman's leadership in digital environments with Terma's long-standing support of regional partners".
Looking towards Australia, Raytheon has selected Pacific Defence to provide MOSA (Modular Open Systems Approach) components as part of the Australian Army's Land-555 Phase-6/Tranche-2 programme. This initiative will outfit several Thales Bushmaster armoured vehicles with electronic warfare capabilities to support the army's manoeuvre forces. A report published by australiandefence.com.au stated that the Land-555 Phase-6/Tranche-2 programme should be completed by late 2025. An announcement in July by the Australian government stated the programme will deliver electronic support, electronic attack and command and control capabilities.
The Romanian Ministry of Defence (MOD) will purchase new Counter Uninhabited Aerial Vehicle (CUAV) systems and communications jammers. The MOD is looking for a jammer to target the radio communications used by UAVs. Local reports said the MOD has allocated $49 million for this acquisition to cover the purchase of five systems. The deadline for companies to respond to the solicitation closed on 16th September. The MOD's acquisition is running alongside the purchase of a portable CUAS system for the Romanian military. Up to $5 million has been allocated for this with bids closing on 27th September. A further two tenders were released in September for the procurement of communications electronic warfare systems worth up to $203 million.
The US Army plans to establish an office responsible for offensive cyber and space operations in 2023, according to a report in late August by Defence News. The office will be known as the Programme Manager Cyber and Space. It will be subordinate to the Programme Executive Office for Intelligence, Electronic Warfare and Sensors (PEO IEWS). Currently, army offensive cyber operations are the responsibility of the electronic warfare element of the PEO IEWS. US Army cyber capabilities include the Joint Common Access Platform which is used across the Department of Defence for offensive cyber missions.
The Indian Air Force's Sukhoi Su-30MKI (NATO reporting name Flanker) combat aircraft are destined to receive Rafael Advanced Defence Systems' X-Guard towed fibre optic decoy. The news was reported on the defenceview.in website. The decoy will help shield the aircraft from radar-guided air-to-air and surface-to-air missiles. There was no word on how many of the IAF's Su-30MKI fleet will receive the decoy, when installation will commence and conclude, and the value of the contract.
Hanwha Systems has responded to a Republic of Korea requirement for an upgraded version of LIG Nex1's SLQ-200 Sonata naval electronic warfare system. Reports on the ajudaily.com website said that the system can be installed on vessels like the Republic of Korea Navy's (ROKN) forthcoming KDDX destroyers. The SLQ-200 entered service in 2002 onboard ROKN surface combatants. Reports continued that the SLQ-200 could be installed within an integrated mast on the vessel.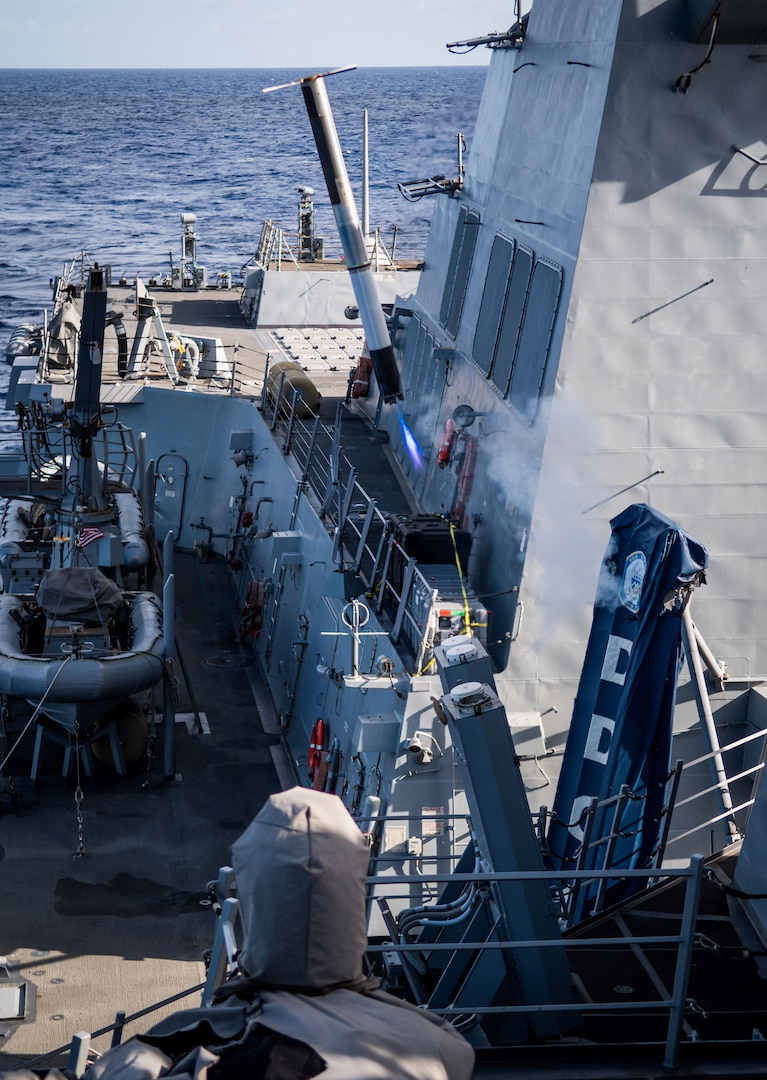 L3Harris won an order worth up to $2.6 million in mid-September from the US Navy as part of the Mk.234 Nulka Advanced Decoy Architecture Programme (ADAP). ADAP is providing advanced signal processing capabilities to the BAE Systems Nulka active offboard radio frequency decoy. These decoys are launched to lure anti-ship missiles away from a vessel. According to a report from militaryaerospace.com, ADAP payloads will be added to existing Nulka decoys. This will allow the decoys to target missile threats not in Nulka's current repertoire. The report continued that L3Harris will complete this work by June 2025.
Operations
Speculation is surrounding the People's Republic of China's new Yaogan-33 satellite launched on 2nd September. Officially, the satellite is intended to help agriculture and disaster response, although speculation has focused on it potentially being used for more nefarious purposes. To this end, the satellites may have a dual purpose as a military platform, for example being used for signals intelligence gathering. Previous reports on the Yaogan-33 have stated that these satellites have been launched equipped with synthetic aperture radars. While also being used to assist agriculture such technology clearly has military applications.
Meanwhile, several electronic warfare developments occurred in the ongoing Russia-Ukraine conflict last month. On 4th September, the Ukrainian Army's 128th Brigade revealed it had captured a Silok-01 EW system used by the Russian armed forces. Reports stated that the Silok-01 is a CUAV system designed to jam radio links used by uninhabited aerial vehicles. These links control the aircraft from the ground, relay video and are used for satellite navigation.
In a separate victory, an electronic warfare pod from a Russian Air Force Su-30SM combat aircraft was also captured. The pod is thought to be an RTU-518PSM EW system forming part of the aircraft's Khibiny-U electronic warfare ensemble. Reports state that the RTU-518PSM is a passive device used for detecting electronic emissions. The overall Khibiny-U suite was ordered by the Russian Ministry of Defence in 2013 and entered service onboard the Su-30SM in 2018.
by Dr. Thomas Withington