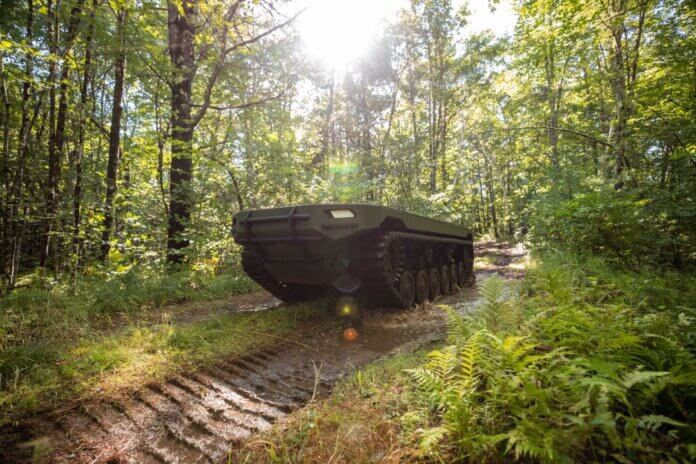 Textron Defense, which supplied its M5 RIPSAW to the US Army for its concept trials using Remote Combat Vehicles – Medium (RCV-M), is now focused on the upcoming requirements for a Remote Combat Vehicle – Light (RCV-L).
Dave Phillips, Senior Vice President explained that "M3 RIPSAW capitalizes on not only the M5 experience but also Textron's Unmanned Aerial Systems and Naval Unmanned Surface Vessels." An M3 Tech Demonstrator will be exhibited at AUSA (Booth 3024).
Reflecting its projection of the Army requirements M3 is intended to emphasize adaptability to mission kits to take-on various roles. With this in mind it has a flat-deck of 85 sqft that can accept a range of payloads within its 5000 lb capacity. Its hybrid diesel-electric power offers both optimum range and exportable power capabilities.
In its view and experience an important capability which a RVC must include is the ability to negotiate "wet-gaps". Doing so enhances it utility to the ground commander and expands the operational options. With this in mind M3 RIPSAW is able to traverse water obstacles without preparation.
Demonstrating its mission flexibility Phillips shared "during the exhibition we will change the mission package on the M3 each day. These will include on Day 1 the EOS R400S 30mm auto-cannon (forward) and CACI Counter-UAS system (aft). Day 2 will see the Kongsberg CROWS-J with capability to launch a VTOL UAS aft. Finally, Day 3 with find the CROWS with the Arnold 2.75 inch FFAR rocket launcher.
by Stephen W. Miller