Armada's monthly roundup of all the latest news in the military communications product, programme and operational domains.
Joining Forces Down Under
Viasat and Trellisware are confident that their recently-announced collaboration in Australasia will deliver solutions "to meet the needs of the Australian and New Zealand markets", Sandy Taylor, director of business development for Viasat's Australian subsidiary, told Armada. The two companies announced their collaboration to offer products and services to Australia and New Zealand in early October. Mr. Taylor said that "both nations are currently undertaking and embarking on significant land communications modernisation programmes". He is confident that the collaboration will enable the provision of "an end-to-end tactical communications solution from the soldier to the satellite". The collaboration will let "customers acquire the best-of-breed solutions from two preferred vendors". Mr. Taylor says this avoid "vendor lock and the associated challenges … more traditional procurement models present".
RAN Expands Cobra Use
Staying in Australasia, EM Solutions signed a contract with Australia's Department of Defence (DOD) to provide support for the company's Cobra Satellite Communications (SATCOM) terminals. These terminals equip Royal Australian Navy (RAN) warships. According to a press release announcing the news, the contract covers the terminals' introduction into service and accompanying support. Worth $17.2 million, the contract runs until August 2025. The company told Armada the terminals furnish several RAN ship classes. These include its 'ANZAC' class frigates; 'Cape' class and 'Enhanced Cape' class patrol boats; 'Supply' class replenishment ships and 'Canberra' class amphibious support ships. Cobra terminals also furnish the navy's forthcoming 'Arafura' class offshore patrol vessels. EM Solutions say the terminals carry X-band (7.9 gigahertz/GHz to 8.4GHz uplink/7.25GHz to 7.75GHz downlink) and Ka-band (26.5GHz to 40GHz uplink/18GHz to 20GHz downlink) traffic: "Each system is configured with multiple modems to support the end user's concept of operations," the statement continued, "supporting broadband connectivity to and from each vessel." The recent contract includes provision for the DOD to procure additional terminals over the next three years.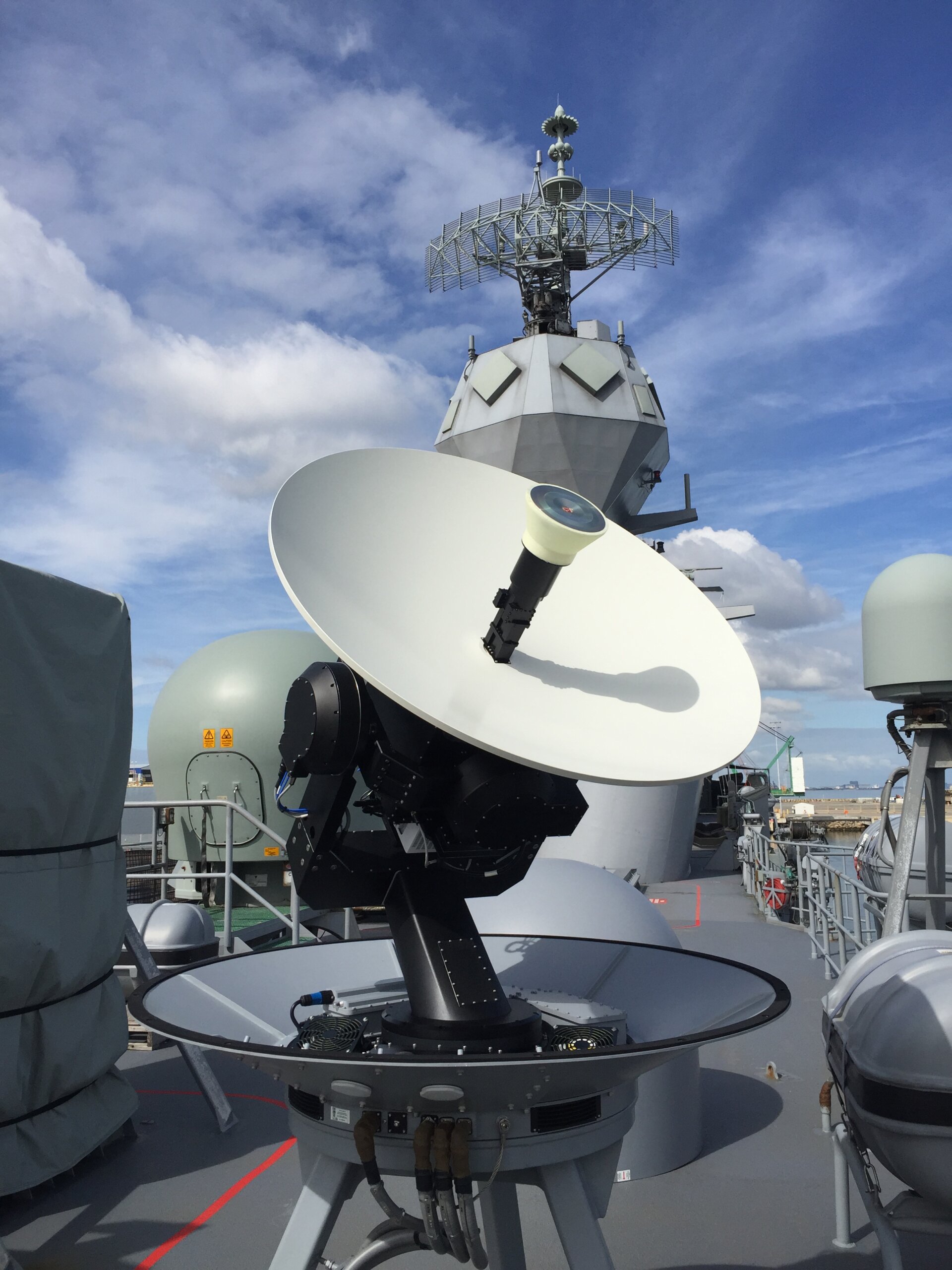 Link-22 Functionality
Curtiss-Wright announced in an 8th November press release that it is adding Link-22 functionality to its TCG Tactical Datalink (TDL) products. Link-22 is a North Atlantic Treaty Organisation TDL primarily supporting naval operations. It uses frequencies of two megahertz/MHz to 30MHz and 225MHz to 400MHz. Link-22 is replacing the existing Link-11 TDL, which uses the same frequencies as Link-22, over the coming decade. Curtiss-Wright's TCG products are link translators changing the format of one TDL into another. For example, NATO's Link-16 TDL J-series messages can be translated into Link-11 M-series messages and vice versa. This means traffic can be moved seamlessly between different tactical networks helping improve interoperability. Steven Horsburgh, director of product management in the company's tactical communications group, told Armada that Link-22 functionality is being integrated into Curtiss-Wright's BOSS, GTS and LinkPRO TCG products. TCG BOSS is a testing and platform integration system and TCG GTS is a tactical datalink ground system. TCG LinkPro is the company's embedded TDL software suite. Dr. Horsburgh said Link-22 functionality will be available on these products by the end of the first quarter of 2023. Customers can add this Link-22 capability to existing TCG systems or opt for its installation in new products.
SATCOM for Reapers
General Atomics Aeronautical Systems, Hughes Network Systems and SES announced on 10th November they had "successfully demonstrated multi-orbit Satellite Communications (SATCOM)" using a General Atomics MQ-9B SkyGuardian Uninhabited Aerial Vehicle (UAV). The demonstration took place over California on 20th October. While General Atomics furnished the aircraft, Hughes provided its HM series software defined modem and resource management system. SES' 03b medium Earth orbit SATCOM constellation was also used. O3b provides Ka-band (26.5 Gigahertz/GHz to 40GHz uplink/18GHz to 20GHz downlink) satellite communications. A General Atomics spokesperson told Armada that command link rates of 512 kilobits-per-second and maximum return links at rates of 45 megabits-per-second were achieved. The spokesperson added that by demonstrating these data rates General Atomics has "a demonstrable roadmap for increased bandwidth, security, and sensor growth potential across all payload domains onboard the MQ-9B." Over the longer term "(t)he MQ-9B SeaGuardian and SkyGuardian are just beginning customer deliveries. We anticipate these NextGen SATCOM capabilities being options for future customer aircraft."
by Dr. Thomas Withington