The war in Ukraine has injected impetus into a re-evaluation of live, virtual and and constructive flight training.
Russia's invasion of Ukraine has been a wake up call for military forces worldwide. This is especially pertinent to air forces which for the past three decades have been training for hybrid operations which are below the threshold of war or direct overt violence, but which pays dividends despite being easier, cheaper, and less risky than kinetic operations. The Russian threat to Europe now requires a rapid reassessment to this air force training.
The current operating environment is morphing and becoming more digitised, information-dominated, and contested. In order to maintain air superiority against near-peer adversaries in not too distant high-intensity conflict, air forces must invest in the modernisation of their assets and the procurement of future combat air systems.
However an air force cannot sustain high readiness if it does not have sufficient numbers of instructors or pilots to operate its advanced fleets of aircraft. Platform modernisation and training are not developing along a parallel trajectory. While cockpits and aircraft capabilities are becoming ever more advanced, training often remains vested in old models and practices. The current flight training system does not support rapid pilot production, neither does it allow for effective specialised training. As a result, manpower is decreasing and pilot shortage is exacerbating.
Closing the gap
In order to close the pilot shortage gap, air force leaders will need to think more innovatively and transform the training system to accelerate pilot production without compromising the quality of training. To create a high-end capable force, senior military leaders will need to establish a holistic, integrated strategy and leverage education, modern trainer aircraft, threat emulations, and integrated synthetic/virtual training capabilities.
There are still concerns over how immersive synthetic training is. Arguably, simulators cannot replace live training and there is pushback against changing the balance between live and synthetic training. The components of Live, Virtual and Constructive (LVC) are clear, however its integration with real flight training remains to be a challenge. Network management has to improve to effectively combine the LVC domains. The future, congested operating environment requires air forces to develop common interfaces and an open training architecture where LVC could be attained in mixed inventories of new and legacy platforms. Establishing linked synthetic mission training systems and networking simulators to enable multi-entry and multi-location training exercises is difficult, especially in a multinational context such as NATO.
As nations are procuring fifth generation fighter aircraft, training needs to be transformed to ensure that pilots are able to operate sophisticated electronic hardware. The complexity of the mission systems onboard means that pilots need to go through comprehensive and expensive conversion training to be able to fly these aircraft. In order to perform high-intensity operations and fight in a multi-domain context, nations have to integrate a virtual training environment with simulators and trainer aircraft. As air forces are developing future combat air systems, they will require new capable trainer aircraft and a transformed training system to achieve initial operating capability (IOC) of the next generation aircraft at a rapid pace.
In the UK, the Ministry of Defence's (MoD) 2021 Defence Review stated that the Royal Air Force (RAF) would retire equipment that has increasingly limited utility in the digital and future operating environment. This will include rationalising older fleets to improve efficiency, retiring the Hawk T1, which took place in March 2022, and the Typhoon Tranche 1 by 2025. The report claimed that it would enhance the new military flying training system with further investment in synthetic training that will deliver more capable pilots more quickly and more efficiently.
Since its inception and following highly invested synthetic based simulation training activities that are now all based at RAF Valley, the RAF has proved without doubt that it has the ability to do so much more at a faster speed and lower cost than the hitherto base of 100 percent live training. But with only 28 Hawk T2s, not all of which are available all the time, there is a concern that there is nothing left in reserve for the 'in the air' training domain.
When Mark Francois, MP asked in a written parliamentary question earlier this year "what plans the government has to replace the Hawk T2 aircraft in RAF service, and what was the planned out of service date for these aircraft," Jeremy Quin, UK Minister of State for Defence responded: "The planned out of service date for the Hawk T2 aircraft is 2040 and there are no plans required yet for its replacement."
Furthermore, the UK Military Flying Training System (UKMFTS) facilities that take UK armed forces aircrew through elementary, basic, and advanced flying training phases, preparing students for their arrival at their designated operational aircraft units, are not getting the investment needed to bring in well-proven additional state-of-the-art training aides. This despite the current Chief of the Air Staff (CAS) clearly stating when he assumed the role that sorting out pilot training was the absolute highest priority to resolve.
In contrast, the RAF is making progress with the acquisition of new and innovated training systems. New RAF Typhoon Future Synthetic Training (TFST) simulators will replace devices acquired through the Aircrew Synthetic Training Aids (ASTA) simulator programme that the RAF deemed inadequate for credible recurrent training. The delivery of the first two TFST devices is expected by the end of this year, but RAF pilots will only start training on them in 2023. The new devices feed into the RAF's larger objective to share common synthetic entity models across the force.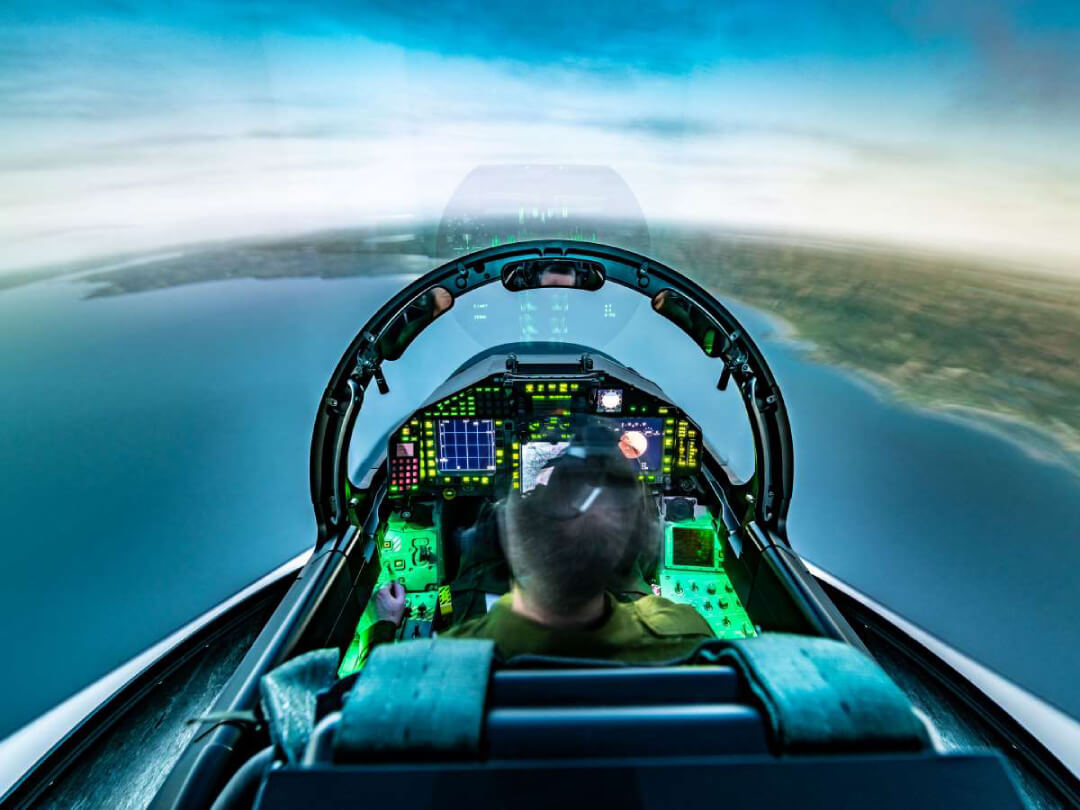 In September 2021, the UK MoD awarded BAE Systems contracts worth £220 million to deliver ten synthetic training systems. BAE Systems contracted CAE to provide ten Medallion MR e-Series visual display systems that BAE Systems will integrate into the Typhoon full-mission simulators for the RAF. Six of those will go to the RAF Typhoon Training Facility South (TTF(S) at RAF Coningsby and four to TTF(N) at RAF Lossiemouth.
Meanwhile ST Engineering Antycip has formed a partnership with Nova Systems to provide technical integration support toward a Capability Concept Demonstrator (CCD). The partnership, announced in June 2022, seeks to aid the CCD prototype in understanding and investigating mission training solutions for the RAF. The companies claim the solution will enable pilots to test capabilities, tactics and procedures that are usually very expensive or difficult to conduct live.
In this programme, an RAF Lockheed Martin F-35 is being integrated into the UK's Gladiator platform as a targeted-fidelity simulator. The UK MoD announced the Boeing-led Gladiator capability in May 2019 which aims to achieve a 50/50 blend of synthetic and live flying for the Typhoon and a larger percentage of collective training virtually for the F-35. This marks the first synthetic training interaction between an F-35 and other platforms. The project uses two fixed based 180-degree Cobra Domes and two XTAL VR systems. The software selected for the platforms is the Gladiator Stack, which includes many MAKOne products.
Support for CAMAO courses
In September 2021, MVRsimulation announced that the NATO Tactical Leadership Programme (TLP) based at Los Llanos Air Base, Albacete, Spain, had purchased 30 new fixed-wing Part Task Mission Trainers (PTMT) for fighter pilot simulation training. The acquisition included 54 Virtual Reality Scene Generator (VRSG) licenses with location-specific geospecific terrain.
MVRsimulation designed and built the PTMT under an internal programme, to provide a very low-cost, quick-deployed cockpit training solution to fill the gap in current in-use mission tactics training systems for military fixed-wing pilots. The system aims to maximise suspension of disbelief for trainee pilots as they practice mission tactics and co-ordination in joint, networked environments. It can also operate as a standalone training solution.
The PTMT comprises an aluminium structure fabricated in the United States, a fully integrated cockpit shell, touch screen displays for pilot interaction, and an out the window (OTW) view on adjustable curved display, mixed-reality headset or partial dome.
Complete with notional aircraft hardware represented by touch screens for conducting air-to-air or air-to-ground training scenarios, the PTMT can be configured for training for current third and fourth generation combat aircraft currently used by NATO nations thanks to its specially designed, patent- pending flight control stick that can be easily adjusted between side-stick and centre-stick positions.
The multinational TLP is the leading centre for NATO's Allied Air Forces tactical training and development of knowledge and leadership skills. The 30 PTMTs will be deployed in a classroom setting, where they will support the TLP's Composite Air Operations (COMAO) Flying and Synthetic courses. The COMAO Flying Course aims to improve the tactical leadership skills and flying capabilities of front line fighter mission commanders, to improve the tactical interoperability of NATO Air Forces through exposure to tactics and capabilities of other air forces and to provide a flying laboratory for tactical employment concepts. The COMAO Synthetic Course is a nine-day course focused on tactical leadership and COMAO mission planning.
TLP successfully operates the new Modern Air Combat Environment (MACE) simulator during the current flying courses. MACE will support this course's virtual phase, and the follow-on LVC scenarios. As MACE'S IOC has been recently declared, TLP will continue improving this new capability in order to boost NATO's Air Power effectiveness through leadership building, while generating new mission commanders for the Alliance.
US Air Force leaders want airmen to train as they fight, but the barriers to executing true distributed mission operations are everywhere. simulators and networks need to communicate, combat systems need to talk to simulators, international partners need access to one or another component of the LVC training continuum.
The US Air Force (USAF) is looking for answers for advanced pilot training which may lie in a legacy programme under the Defense Advanced Research Projects Agency (DARPA), that enabled US Navy training with joint and allied partners. Called the Navy Continuous Training Environment (NCTE), developed and matured by Huntington Ingalls Industries (HII) in partnership with the US Navy, it offers a comprehensive toolset for solving the USAF's LVC training challenges, said Michael Aldinger, vice president and Air Force lead for HII's LVC Solutions Group which designs, develops and operates the largest LVC enterprise that prepares warfighters for cross-domain battle. This is especially critical for developing and integrating training for fifth generation weapons systems and platforms.
"Fifth generation brings a whole new level of training fidelity and capability to the Air Force," Aldinger said. "If we're going to be successful with the integration and operations of the F-35 and beyond, we must improve testing fidelity, as well. Instead of having two separate environments for testing and training, they can unify these two into one common, high-fidelity architecture."
Lockheed Martin's comprehensive F-35 training package, which it claims will allow the F-35 to carry out significantly more virtual training missions than the competition, has tipped the balance for a number of successful export contracts. Pilots begin their training training aids and interactive courseware to learn basic skills, switchology and fundamental procedures. They then progress to the F-35 FMS with a 360-degree visual display system, which replicates all sensors and weapons employment and uses the same software as the aircraft. The FMS cockpit can be reconfigured to support training on all three F-35 variants. Pilots complete roughly half of initial qualification flights in the FMS for affordability and effectiveness. After graduation, pilots remain in a continuous learning environment with access to training courseware, applications and mission rehearsal trainers to increase skill proficiency and combat readiness. Some units are performing nearly a 50/50 training split between the aircraft and the simulator for affordability.
Belgium-based Barco is providing the projector for the Draco 240+ fast jet mini-dome simulator from 3D Perception that will be used by the USAF in its Joint Simulation Environment (JSE) which is a scalable, expandable, high fidelity government-owned, non-proprietary modeling and simulation environment to conduct testing on fifth-plus generation aircraft and systems accreditable for test as a supplement to open-air testing based at Edwards AFB in California.
Humberto Blanco, JSE project manager said "We've been asked to develop a high-fidelity modeling and simulation environment for initially the F-35 and F-22 that will allow us to test aircraft in ways that we're currently unable to test," Blanco said. "So the environment will encompass things like weather, terrain, multiple other platforms and air and ground threats."
3D Perception is under contract from the USAF to provide at least nine immersive visual display systems in support of the Threat and Friendly/Virtual Air Threat JSE, for delivery to Edwards, Nellis, and Wright-Patterson AFBs.
In spite of the technological leap of simulated training systems, the major NATO air forces are still looking at the rebalancing of live v synthetic pilot training.
by David Oliver