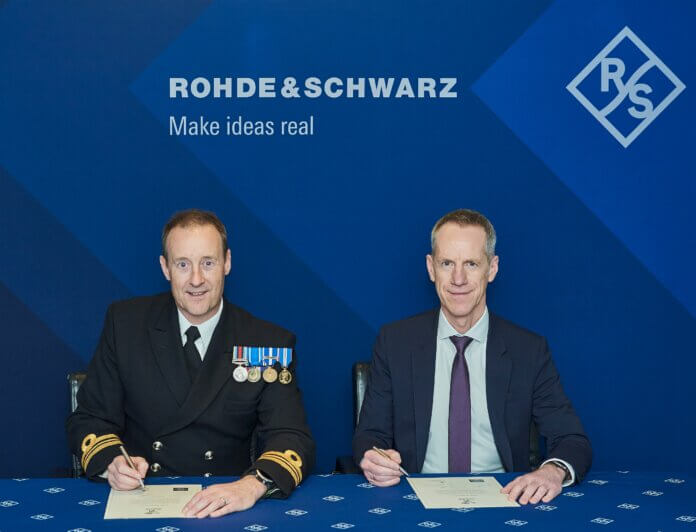 Formalized commitment builds on track record of understanding and flexible employment of former service members and support for charitable activities.
Rohde & Schwarz UK has confirmed its commitment to the Armed Forces Covenant (AFC), a UK government initiative to support ex-services staff, at a signing held during the company's recent board meeting in London.
"About 20% of the Rohde & Schwarz UK workforce have formerly served in the armed forces and contribute strongly to our organization's culture as well as business performance," Frank Mackel, Vice President Sales Europe at Rohde & Schwarz, said. "Signing the AFC creates a platform for us to extend our engagement in new ways including support for service spouses and partners as well as armed forces charities."
Lieutenant Commander Russ Haines RN, Relationship Manager (South), a member of the Ministry of Defence (MoD) team at the signing, commented: "Historically, Rohde & Schwarz has demonstrated its' commitment to fairness for armed forces staff and we are delighted that this is now formalized through the signing of the AFC."
"Entering civilian employment can be tough for service leavers, despite the outstanding skills and personal qualities they have to offer," Andrew Gibbs, South East Regional Employer Engagement Director with the MoD Reserve Forces and Cadets Association, added. "We appreciate Rohde & Schwarz' support for our desire to ease their transition and we look forward to enjoying a productive and enduring connection."
The AFC is a flexible framework that organizations can customize according to their available resources and the needs of any ex-service staff employed. Rohde & Schwarz' commitment includes supporting the employment of veterans and recognizing military skills and qualifications in recruitment, as well as supporting the employment of service spouses and partners. There is also support for employees who are members of the reserve forces or engaged with cadet organizations, and for armed forces charities and events such as the Poppy Appeal Day and remembrance activities.
In addition to the terms of the AFC, Rohde & Schwarz supports initiatives, such as the Forces Family Jobs website and the MoD's Career Transition Partnership.
The company has close links with the armed forces and employs many veterans. Stephen James, who began the initiative to sign the covenant, is a former naval officer and now Secure Communications Business Development Manager at Rohde & Schwarz UK. He concluded by stating: "I would like to thank everyone here and in the MoD organizations who have helped facilitate signing the AFC. As an armed forces reservist, I have received considerable help including granting of time away, when needed, to fulfil my responsibilities."