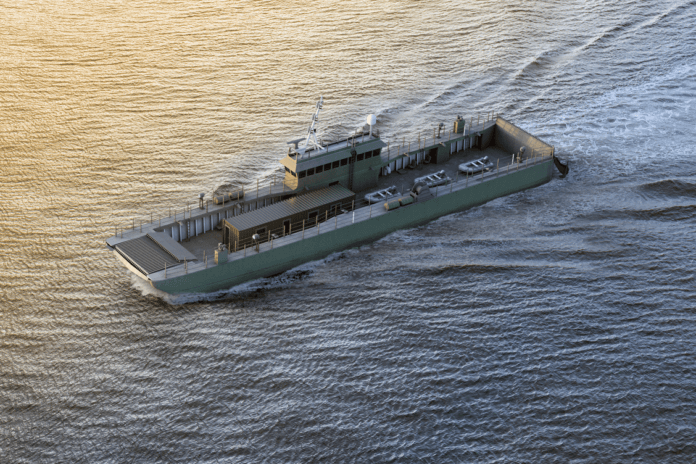 Australia's Department of Defence is currently evaluating proposals received from four industry teams to build the country's Independent Littoral Manoeuvre Vessel (ILMV).
The ILMV will be significantly larger and more capable than the LCM-8 (Landing Craft Medium) that they are to replace with increased range, a steel hull and greater lift. The competition is the initial part of Australia's multi-phase Land 8710 that intends to acquire a series of new capabilities replacing craft introduced in the 1970s including the LCM-8 and LARC-V (Lighter Amphibious Resupply Cargo) fleets. The current Request for Tender for Land 8710 Phase 1A, the first phase of the program, is valued $800m and will field the first craft in 2026. The ILMV is required to be steel-hulled with 70-ton capacity range (20 per cent greater than LCM-8) and between 1000 and 1200 nautical miles (1850-2200km) range.
Australian industry teams that are understood to have submitted proposals for the tender are understood to include the Birdon Group, the Australian Maritime Alliance of Serco and Civmec, Landing Craft Australia with Navantia Australia and UGL and a team consisting of Austal, BMT and Raytheon Australia. Bridon's CEO, Jamie Bruce, characterized its vessel offering as being purpose designed for independent operations in the Indo-Pacific "with deep reach, tremendous capacity and the robustness and resilience to adapt to future needs. Crew habitability, endurance and protection are key design features." Design concepts show a forward ramp with a landing pad just aft of the pilothouse. A company funded prototype is being constructed at Henderson based Echo Marine Group.
The Australian Maritime Alliance is proposing its new Oboe design which recently completed tank testing. Oboe's approach includes a forward and rear ramp with it suggests provides greater cargo loading flexibility and a full-drive through capability.
Navantia Australia and UGL are proposing a version of Navantia Australia's Kodal landing craft. Uses a more traditional forward ramp with aft pilothouse. According to the companies the locally designed Kodal can also be adapted as a platform for unmanned aerial or maritime vehicle operations.
The Raytheon Australia, shipbuilder Austal and design firm BMT are proposing a version of BMT's Caimen landing craft. The adapted design uses the Caiman's distinctive tribow monohull hull form but has only a forward bow ramp, dropping the stern ramp. It will also be built entirely of steel. The intent is for Austral to build the vessels at its facilities in Henderson while Raytheon will manage overall systems integration.
ILMV plans to contract for eighteen vessels with first delivery in 2026. It will be followed by a replacement for the LARC with a new amphibious vehicle (Littoral Manoeuvre Vessel – Amphibious) under a separate element. Finally Phase 2 will seek to acquire heavy 3000-4000 ton class landing craft (LCH) to replace the army's Balikpapan-class vessels retired in 2012. Acting head Land Capability Brigadier Jeremy King explained "What we'll end up with is a set of overlapping, cascading effects that are primarily designed to work in that shore-to-shore environment, but also able to project into the region either independently or part of an amphibious task group,".
by Stephen W. Miller