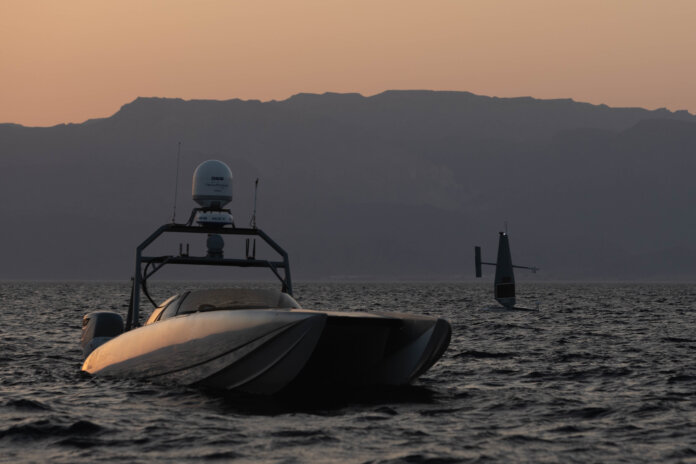 The US Navy (USN) has integrated an uncrewed system into a Combined Maritime Forces (CMF) task force to support at-sea training in the Gulf.
The USN has been increasingly integrating uncrewed capabilities into CMF task forces since 2022, demonstrating the growing use of uncrewed systems in supporting crewed platforms.
A Maritime Tactical Systems Inc (MARTAC) T38 Devil Ray uncrewed surface vessel (USV), which is assigned to US Fifth Fleet's Task Force 59 (TF 59), joined up with surface ships operating under command of CMF's Combined Task Force (CTF) 152 to support vessel boarding procedure training.
CTF 152 – currently commanded by the Royal Bahrain Naval Force (RBNF), and one of CMF's four multinational CTFs – is responsible for providing maritime security across the Gulf and Straits of Hormuz. TF 59 – established under and led by US Fifth Fleet – is responsible for integrating uncrewed systems capability with artificial intelligence (AI) to enhance maritime operations.
The vessel boarding training occurred under the multinational exercise 'Falcon Warrior', which took place on 24-25 January. Participants assembled in Bahrain on 23 January to receive a briefing on TF 59 capabilities. During the at-sea phase, vessels from Bahrain, Kuwait, and Saudi Arabia conducted operations with the T38 USV while sailing in regional waters, a CMF statement noted on 26 January.
The exercise provided an opportunity "for crewed and uncrewed teams to work together to provide safety, security, and stability in the maritime environment within the Gulf," Captain Rashed Al-Ameen, an RBNF officer and Commander of CTF 152, said in the CMF statement.
In the exercise, the crewed and uncrewed assets operated in a co-operative manner, Commander Tim Hawkins – spokesperson for CMF, US Fifth Fleet, and US Naval Forces Central Command – told Armada International. "The USV provided additional 'eyes on scene' for watchstanders in operational centres ashore, and at sea aboard crewed ships," Cdr Hawkins explained. "A camera onboard the USV relayed visual depictions of training objects to command centres, where the visual data was integrated and then analyzed by AI."
The T38 Devil Ray is one of several uncrewed systems US Fifth Fleet uses, with the different designs and technologies brought by the different systems helping TF 59 to accelerate innovation in and integration of new capability, Cdr Hawkins explained.
by Dr. Lee Willett, London