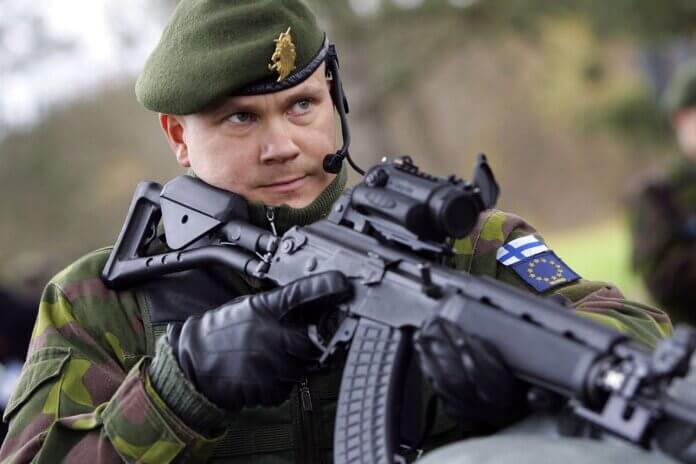 Defence officials of the Swedish and Finish militaries have agreed to field the same individual weapons for use by their soldiers.
Under the agreement both armies will acquire future weapons through a joint procurement signed on 27 March with Riihimäk-based arms provider Sako Ltd part of the Baretta Group. The acquisition contract has a ten-year base period with three seven-year options for up to twenty-one additional years.
The counties have agreed initially to field both the same sniper rifles and assault rifles manufactured by Sako. It was further announced that a new 5.56x45mm calibre assault rifle will be developed by Sako and made available for evaluation by 2025. Sweden and Finland decided to adopt an AR-based platform, consisting in a 5.56x45mm NATO AR-15 variant for general issue.
This is important as Sweden needs to replace both its current Ak5 Automatkarbin 5 (the FN FNC) and recently modified Ak4 (H&K G3) that has been in service since the 1960s. It is anticipated that it will require investing up to SEK 875 million ($82 million) for assault rifles and personal protective weapons.
Defence Minister Brig Gen Jonas Lotsne stated "The agreement signed today will affect virtually all Swedish Defence Forces personnel, who will in the long term have access to new modern weapons. We are now taking a big step towards replacing virtually all the weapons in our armed forces and that is very gratifying."
With Finland joining NATO it also needs to replace its Valmet Rk.62 in 7.62×39 (Soviet AK ammunition) assault rifles.
The agreement also covers the covers 7.62×51 NATO calibre designated marksmen rifles (DMRs), 7.62×51 calibre sniper rifles and the .338 Lapua Magnum (8.6mm). For the later the Swedes had previously selected the Sako TRG M10 Sniper Rifle in 7.62×51 and .338 Lapua Magnum (8.6mm), this bolt-action rifle will replace the current PSG90 sniper rifle. The DMR is expected to be an accurized AR-10 which the Finns' adopted in the Sako M23 in 2021.
Overall, the agreement can include up to seven different weapons. The include a personal defence weapon in 5.56mm with 11.5-inch barrel, a 7.65mm automatic carbine, a 7.62 mm sniper rifle, an 8.6mm sniper rifle with 27-inch barrel, a 7.62mm machine gun, a 12.7 mm sniper rifle (replacing the AG90), and a 40mm grenade launcher.
Sweden's FMV agreement with Saku also covers Sweden's Police, Customs, SÄPO (Swedish Security Service) and the Coast Guard with different variants and accessories. The Finnish Logistics Department of the Defence Forces similarly explained that they "will use the agreement's framework to equip their own Border Guard, Customs, the Office of Criminal Sanctions and police authorities" as needed. The combined requirements of the Swedish and Finnish military plus these other agencies offer a major economic boost for Sako, as well as, significant logistics and operational benefits to the two nations.
by Stephen W. Miller