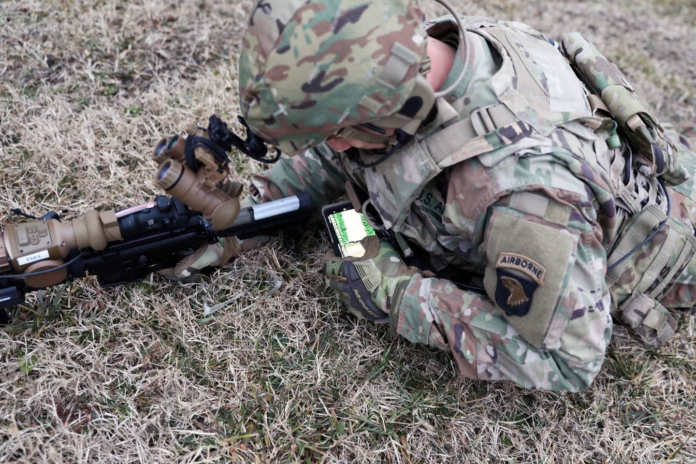 First deployed in 2012, the U.S. Army's Nett Warrior smartphone-sized communications system has provided infantry leaders with a distinct edge, improving situational awareness, communications and battlefield decision-making.
Nett Warrior devices use Tactical Assault Kit (TAK) software to provide map-based, situational awareness along with specific custom applications. Up until this year, the army had introduced six versions of the Samsung-made device and issued more than 23,000 units.
Proving itself to be both adaptable and extendable, Nett Warrior is inspiring a whole ecosystem of compatible devices, tools and apps. It's a area of development that looks set to deliver on the promise of the 'smart soldier', but the fast adoption of all this technology also creates its own challenges: among them integration, power requirements and connectivity.
To address the need to manage the growing number of wearable devices on the battlefield, the U.S. Army created an Adaptive Squad Architecture (ASA) initiative under its Program Executive Office Soldier (PEO Soldier).
ASA aims to transform 122 lbs. (45kgs) of kit with more than 80 components, power sources and cables into a fully connected, self-sufficient system enabling everything the soldier sees, hears, feels and communicates. ASA addresses power and processing, defines common standards and interfaces and aims to drive down SWaP (size, weight and power) requirements
The army is currently integrating rugged wearable USB hubs into the Nett Warrior system to connect current and future wearable devices. To this end, it recently awarded aerospace and defence firm Elbit America with a contract to supply some 33,000 Next Generation Hubs (NGHs). Hubs like these could connect a squad leader's Net Warrior system to a wide variety of systems for targeting, laser range finding, night vision, thermal imaging, biometrics and even personal drones designed for safer scouting.
However, the army's overall goal is to allow more devices to connect wirelessly. New levels of connectivity and integration, pave the way for what seems to be a growing pipeline of future devices and apps, from biometric devices that can measure the health, stress-levels and levels of fatigue, to devices that leverage augmented reality.
Trials of such applications are ongoing and have enjoyed varying levels of success. For example, the U.S. Senate recently blocked $350 million in funding for Microsoft's Integrated Visual Augmentation System (IVAS), after hearing about a variety of hardware, software and user issues. Meanwhile, trials and studies on collecting and analysing biometric data for rapid threat detection are ongoing.
By ensuring integration and interoperability across the ASA, the army is networking the systems of multiple soldiers to create an integrated combat platform that performs from squad-level upwards. Beyond the squad, longer-term objectives for ASA are to enable wireless platforms of army vehicles to automatically begin charging a soldier's device batteries and downloading their data automatically as soon as they board the vehicle.
Recognising industry collaboration as key to future development, the ASA's role in ensuring integration and interoperability is vital to support future innovation. The army has also developed a Software Development Kit (SDK) to allow different programme offices to develop their own applications on the Net Warrior platform.
After more than 10 years of operation in the field, the Nett Warrior's story is really just beginning.
by Carrington Malin