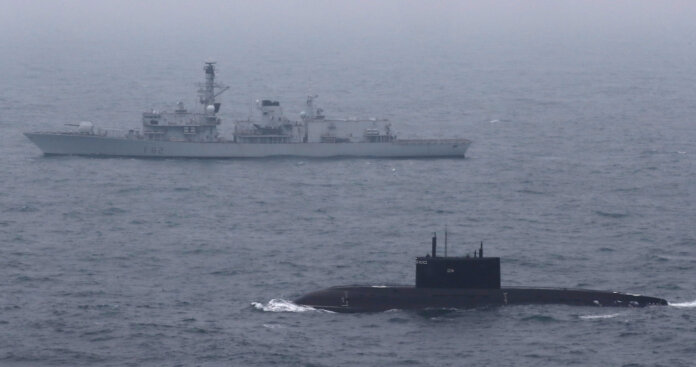 NATO is facing a combined, state-based strategic challenge in and beyond the Euro-Atlantic theatre, a senior alliance military officer told the Defence and Security Equipment International (DSEI) 2023 exposition, which took place at ExCel London from 12-15 September.
The uncertain strategic context NATO faces includes state-based individual and combined challenges from two primary sources, Russia and China, Admiral Sir Keith Blount – a UK Royal Navy officer newly posted as NATO's Deputy Supreme Allied Commander Europe (DSACEUR) – told the DSEI conference.
In particular, Adm Blount pointed to the challenge of increasing levels of Sino-Russian co-operation.
"When China and Russia come together, talk together, act together, we have a compounding challenge," he said. "We see increasing numbers of exercises between those two countries, and we see increasing complexity in the way those exercises are conducted."
Alongside combined military activity, Adm Blount pointed to other strategic change factors underlining the challenge created within the Euro-Atlantic area for NATO by closer Sino-Russian integration. "There are other changing dynamics … such as climate change, and the Northern Sea Route [NSR] and its access, that [contribute] to a more contiguous link between the Euro-Atlantic and the Far East," said Adm Blount. "I don't want to over-stress this, but I do want to make the point that NATO is not blind to it."
The NSR potentially will offer direct, faster access to shipping – commercial and naval – across the Arctic polar region between the Euro-Atlantic and Indo-Pacific theatres.
China's growing global influence, and its potential capacity to project that influence through the Arctic and into the Euro-Atlantic theatre, is central in NATO's identification of China as a competitor.
Russia is, of course, NATO's traditional source of competition and challenge. After a post-Cold War period focused on out-of-area expeditionary campaigns, such as in Afghanistan or on counter-piracy operations off Somalia, since 2014 (and Russia's annexation of Crimea) and through to 2022 (and Russia's invasion of Ukraine) NATO's focus on Russia has returned, Adm Blount explained.
"There is naturally a focus on Ukraine and on Russia, because it is the immediate threat," said Adm Blount. "It is the one that is governing the geopolitical and strategic situation within the alliance."
Adm Blount also underscored the challenge of Russia's hybrid threat. Here, he noted "The shift in the way in which mischief in the 'grey zone' – activities that fall short of trigger points in terms of [the NATO Charter's] Article 5, [and] direct military response – is now happening more frequently, and in more different and diverse ways."
"These are the tactics identifiable with Russia in the Black Sea right now," he explained.
by Dr. Lee Willett