The National Advanced Surface-to-Air Missile System (NASAMS) cooperatively produced by Kongsberg Defence and Aerospace and RTX (formally Raytheon Missile and Defence) has often been the mid-range air defence system of choice.
The latest are the Lithuanian military's acquisition of AIM-120C-8 Advanced Medium Range Air-Air Missiles (AMRAAM) to support its NASAM batteries and Hungary which received its first two systems in October 2023. Hungary's systems ae replacing post-Soviet 2K12 Kub systems. These initial units are part of an order placed in 2020 for a total of seven fire units and 180 AMRAAM plus 60 extended range AMRAAM missiles.
With NASAMS deployment in Ukraine in November 2022 the system received a true baptism by fire where it faced off against intense aerial attacks aimed at particularly destroying urban power and transportation assets. Despite its then limited number (only one battery was provided by the United States) the system proved its capabilities demonstrating a 100 percent success rate. This record saw Ukraine seek additional NASAMS, with Canada, Norway and Lithuania committing to providing systems. An additional four systems were approved for procurement for Ukraine by the US Government in mid-2023. Some if these assets entered operation in October 2023.
NASAMS consists of a radar (typically the trailer mounted AN/MPQ-64 Sentinel), a Fire Distribution Centre, and six canister launchers, with associated power generators. It can be configured using towed launchers or truck mounted.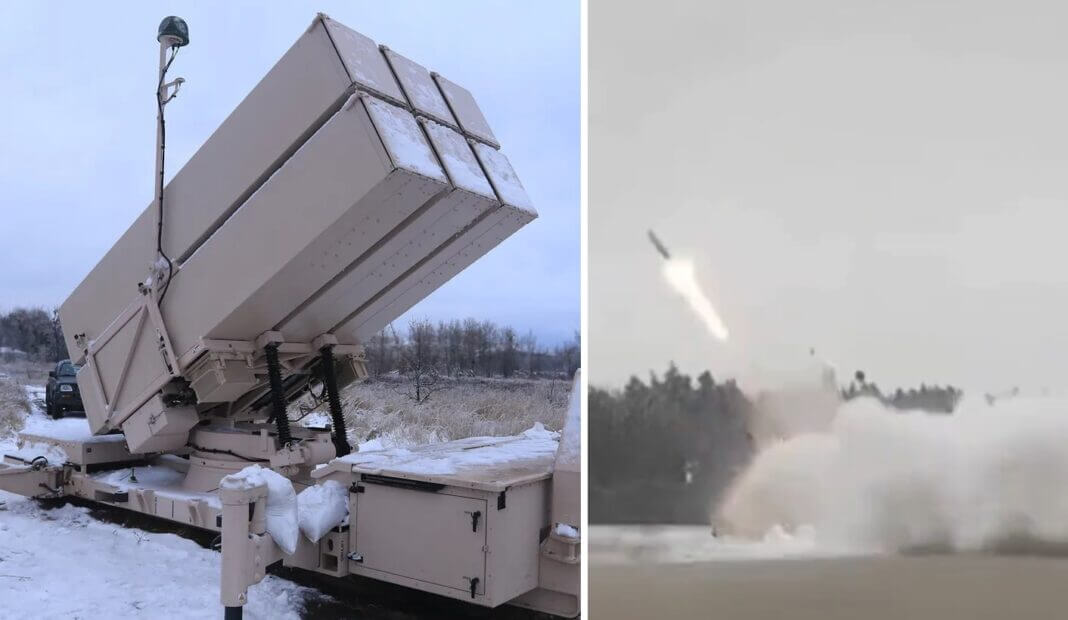 NASAMS is capable of launching a range of proven in stock and in production missiles from the same launcher including the AIM-9X Sidewinder heat-seeking missile and versions of the AMRAAM radar homing missile. This ability to draw from the large existing inventory of missiles assures that missile expenditures can be more readily replenished. Depending on the missile employed the NASAMS can effectively address targets as far as 20-to-50-kilometre ranges. The NASAMS is particularly suited to defending critical infrastructure and cover larger areas against attack by aircraft, mid-size drones, and cruise missiles.
Lithuania, Norway, and Finland (which joined in April 2023) employ NASAMS as an element of their commitment to reinforcing NATO's northern defence. They are among nine other counties worldwide which have currently fielded NASAMS while Kuwait, Taiwan, and Qatar have placed orders. The conflict in Ukraine has highlighted the important role of layered air defence capability and the need for medium range systems. Other medium range counter-air missile systems available (and received by Ukraine) include the Diehl 40 km range IRIS-T infrared-homing, Selina's Aspide, and Raytheon MIM-23 Hawk.
by Stephen W. Miller