With three decades of experience in the radar and electronic warfare domains ELDES has the products, services and know-how to help the design and testing demands for military radar and Electronic Warfare (EW) systems.
The electromagnetic spectrum is becoming increasingly congested and contested. A revival of great power competition is seeing the proliferation of ever-more sophisticated weapons relying on radar and radio. These weapons use increasingly sophisticated techniques to protect and mask their electromagnetic emissions. The goal is to make these as discreet as possible and to hide within the morass of electromagnetic noise that characterises the spectrum around the world.
The exponential growth in wireless devices like smartphones over the past two decades has seen the spectrum become saturated. This trend will grow in the future. The advent of fifth- and sixth-generation (5G/6G) wireless technology will see billions of devices using the radio spectrum. These will employ non-traditional frequencies previously largely the preserve of the military.
The advent of the Internet of Things, made possible by 5G and 6G, will see 'the connection of everything'. Machines, vehicles, buildings, people and even animals carrying wireless devices will continually share torrents of data. All this provides electromagnetic camouflage for the radar and radio threats militaries must detect.
Robust product and capability Research and Development (R&D) is the key to meeting these challenges. Ensuring that EW and radar threats are accurately simulated is paramount. The challenge is to ensure that not only existing, but potential future threats, can be accurately simulated. This is essential for product R&D, for support during a system's lifetime and to help improve training.
Expertise
Ensuring you have the right tools to simulate these threats can be a daunting challenge. Fortunately help is at hand from ELDES. This year, the company celebrates its 30th birthday.
Headquartered in the historic city of Florence, northern Italy, ELDES reflects its city's proud history as a centre for knowledge. In fact, ELDES has enjoyed long and fruitful partnerships with universities and academic centres in Italy and beyond.
It has two business lines; defence and meteorology. ELDES defence business has directly benefitted from its radar expertise helping design and produce world class Hardware-in-the-Loop simulators. These are used not only to help develop radars but also to realise EW systems.
Capabilities
ELDES defence portfolio is built around four programmable Hardware-in-the-Loop (HWIL) simulators; the E-PRS, E-PSS Poseidon, E-PSS Poseidon Avionic and E-RES.
The E-PRS can be used in the laboratory and anechoic chamber for electronic warfare systems undergoing tests. The system is ideal either for initial validation and EW operational support during the system's lifecycle.
Likewise, the E-PSS Poseidon can be employed for field tests or inside an anechoic chamber, as can its E-PSS Poseidon Avionic counterpart.
Radars can be evaluated using the E-RES which can be used in the laboratory, chamber and field test environments. ELDES customers typically include military electronic warfare centres, plus EW system and radar manufacturers. They use ELDES systems for multi-environment Electronic Support/Electronic Countermeasures (ESM/ECM) and radar Electronic Counter-Countermeasure (ECCM) assessments.
The E-PRS helps evaluate EW system and techniques effectiveness and for validating electronic warfare system libraries. Radar threat characteristics are easy to programme thanks to the E-PRS software-defined architecture with the system performing realistic HWIL radar system simulation.
ELDES has notable expertise in ESM/ECM effectiveness against radar-guided anti-ship missiles being involved in navy field trials to this end. The software defined architecture of the E-PSS Poseidon allows the simulation of any missile radar seeker emitting frequencies from eight gigahertz/GHz up to 40GHz.
The company's E-PSS Avionic simulates the same types of radar seeker, but is enclosed in an airborne package. Mounted in a pod, the E-PSS Avionic, installed on aircraft or drones, allows the user to also simulate the flight profiles of hostile anti-ship missiles.
Finally, the E-RES uses a fully-programmable architecture with a very wide instantaneous bandwidth Digital Radio Frequency Memory (DRFM). It can simulate multi-scatter targets, ECMs and the prevailing electromagnetic environment.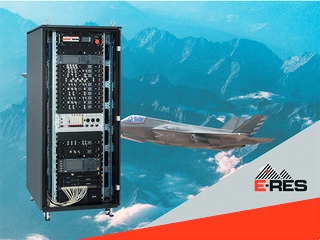 Support
ELDES expertise is not confined to building simulators. With its 45 staff and wide network of experts the company can help you develop the test and evaluation standards and protocols you need for your radars and EW systems. ELDES can help you through every stage of this process and support your testing and simulation capabilities throughout their life.
Visit Eldes at EW Europe Bonn from May 15-17 at booth number F06