Hanwha Aerospace offers cutting-edge K9A2 Self-Propelled Howitzer for the UK Mobile Fires Platform programme through Team Thunder partnership with local defence partners.
The K9A2 features innovative technologies including a fully automatic ammunition handling system, and composite rubber tracks bringing increased lethality and survivability.
Hanwha Aerospace UK incorporation represents Hanwha's ambition for more active cooperation with the UK MOD and wider UK Government through a range of 'Investment and Involvement' initiatives.
Hanwha Aerospace is set to showcase its extensive range of defence technologies at DSEI 2023 to be held from 12nd-15th September at ExCel, London.
Hanwha Aerospace will unveil its K9A2 Self-Propelled Howitzer (SPH) platform fitted with the Composite Rubber Track (CRT) developed by Soucy Defense, a key milestone for developing a British variant of K9A2 meeting the requirements of the UK Mobile Fires Platform (MFP) programme.
The K9A2 builds upon the key battle-winning components from the proven K9A1, which accounts for over 50 percent of the global SPH market with over 1,800 platforms already in service, to deliver enhanced levels of lethality and survivability. Central to these enhancements is a fully automated turret and the integration of composite rubber tracks.
"CRT is one of the key innovative technologies to be featured on the British K9A2, enabling greater all-weather terrain accessibility for shoot-and-scoot operations, alongside reduced noise, vibration, maintenance and fuel consumption to enhance operational mobility," said Simon Humphrey CBE, Vice President of Hanwha Aerospace UK. "CRT is a game changer and makes huge strides in closing the gap between the oft heard Wheels vs. Track polarizing debate."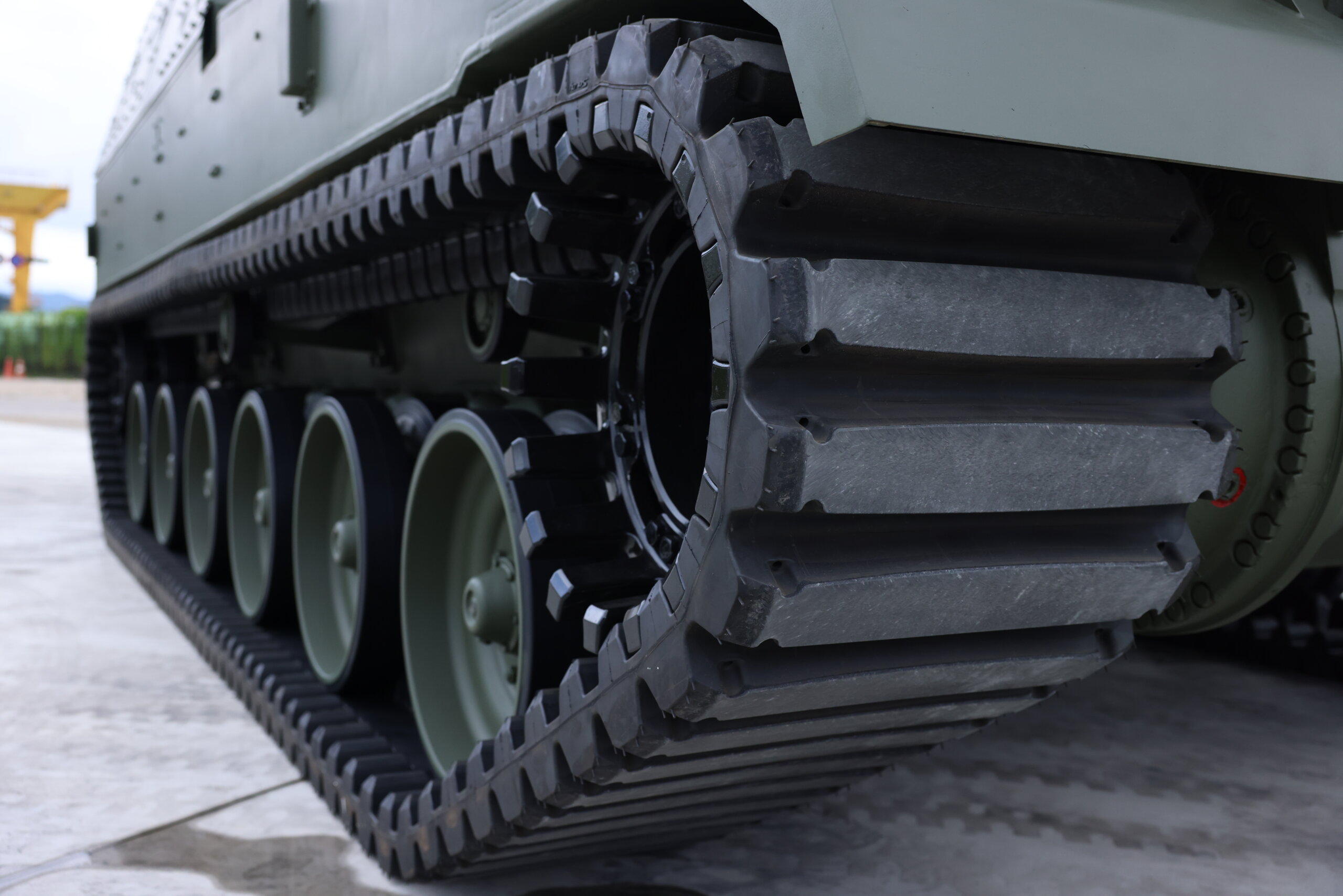 Hanwha Aerospace is leading Team Thunder UK, which is a unique international partnership involving a group of highly accomplished UK defence manufacturers, brought together to build and supply a cutting-edge monbile fires capabliity to the British Army in response to its MFP requirement. The team includes Lockheed Martin UK; Leonardo UK; Pearson Engineering; Horstman Defence Group; and Soucy Defense.
Hanwha Defense Australia also joined Team Thunder to maximize the synergies and opportunites with the AS9 Huntsman programme, alongside their recently announced success of the Redback Infantry Fighting Vehicle. Given the similarities between the two Five Eyes nations, Hanwha is working hard to leverage the work being done on LAND 8116 into the MFP programme.
Hanwha Aerospace intends to grow Team Thunder further with the inclusion of more UK SMEs and more technology companies to generate direct and further wealth for the UK, with at least 50 percent of the manufacture of the British K9A2 version to the UK industry.
"Team Thunder is committed to creating a highly skilled industrial base by generating hundreds of brand-new specialist jobs in the supply chain as well as local training programmes for graduates and apprentices," said Sun Wi, Director of Hanwha Aerospace's Global Operations Office.
"The purchase of K9A2 will lead to export work for Team Thunder in the UK, as K9 users such as Filnland, Norway and Estonia will need to upgrade to A2 standard and beyond with significant opportunities for export and cost sharing across the user base," Sun added.
Commitment to UK
As part of Hanwha Aerospace's commitment to UK MOD and partnering with UK industry, it has established Hanwha Aerospace UK.
"The establishment of Hanwha Aerospace UK is now complete and the presence of Hanwha Aerospace's top leadership from across South Korea, Europe, US and Australia at DSEI 2023 is the evidence of Hanwha's strong desire to build new partnerships, evolve existing relationships, and broaden its delivery of the highest quality technology and capabilities at a time of high global demand," said Simon, a retired Major General of the British Army, who serves as Vice President of Business Development and Strategy in UK.
Jaeil Son, President and CEO of Hanwha Aerospace, made clear his desire to build a strong partnership with the UK through a programme of Investment and Involvement with UK MOD and UK industry partners. This will include a range of ambitious initiatives to conduct colaborative R&D, support academia and contribute to the growth of key skills, particulary around STEM (Science, Technlogy, Engineering, and Mathmatics) subjects.
"South Korea has a strong partnership with the UK at a national level, and as a leading aerospace and defence group in Korea, Hanwha Aerospace will make every effort to broaden partnerships with UK MOD and industry partners through investment and involvement in the UK defence eco system," Son said.
Hanwha Aerospace's commitment to Investment and Involvement within the UK Defence Sector alongside any success of Team Thunder UK initiative is expected to help broaden the realm of industrial cooperation between Hanwha Group and UK partners over a wide range of sectors, including aerospace, shipbuilding, communications and energy solutions, as Hanwha operates a wide variety of subsidiaries for those markets.
Hanwha is ranked as the seventh largest company in South Korea and a Fortune 500 company, operating the business areas of aerospace, defence, energy, materials, finance, retail, and services.
Hanwha Aerospace will display a wide variety of defence capabilities at DSEI 2023. Come and see us in Hall 3 and Booth 240.
Key products on display at DSEI 2023
K9A2: The K9A2 is the latest variant in the K9 family. Despite many similarities, the turret has seen substantial modification compared to earlier K9 variants, both internally and externally. The most notable new feature of the K9A2 is its fully automatic ammunition handling system, while the K9A1 relies on a semi-automatic loading system, in which the rounds are loaded automatically, but the charges are loaded manually. The K9A2 can attain a fire rate of at least 9 rds/min, which allows to reduce the crew number, from five to three. The British variant of K9A2 is to be equipped with the Composite Rubber Track, which will enable more rapid 'in to' and 'out of' action, coupled with higher levels of tactical mobility and automation.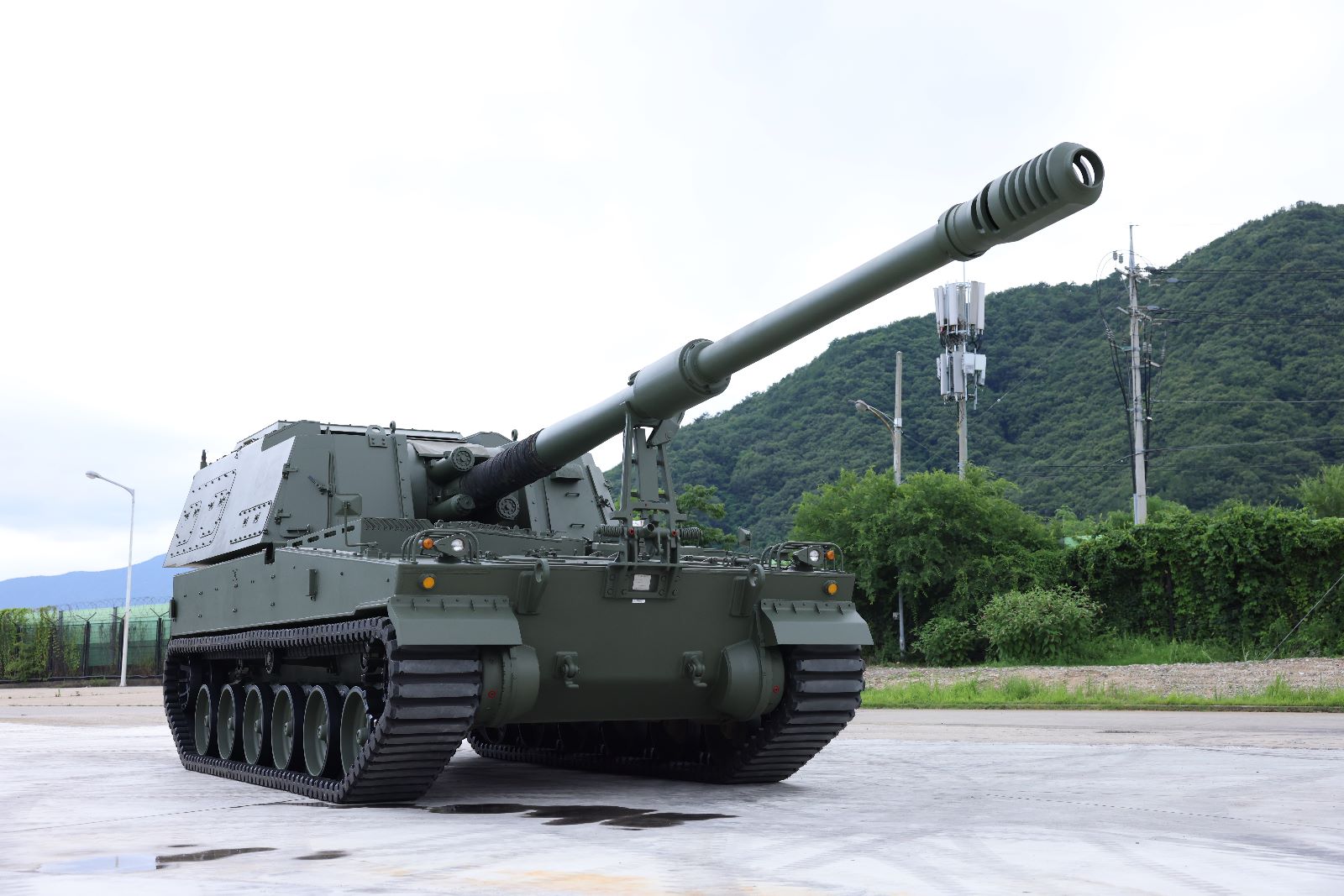 K239 Chunmoo: K239 Chunmoo Multiple Rocket Launcher System (MLRS) is a next generation rocket artillery system that can engage enemy targets in real time, avoiding any collateral damage for friendly forces. The MRLS is capable of engaging targets at ranges of up to 80 km or 300 km.
TAiper: TAiper is an anti-tank guided missile with a range of 8 km. The ATGM can be integrated on various platforms such as main battle tanks, armored combat vehicles and unmanned ground vehicles.
Redback: The Redback Infantry Fighting Vehicle (IFV) is a next-generation Infantry Fighting Vehicle with superior battlefield mobility and armoured protection. The Redback has advanced maneuverability with its 1,000 HP powertrain system, in-arm hydro-pneumatic suspension unit, and Composite Rubber Track. The Redback has exceptional survivability which is achieved by combination of proven elements of its existing armored vehicles with advanced sensors, active protection systems.
Lithium-ion battery for submarine: Hanwha Aerospace is responsible for the integration of the world best-class Lithium-ion battery to be installed on ROK Navy's 3,000-ton submarines, as the battery increases the underwater operational hours of the submarine twice as much as those with lead-acid batteries.