The US Army has taken a major step forward in its consideration of combat robots with its announced award of four Other Transaction Agreement (OTA) contracts to develop prototype Remote Combat Vehicles (RCV).
"General Dynamics Land Systems, McQ, Textron Systems, and Oshkosh Defense will each build and deliver two platform prototypes by August 2024 in support of platform mobility testing and a Soldier touchpoint", according to Ashley John spokesperson for the Army PEO Ground Combat Systems. These contracted prototypes are Phase I of the Army program.
Steve Herrick, product manager Robotic Combat Vehicle stated, "This marks the official transition out of experimentation and movement to a fieldable RCV platform." This phase will lead to a down select of a single candidate in Phase II in Fiscal Year 2025 finalize to its design and deliver nine full-scale prototypes for testing in 2026. The ultimate program objective is to field this Remote Combat Vehicle in 2030.
The focus of the current effort is on the Remote Combat Vehicle – Light (RCV-L). This was decided following field evaluations of tested beds completed in 2022 of RCV-L provided by QinetiQ, and RCV-Mediums, the M5 supplied by Textron and TRX provided by General Dynamics. Moving forward on the "Light" system will provide both a "test bed" for robotic technology in a real-world environment and an opportunity to gain a better understanding of the challenges in tactically operating combat robots.
The RCV-L system designs selected share the required attributes of being below 10 tons, able to be helicopter transported, having limited protection and armament but robust sensors, and considered as an "attributable" asset.
The Oshkosh RCV builds off the previous QinetiQ US and Pratt Miller system. A diesel-electric hybrid powered tracked platform it can travel at 64 kmph (40 mph) and carry a payload of 3180 kg (7,000 lbs). It is outfitted with stabilized electro-optics and a remote-operated weapons station (RWS).
Textron Systems M3 is also tracked and has commonality with its RIPSAW RCV family. The 8-ton vehicle is designed to be a multi-role platform for up to 2273 kg (5000 lb). Weapon options include a 30mm autocannon, RWS with .50 machinegun and Javelin missile, and rockets. It is also capable of swimming across water obstacles.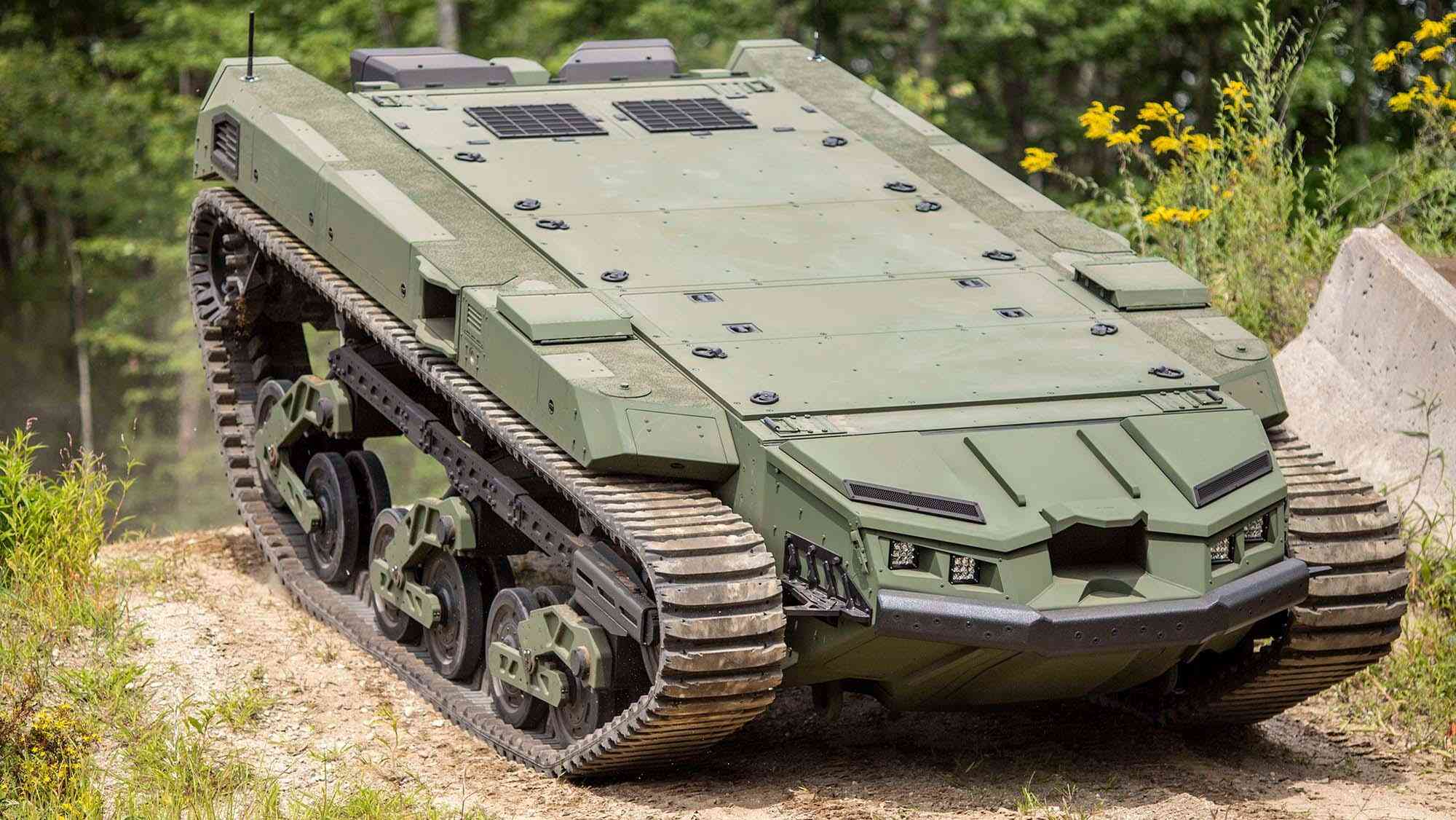 General Dynamics, which is delivering the production S-MET and provided RCV-Ms for the Army field testing, suggested in March 2023 that it likely intended to offer a version of its tracked TRX for the RCV-L. Weighing up to 10 tons with five tons of curb weight and a five-ton payload it has been demonstrated with armament ranging from Switchblade 600 loitering munitions, to Parson Engineering breaching and obstacle-reduction to Moog's Reconfigurable Integrated-weapons Platform (RIwP).
McQ Inc is a small business which background in "the art of ground sensor and satellite communications systems, providing solutions for difficult remote monitoring and surveillance applications". It has no demonstrated prior experience in robotic vehicles; however, its proposal clearly caught the Army's interest. Brian McQuiddy, Chief Executive Officer at McQ, was unable to provide details on their RCV design as they are waiting Army review of their public release.
This RCV-L effort is the first step in the US Army's ground robotic initiative. The direction of the RCV program and its evaluation focus will of interest. It can be anticipated that the "armed" applications may face the most challenges.
by Stephen W. Miller