10mayAll Day12Indo Pacific 2022 International Maritime Exposition
Event Details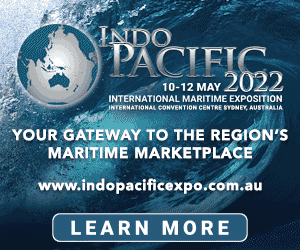 The INDO PACIFIC 2022 International Maritime Exposition is your gateway to an Australian and regional marketplace with dynamic fleet acquisition and equipment programs underway.
The Royal Australian Navy (RAN) is acquiring or planning to introduce 29 major new vessels, including a fleet of nuclear-powered submarines, nine Hunter-class frigates and 12 Arafura-class offshore patrol vessels. Upgrades to existing platforms will include an enhanced long-range strike capability, along with associated electronics and communications systems, sensors and munitions.
Other navies of the Indo Pacific region are embarking upon similar upgrades, with many acquiring or seeking to acquire new vessels and aircraft, patrol boats, submarines, landing craft, frigates and supporting systems.
Previously known as PACIFIC International Maritime Exposition, in 2020 the event became INDO PACIFIC in order to more closely reflect Australia's regional stance.
Time

may 10 (Tuesday) - 12 (Thursday)
Location

ICC Sydney

14 Darling Dr, Sydney NSW 2000, Australia