The concept of an unmanned loyal wingman is being turned into reality and a variety of countries are investing in swarming development too.
The concept of a 'loyal wingman' unmanned fighter aircraft is to fly alongside or slightly ahead of a manned military combat aircraft and to work in conjunction with that aircraft to undertake various tasks, such as surveillance, electronic warfare, laser guiding weapons onto targets, or even to carry out air-to-air or air-to-ground strikes.
General Atomics, Northrop Grumman and Lockheed Martin have won a $22 million contract from the US Defense Advanced Research Projects Agency (DARPA) to design an air-launched unmanned aerial vehicle (UAV) called LongShot, that will be able to fire multiple advanced air-launched weapons. The UAV could be launched either from an external hardpoint on a fighter aircraft or the internal bay on a bomber and released before reaching the battleground, to open the way and engage with the first enemy targets, thereby protecting higher valued manned aircraft. DARPA announced it wanted to explore multi-modal propulsion systems, to allow the UAV to reach a greater range, using slower and more fuel-efficient engines while retaining a capacity to quickly strike, using another propulsion system.
In later phases of the programme, the LongShot team will construct and fly a full-scale air-launched demonstration system capable of controlled flight, before, during, and after weapon ejection under operational conditions. Both the US Air Force and US Navy could be potential future customers for the small Loyal Wingman system.
Last year General Nick Carter Chief of Defence Staff in the UK armed forces spoke at a virtual IISS event about the future of Royal Air Force (RAF) tactical formations and declared that by 2030, it could be composed of two manned fighter aircraft, 10 Mosquito unmanned fighter aircraft and 100 Alvino unmanned aerial vehicles. Air Chief Marshal Mike Wigston, Chief of the Air Staff said: "We're taking a revolutionary approach, looking at a game-changing mix of swarming drones and unmanned fighter aircraft like Mosquito, alongside piloted fighters like Tempest, that will transform the combat battlespace in a way not seen since the advent of the jet age."
Spirit AeroSystems based in Belfast, Northern Ireland, has been selected to lead Team Mosquito which includes Grumman UK and Intrepid Minds in the next phase of the project. Utilising ground-breaking engineering techniques, the team will further develop the RAF's Lightweight Affordable Novel Combat Aircraft (LANCA) concept, with a full-scale vehicle flight-test programme expected by the end of 2023.
The UK Ministry of Defence (MoD) Defence Science and Technology Laboratory (Dstl) provides the project management and is the MoD's technical authority for the $42 million (£30 million) Project Mosquito on behalf of the RAF Rapid Capabilities Office.
Swarming Is Buzzing
Following two earlier phases of the UK's Alvina programme, a $2.8 million (£2.5 million) contract for Phase 3 was awarded in January 2019 for an Integrated Concept Evaluation activity to explore the technical feasibility and military utility of a swarm of UAVs operating collaboratively. This was awarded to an industry team led by Blue Bear Systems Research including Airbus, DTS, IQHQ, Plextek and Durham University to develop a system to allow very complex low-cost autonomous swarm-based missions to be performed simultaneously against single or multiple targets. The project will deploy next generation autonomy, machine learning, and artificial intelligence (AI) to reduce the number of operators required, the time it takes to train them, and the cognitive burden on any operator during active operations. On 1 April 2020, No 216 Squadron reformed at RAF Waddington, tasked with the testing of future UAV swarming technology and to take on the operating role of the fleet of network-enabled swarming UAVs.
At the end of 2020 a swarm of 20 small fixed-wing UAVs including Blue Bear's iStart and Redkite completed the largest collaborative, military focused evaluation of swarming UAVs in the UK. The exercise was part of the Alvina programme and the culmination of the DSTL's 'Many Drones Make Light Work' competition, funded under the UK Science and Technology Portfolio through the Defence and Security Accelerator.
The swarm consisted of five different types and sizes of fixed wing UAVs, with different operational capabilities, together with six different payload types, flying representative tasks at RAF Spadeadam, located in Cumbria, the only electronic warfare tactics facility in Europe where aircrews can practise manoeuvres and tactics against a variety of threats and targets that they face in contemporary warfare. Three operators in Blue Bear's Mobile Command and Control System managed the entire swarm while simultaneously handling different, collaborative payload analysis tasks.
They flew simultaneous Beyond Visual Line Of Sight (BVLOS) cooperative tasks, with Blue Bear collaborative autonomy ensuring they all contributed to overall mission goals. During the two week trial, more than 220 sorties were undertaken.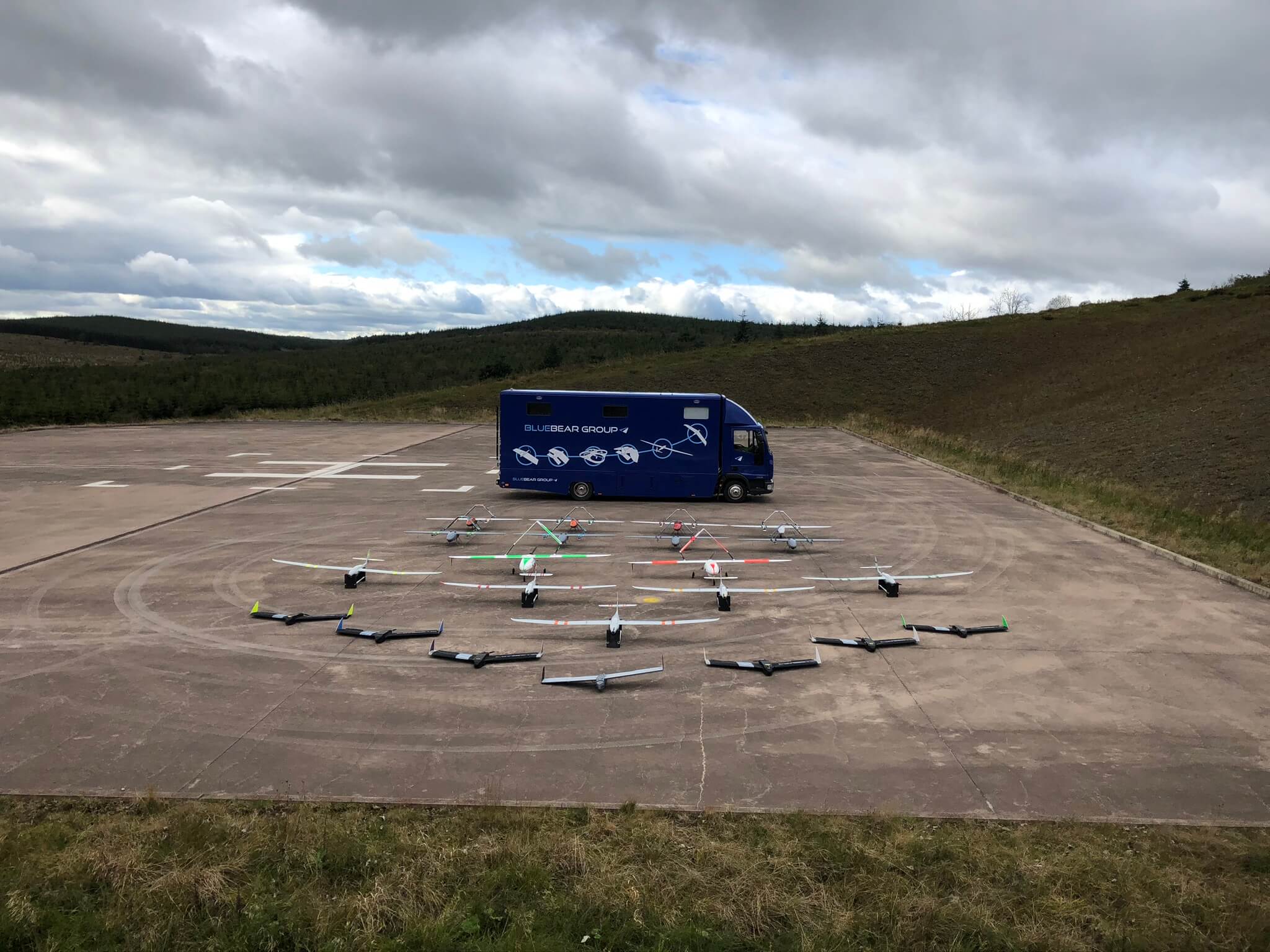 In March 2021 US conglomerate KBR received a contract from the UK MoD to deliver nano-UAS to support technological experimentations, informing the British Army and the Future Capability Group (FCG) at Defence Equipment & Support (DE&S) on how UAS technology can benefit defence. Focused on expanding its solutions integration capabilities and collaborative relationships with UK and global subject matter experts, KBR is working with UK based Evolve Dynamics, an engineering company specialising in UAS, to ensure timely delivery of systems for use by Ministry of Defence (MoD) personnel in the UK and overseas, and across a wide range of environments.
France's national defence procurement agency Direction Générale de l'Armement (DGA) has selected Parrot UAS to supply the country's armed forces with its ANAFI USA micro-UAS developed in France and produced in the United States. The DGA announced that the French company Parrot has been awarded a five year contract to manufacture 150 UAS and 300 related small drones for the French Armed Forces beginning in 2021. The 500-gram ANAFI USA has a flight duration of 32 minutes, and is capable of day and night observation and features two 21-megapixel cameras that can detect 'person-sized' targets at distances of up to two kilometres (1.2 miles).
Parrot UAS is already a supplier to the Swiss Armed forces under its Mini-UAV programme, and the US Army under its Blue sUAS programme which is a spin-off of the Short-Range Reconnaissance (SRR) programme launched by the Army and Defense Innovation Unit (DIU) in April 2019. The Blue sUAS drone development was organised in response to increased government-wide demand for secure and ultraportable UAVs that could be used for a variety of military applications.
Earlier this year the French UAS manufacturer launched its swarm concept that would transform military operations by responding to emergency situations through the use of swarms of up to 50 autonomous UAVs. Icarus claimed that the use of its small commercial quadrotor UAVs makes the technology particularly affordable and could therefore be replicated and used in large numbers.
The Spanish company Escribano Mechanical & Engineering (EME) was awarded a contract from the Directorate General of Armament and Material (DGAM) of the Spanish Ministry of Defence in January 2021 for the development of an autonomous, and multi-platform swarm system for Intelligence, Surveillance, Target Acquisition, and Reconnaissance (ISTAR) missions as part of Phase II of the Spanish RAPAZ programme with the aim of evaluating Class 1 UAS with a maximum take-off weight of less than 150kg (330lb) for future acquisitions by the Armed Forces.
The contract involves the development of software for an experimental swarm system of autonomous UAVs to carry out different types of experimental missions, mainly ISTAR, SAR and loitering for targets of opportunity. The UAVs could be launched from the Army' future combat vehicles, from which they would operate in a range of 5-10km (3-6 miles) and could incorporate loitering or attack capabilities against ground targets.
Equipped with EME's cutting-edge artificial intelligence, Long Range Intelligent Security System (LISS), it is the only drone swarm system that provides individual and group intelligence for the development of missions autonomously.
The swarm is operated by a single operator and its behaviour will be autonomous and can be adapted to the events of the mission.
It has a very high level of intelligence, for example if a drone is damaged, the rest of the swarm immediately reorganises themselves to carry out the mission as planned taking over its tasks.
Further afield, South Africa's Paramount Advanced Technologies (PAT) has launched a long-range, precision strike UAV system, N-Raven featuring next generation swarm technologies to accomplish attack missions with pinpoint precision. The N-Raven addresses a multitude of mission requirements, including future warfighter engagements where intelligent 'swarming technologies' combined with multiple munition loitering and attack operations have been proven to ensure mission survivability.
The 41kg (90lb) N-Raven operates with a covert, low signature in contested environments offering a cruise speed of approximately 97 knots (180km/hr) and a loitering endurance time of approximately two hours. N-Raven swarm loitering munitions offer a variety of sensors with each being capable of carrying a 10-15kg (22-33lb) payload up to a range of 250km (155 miles).
It is designed to saturate a battlespace with EO/IR, semi-active laser sensor-driven target identification and tracking technologies.
Once the technologies are refined, the advantages of de-centralised approaches will allow UAV swarms to spread out to search a wide area, or de-conflict to ensure they do not all attack the same target.
It is anticipated that many more countries will opt to adopt swarming technologies for their armed forces rather than the much more expensive and challenging Loyal Wingman fleets.
by David Oliver